Michele Bachmann PAC Calls Rick Perry Weak on Immigration in New Radio Ad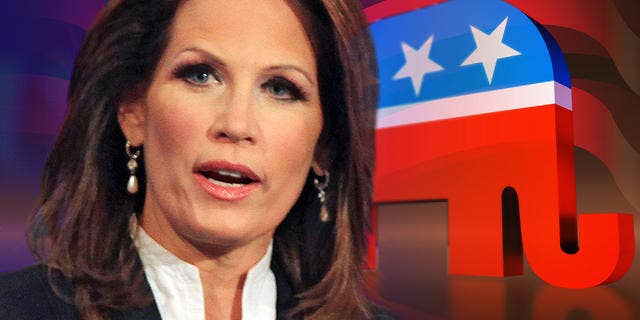 An ad supporting Rep. Michele Bachmann, GOP presidential contender from Minnesota, plans to go after fellow presidential candidate Texas Gov. Rick Perry with the message that he is weak on immigration.
The ad campaign, run by Keep Conservatives United, a Super PAC that backs Bachmann, is scheduled to begin airing in South Carolina on Tuesday, according to the group's website.
The ad, according to www.thehill.com, says: "Michele Bachmann believes employers should be required to check the legal status of people they hire with E-Verify. Perry doesn't, so illegals take jobs."
GOP candidates are scheduled to debate in Tampa Monday evening. The debate will air on CNN.
Keep Conservatives United's website said Bachmann supports Arizona's law criminalizing illegal immigration, and requiring police to check the immigration status of people they encounter in the course of doing their work.
Perry, who showed a lead in recent polls over other GOP candidates, has voiced opposition to Arizona-style immigration laws.
Perry also has expressed support for measures allowing undocumented immigrants to attend public colleges at in-state tuition rates. Bachmann opposes such measures.
Recently, Perry sought to ease concerns among conservatives in his party about his immigration views by pursuing the endorsement of Joe Arpaio, the sheriff of Maricopa County in Arizona who grabbed national headlines years ago with his hardline approach to the undocumented.
Arpaio told the Texas Tribune that it was possible he could overlook those views in deciding whether to support Perry.
"You've got to look at the big picture," he was quoted as saying in the newspaper.
The United States is home to an estimated 12 million undocumented immigrants. Some propose providing those who meet certain criteria with a pathway to legalization, saying that the United States cannot realistically deport so many undocumented people. But others say that would be amnesty, and that any break for undocumented immigrants would be, essentially, to reward lawbreakers and undermine the rule of law.
Views on what to do about the undocumented vary within the Republican Party, with some supporting a pathway to legalization, and others saying they absolutely would not support it.
Keep Conservatives United is casting Bachmann as a true conservative.
Super PACS arose from a U.S. Supreme Court decision that allows corporations, as well as others, to donate to groups to run ad campaigns.
Groups that favor policies that include some leniency toward certain undocumented immigrants see Perry as more favorable than Bachmann, whom they view as xenophobic.
Critics say she is zeroing in on the heated topic of immigration to try to raise her poll numbers against those of Perry.
If the immigration issue becomes more central in the Republican race for presidential nominee, said a writer in The Atlantic Monthly, "Perry can keep up."
"If Michele Bachmann or Mitt Romney tries to raise the issue, Perry can simply answer that he has more experience on the subject than they do," the magazine story said.
The political action committee for Americans for Legal Immigration (ALIPAC), which favors strict immigration enforcement, applauds Bachmann's tough stance on immigration.
"It is great to hear Michele Bachmann put the illegal immigration issue into the spotlight," said William Gheen of ALIPAC in a statement. "She has hit the nail on the head describing the cause of the problem being the under-enforcement of our existing laws."
"By stating her intent to put barriers on our southern border backed by troops she is showing the strength and resolve voters want to see."
Follow us on twitter.com/foxnewslatino
Like us at facebook.com/foxnewslatino