Miami Miracle Baby: Roadside Photos Capture Infant's Life Being Saved With CPR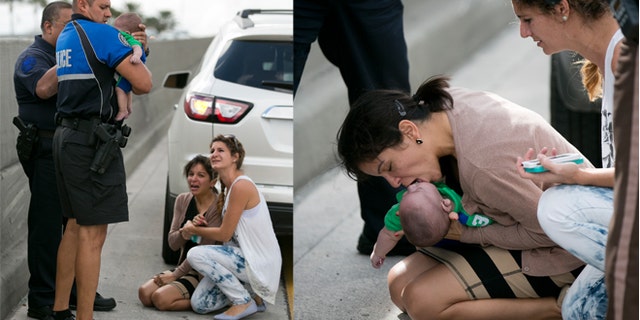 A Florida woman pulled her SUV over along a busy expressway in Miami on Thursday and helped to perform life-saving CPR on her baby nephew—a dramatic scene captured by a Miami Herald photographer who also stopped.
Pamela Rauseo, 37, of West Kendall began the procedure on 5-month-old Sebastian de la Cruz after jumping out of the vehicle and screaming for help. The boy had stopped breathing and began turning blue as Rauseo was driving along the westbound lane of the Dolphin Expressway, which is Florida state road 836, around 2:30 p.m.
"I was like, 'Seba, hello,' and nothing," Rauseo said on the phone to Miami Fox affiliate, WSVN. "I was like, 'Wait a minute, this is not right,' so I pulled over and I hopped to the back. I didn't think to get out of my car and open the back door, I kind of like hopped. When I saw him and I touched him he was unresponsive. I immediately got him out and jumped back to the front and I realized he was completely limp and not breathing, and that's when I got out."
Another driver, Lucila Godoy, 34, of Miami, stopped to perform chest pumps on the baby, who was said to have respiratory issues after being born prematurely, the Miami Herald reported. A second Herald photographer, Al Diaz, also stopped.
Diaz ran for help and found Sweetwater police officer Amauris Bastidas, who began chest pumps while Rauseo breathed into the baby's mouth until the boy started breathing again on his own.
"She popped out of that car, as a driver, that moment is frozen on my mind, and screaming for help, and it was fortunate that when I went looking for help, help was right there," Diaz said.
Sebastian began breathing, then stopped, and began breathing again.
"I was traveling west on the 836, just east of 57th Avenue, and an SUV stopped in front of me. I didn't think anything of it, but I stated hearing screams and I couldn't tell where the screams were coming from. I look at my phone, I look at my radio and look up again and a woman pops out of her car holding a baby, screaming, 'Help me! Help me! my baby is not breathing,'" said Diaz.
Rauseo said, "I was just thinking about my sister, like, 'I can't, I can't let this happen. I can't. I can't. She trusted me with her baby and I can't let this baby die on me.'"
The infant was transported to Jackson Memorial Hospital by Miami Fire Rescue. He is in stable condition.
Rauseo said she last administered CPR seven years ago.
Based on reporting by the Associated Press and FOX Affiliate WSVN in Miami.