Mexico's top security official, who has pledged to weed out criminals from migrant caravans, said he understands the plight of people crossing into the U.S. illegally as he admitted doing the same when he was younger.
Public Security Secretary Alfonso Durazo, 64, revealed Monday that on two occasions he crossed the U.S.-Mexico border illegally in search for work to pay for his education. He said it was out of economic necessity.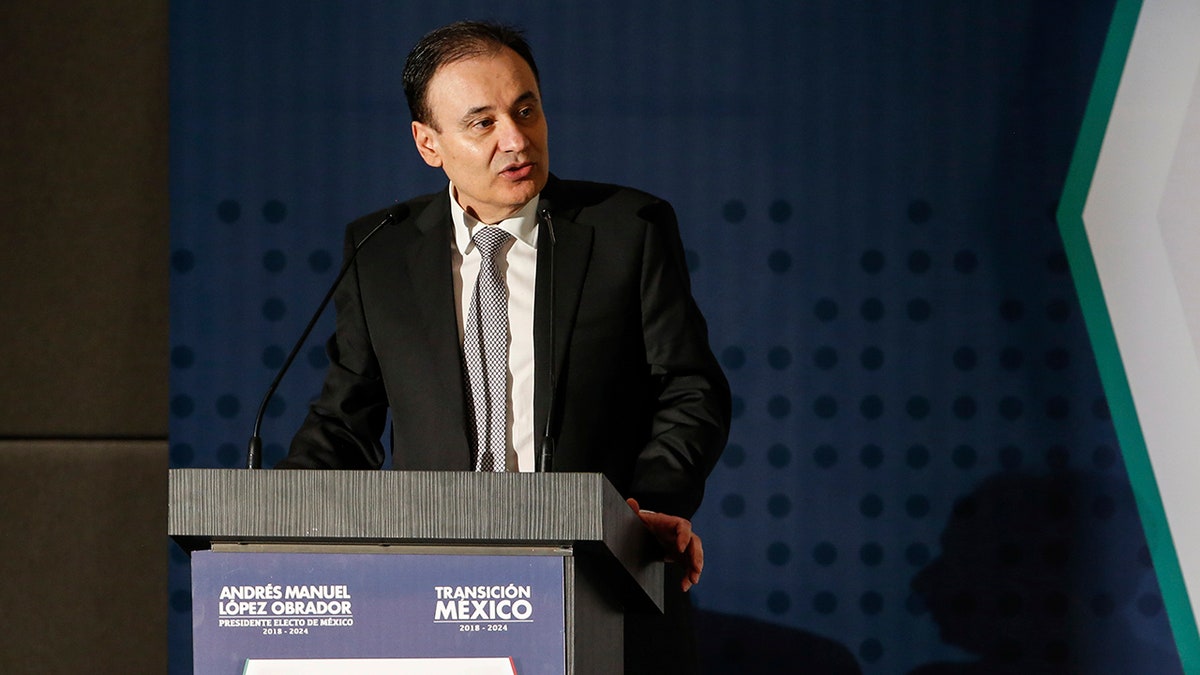 "I washed cars and plates – it was a necessity," he said, according to Mexico's La Jornada newspaper.
His press office confirmed the statements and he himself retweeted the newspaper's account on Monday.
TRUMP THREATENS TO CLOSE BORDER 'NEXT WEEK' IF MEXICO DOESN'T 'IMMEDIATELY STOP' FLOOD OF ILLEGAL IMMIGRANTS
Durazo's revelation comes just days after President Donald Trump threatened to close the border this week unless Mexico stops the flow of immigrants to the U.S. border.
Border patrol agents said last week that they are overwhelmed and nearing a "breaking point" amid the influx of illegal immigrants attempting to cross the U.S.-Mexico border.
Department of Homeland Security Secretary Kirstjen Nielsen said last week her agency apprehended more than 75,000 migrants at the U.S. southern border in February, a 12-year high.
TRUMP'S THREATS TO CLOSE MEXICO BORDER GIVE EL PASO'S MAYOR 'HEARTBURN'
U.S. Customs and Border Protection said last month that more than 268,000 family units and unaccompanied minors – the primary demographic seen attempting to cross over – have been apprehended at the southern border to date in Fiscal Year 2019.
Jessica Vaughan, director of policy studies at the Center for Immigration Studies, told Fox News in an email last week that the current phenomenon of large groups crossing is "a result of what is a near complete breakdown of border control."
"The smugglers are so brazen now that they are chartering buses to pick up migrants in southern Mexico and bring them directly to the border area to file across and await discovery by the U.S. Border Patrol, knowing that the migrants will be released in just a few hours to go wherever they want to go in the United States," she said.
LARGE ILLEGAL IMMIGRANT GROUPS CROSSING US-MEXICO BORDER PUSHING AGENTS TO 'BREAKING POINT'
Mexico appears to be both tiring of the migrant caravans and eager not to anger the United States.
On Sunday, Mexico announced it would begin granting humanitarian visas again on a limited basis to some of the 2,500 Central American and Caribbean migrants currently in the southern state of Chiapas.
Meanwhile, Durazo pledged at the event in the northern state of Sonora that he would not allow people with criminal records to remain in the caravans, La Jornada reported.
The Associated Press contributed to this report.