Mexico Water Commission director resigns following uproar, investigation over helicopter trip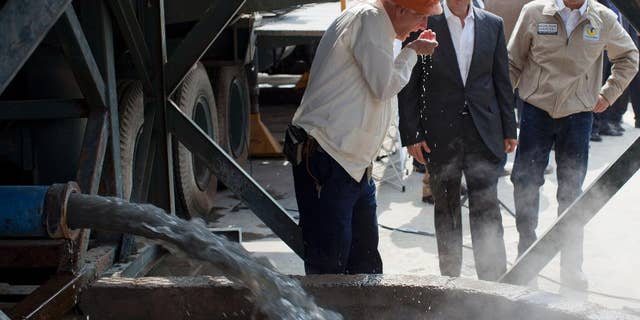 MEXICO CITY – The director of Mexico's National Water Commission resigned Thursday following an uproar over his family's use of an agency helicopter to reach Mexico City's airport.
David Korenfeld announced his resignation to reporters more than a week after social media filled with photographs, apparently taken by a neighbor on March 29, showing people walking with suitcases to a helicopter marked with the agency's name.
Korenfeld later apologized and said he would pay for the cost of the ride. Later Thursday, Korenfeld said on Radio Formula that he used the helicopter for eight minutes and paid 10,800 pesos, or $736.
The Public Administration Department, Mexico's anti-corruption agency, had initiated an investigation.
During the news conference, Korenfeld said he had always conducted himself honestly. He declined to take any questions.
"As human beings we will always be susceptible to making mistakes, but we must have the courage to accept it, apologize and accept the consequences," Korenfeld said.
Korenfeld said he had offered his resignation to President Enrique Pena Nieto when the scandal started. He did not explain if the president had delayed in accepting it or only in making it public.
It was only the latest of a rash of scandals to hit Pena Nieto's administration.
In 2013, just months after taking office, Pena Nieto ordered the removal of the man in charge of the office that protects the public from abuses in commercial establishments after his daughter asked the agency's inspectors to close a restaurant that did not give her the table she wanted.
In late 2014, conflict of interest scandals arose that touched Pena Nieto, his wife and treasury secretary. Media investigations revealed that Pena Nieto and his wife were living in a luxury home owned by a government contractor. His treasury secretary had purchased a home from the same government contractor.
Pena Nieto ordered an investigation, a move which immediately drew criticism that it made no sense to have a subordinate investigate his boss for possible wrongdoing.