Mexico now considered second deadliest conflict zone after Syria, study says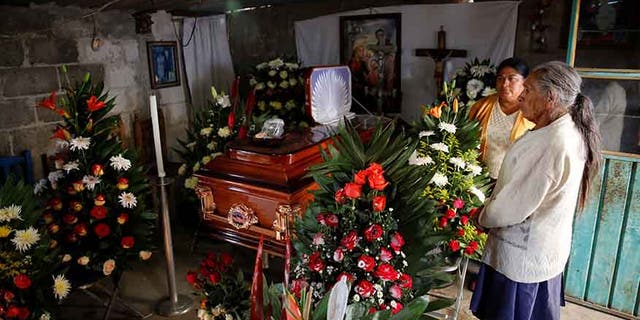 Mexico is the second-most deadly conflict zone on the globe, according to a new study.
The country has surpassed both Iraq and Afghanistan to become the world's most violent country after Syria, the study by the International Institute for Strategic Studies (IISS) says.
Nearly 23,000 people were killed in Mexico in 2016 as the turf wars among drug cartels continued. Around 17,000 were killed in Afghanistan and 16,000 in Iraq during the same time period.
DRUG CARTELS REUSING MEXICAN TUNNELS ALREADY DISCOVERED BUT LEFT UNFILLED
Researchers pointed out that Mexico's level of violence is especially shocking because the conflict in the country is "marked by the absence of artillery, tanks or combat aviation," IISS director general John Chipman said while discussing the survey in London on Tuesday. Instead, Chipman said, almost all of the Mexican deaths were the result of small arms.
The highest numbers of deaths were reported in the states of Sinaloa and Guerrero, known for fighting "among competing, increasingly fragmented cartels," he said. Violence frequently occurs as gangs attempt to clear locations of rivals so that they can gain control of select drug trafficking routes or markets.
JOURNALISTS IN MEXICO KILLED IN RECORD NUMBERS – ALONG WITH FREEDOM OF SPEECH
Overall, Syria remained the most violent place on earth with around 50,000 deaths in 2016, according to the study cited by Bloomberg. The conflict in Syria has left around 290,000 people dead since it started in 2011.
Violence dropped significantly in sub-Saharan Africa, according to the study, with the amount of people killed falling more than a third from the year before.
Worldwide, the number of people who died in armed battles dropped to 157,000 in 2016 from 167,000 in 2015. But those numbers are still high compared to the previous decade. According to the survey the number of civilians displaced by wars continue to increase, too.