Mexicans March in Support of 'Craziest' Drug Lord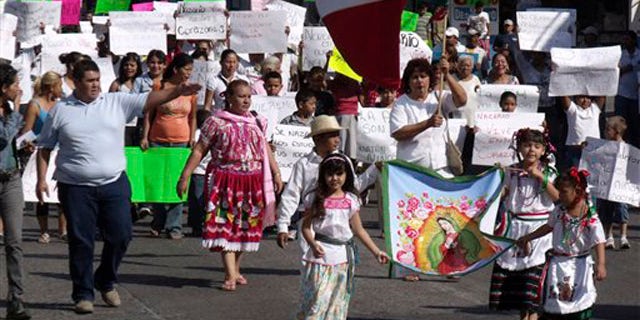 MORELIA, Mexico -- A peace march called by local authorities in western Mexico turned into a show of support for a slain drug lord Sunday, with adults and children carrying signs lauding the capo known for handing out Bibles to the poor.
Hundreds of people turned out for the march in Apatzingan, the birth place of La Familia cartel leader Nazario Moreno, who was known as "The Craziest One" and reputedly indoctrinated his gang members in pseudo-Christian ideology.
The government says Moreno was killed in Apatzingan on Thursday in a shootout with federal police. The hunt for Moreno and other La Familia leaders set off two days of battles in key parts of Michoacan state, with cartel gunmen using torched cars and buses to blockade highways. At least 11 other people were killed, including a baby and a teenage girl.
The Apatzingan government convoked the march to call for peace and demand that federal troops and police leave the city. But local officials quickly distanced themselves from the event after people showed up with the pro-Moreno signs.
One man held up a sign that said: "Nazario will always live in our hearts." A boy in a checkered shirt held another saying "Mr. Nazario, for students your ideals live on." A little girl in pigtails held a sign reading "La Familia Michoacana is more than one state." A woman held one high over her head proclaiming: "Long live La Familia Michoacana."
The city government issued a statement saying it decided not to participate in the march "after determining the right conditions were not in place." It didn't mention the signs.
It was the second straight day that Apatzingan residents took to the streets to show support for Moreno. On Saturday night, hundreds marched with similar signs.
Also on Sunday, banners were hung from bridges in Petacalco, a town in southern Michoacan state, reading: "We support La Familia Michoacana. We will always remember Nazario Moreno, The Doctor" -- another nickname for the kingpin.
La Familia burst into national prominence in 2006 by rolling five severed heads into a nightclub in the mountain town of Uruapan and proclaiming its intention to protect Michoacan from other cartels and petty criminals.
President Felipe Calderon, who was born in Michoacan, responded by deploying thousands of federal troops and police into Michoacan, vowing to crush a cartel that he warned was corrupting local officials, extorting businesses and growing in power.
He later sent thousands more troops to other drug trafficking hotspots across Mexico in an intensified crackdown that has at times taken on warlike proportions. More than 28,000 people have died in drug gang-related violence since late 2006.
La Familia distinguished itself from other cartels by making public proclamations, including a telephone interview with local media last year with its reputed No. 2, Servando Gomez Martinez, who remains at large.
But the march Sunday was one of clearest indications yet of popular sympathy for the cartel, which also gained a reputation as one of Mexico's most brutal, staging bold attacks on government security forces.
Moreno, 40, was considered the ideological leader of La Familia, setting a code of conduct for its members that prohibits using hard drugs or dealing them within Mexican territory. He purportedly wrote a religiously tinged book of values for the cartel, sometimes known as "The Sayings of the Craziest One."
A Mexican government profile said Moreno "erected himself as `the Messiah,' using the Bible to preach to the poor and obtaining from them unconditional support." The profile also said his wife organized self-help seminars in Apatzingan.
A U.S. Drug Enforcement Administration profile says La Familia gives Bibles and money to the poor, funds schools and pays off local officials.
The cartel may have originated as "a vigilante group to counter local street crime and law enforcement corruption," the DEA says. "Now, La Familia Michoacana uses drug proceeds to fuel their agenda that encompasses a Robin Hood-type mentality -- steal from the rich and give to the poor."
While the protests erupted in Michoacan, cartel violence continued in neighboring Guerrero state, where seven people were found dead Sunday.
The bodies of four men, their hands bound, were dumped in the highway linking Acapulco to Mexico City, according to the state Public Safety Department.
Three decapitated bodies were found in Acapulco, two of them hanging from a bridge and the other dumped by a river. The heads were found nearby.