Mexican parents find drug-war mass grave, expose official indifference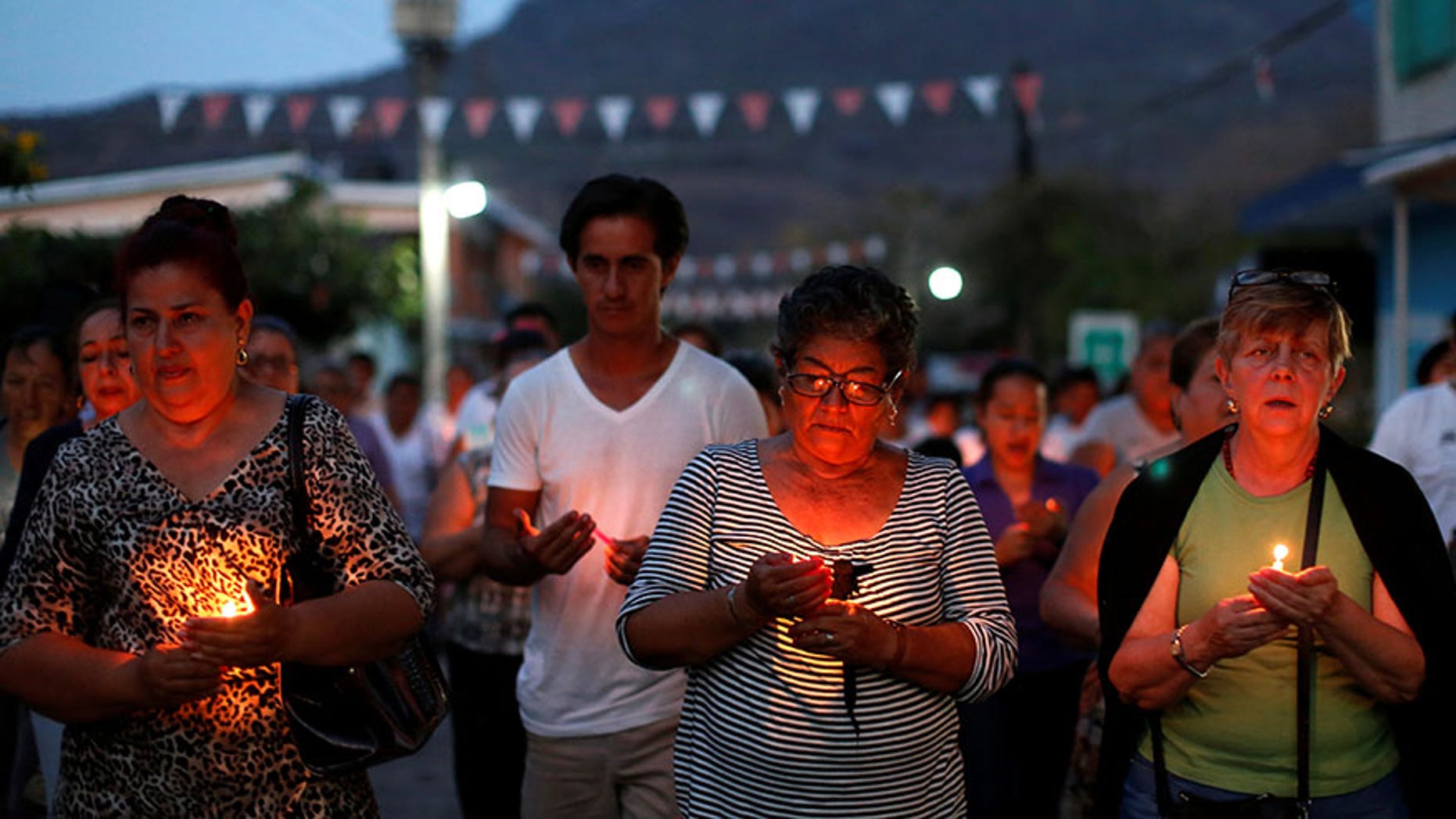 VERACRUZ, MEXICO – The discovery of one of the largest mass graves by a group of grieving parents has exposed the government's failure to investigate the missing victims in Mexico's long and bloody drug war.
After a six months-plus investigation led by the families, government investigators in the Gulf state of Veracruz said on Tuesday they had found more than 250 skulls in a shallow graves in a field, a record in the atrocities in Mexico.
On Thursday, reporters gained access for the first time to the lush tropical area spotted with lagoons near a current major expansion of Veracruz city's busy seaport.
MEXICO: 5 DEAD BODIES DUMPED ALONG HIGHWAY IN VERACRUZ STATE
The site was uncovered last year after a tip to members of Colectivo Solecito, one of several groups of frustrated relatives searching for the tens of thousands of people who have gone missing during the gang drug wars and whose cases are unsolved.
"I know there will be no justice, only divine justice. From that, you cannot escape."
"The authorities don't care about searching. Here, those who search are the parents," said Rosalia Castro, who has been looking for her son since 2011. "The attention of the prosecutor's office has been zero."
The groups' success in uncovering evidence of atrocities highlights the dismal human rights record of Pena Nieto's Institutional Revolutionary Party (PRI).
It is also a reminder that while U.S. President Donald Trump's controversial immigration policies and planned border wall has provided a distraction from Mexico's woes, crime and corruption continue to dog the party that hopes to stay in power in presidential elections next year.
TRUMP PRESIDENCY SHIFTING POLITICAL FORCES IN MEXICO — TOWARD THE LEFT
At the site on Thursday, Jorge Winckler, Veracruz state's attorney general, warned that teams were likely to find more remains, possibly in the area of the port expansion. But he said authorities would be unable to conduct the massive forensic investigation without additional resources.
Behind him, small groups of family members and police poked into the ground with poles, feeling for human remains beneath the soil as they slowly worked their way across two-meter by two-meter plots.
Veracruz state saw a staggering rise in violent crime under former governor Javier Duarte due to widening turf wars between gangs engaged in drug trafficking, kidnapping and the daylight theft of oil from pipelines.
Last October, Duarte, a member of the PRI, fled after he was charged with embezzlement and has eluded capture. Under his successor, who beat the PRI's candidate last year, crime has raged unabated.
Veracruz state says up to 2,600 people have disappeared under suspicious circumstances since 2010, at the start of Duarte's term. The Mexican government estimates some 27,000 people went missing nationwide since drug-related violence surged a decade ago.
Relatives of the missing in Veracruz say state authorities were apathetic when they sought help in learning the fate of their loved ones.
Residents near the grave site, just outside a lower middle-class housing development called Colinas de Santa Fe, said that as far back as four years ago they noticed pickups coming and going at strange hours and sometimes heard gunshots.
"I know there will be no justice, only divine justice. From that, you cannot escape," said Griselda Barradas, whose son Pedro Huesca Barradas is one of only two sets of remains identified among the 250 found at the 49-acre site.
Barradas, whose son was himself a police investigator who went missing four years ago, said that during a protest march on Mother's Day last May two young men were handing out pamphlets to the crowd.
"I didn't make much of it until the next day when I took a good look and realized it was a sketch, a very detailed map of how to get to the place and that there was a lagoon with many bodies," she said.
The group convinced authorities to let them search the area last August along with state forensic investigators.
Grieving relatives had been unsuccessful for years in getting local authorities to investigate the killings but the 2014 disappearance of 43 student teachers in Guerrero state marked a turning point after impromptu search parties uncovered unrelated burial sites across the country.
Guadalupe Contreras' son disappeared in 2013 in Guerrero, which has seen a spike in violence and heroin production, and the father joined search parties there last year. Now he is helping in Veracruz.
"Before it was much more difficult. We were ignorant of what happened and how to search. But we taught ourselves and now we are also teaching others," Contreras said.