Mexican military's kill rate soars along with impunity, report says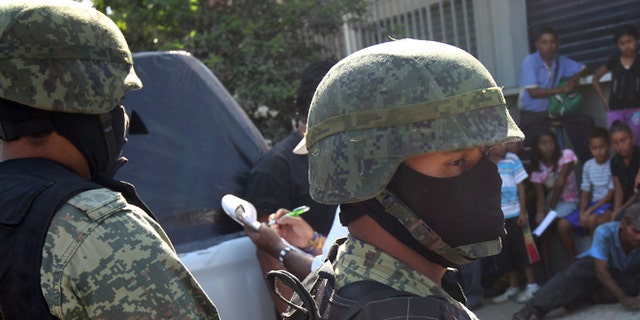 NEWYou can now listen to Fox News articles!
The Mexican military stopped publishing the number of people it kills about two years ago. But according to experts who study the issue, soldiers in the country have become efficient, stone-cold killers who operate with near impunity throughout Mexico.
While in most forms of modern warfare about four people are injured for every person killed in combat, in Mexico that ratio is reversed — according to the International Committee for the Red Cross, Mexican military kill eight people for everyone one it injures and in its elite Marine unit that number jumps to 30 people killed for one injured.
What makes these numbers even more worrisome is that Mexico's military remains largely untouched when it comes to accusations of human rights abuses. Since 2006, when former President Felipe Caldeón declared an all-out offensive on the country's drug cartels, only 15 military members have been convicted out of the 4,000 complaints filed over torture, forced disappearances and extrajudicial killings.
"Not only is torture generalized in Mexico, but it is also surrounded by impunity," Juan E. Méndez, the United Nations special rapporteur on torture, told the New York Times. "If the government knows it is frequent and you still don't get any prosecutions, and the ones you do prosecute usually wind up going nowhere, the blame lies with the state."
The Mexican military enjoys a high level of latitude when it comes to being held accountable for human rights abuses — partly because of historical precedent and partly because they are seen as the only law enforcement group in Mexico who can confront – and defeat – the country's drug cartels.
Between 2007 and 2012, the military claims that it killed about 3,000 people and only saw 158 of their soldiers die.
The impunity that the military has, paired with the shockingly high and disproportionate body count it leaves in its wake, have led to multiple complaints from human rights groups and outside observers.
The Mexican government of President Enrique Peña Nieto has balked at the criticism, saying they implemented a human rights program in the military, passed legislation aimed at helping victims and holding soldiers accountable and seen complaints against the government drop in the last two years.
"Every report of a human rights violation is worrisome," the government said. "But also these isolated cases do not reflect the general state of human rights in the country."
One of those cases is the army killing of 22 people in Tlatlaya, just outside of Mexico City.
The Mexican army reported in June 2014 that 22 presumed criminals had died in a clash with troops at a warehouse in the town. It said only one soldier was wounded.
But questions emerged when The Associated Press found that evidence at the site didn't match the army's account of a clash with drug suspects. There was little sign of a protracted gun battle. Instead, the walls of the warehouse showed a repeated pattern of one or two closely placed bullet holes surrounded by spattered blood, giving the appearance that some of those killed had been standing against a wall and shot at about chest level.
The government's Human Rights Commission investigated and determined that at least 12 and as many as 15 people had been executed at the warehouse. It also said there were attempts by civilian and military authorities to cover up what happened. Prosecutors, however, concluded that only eight were killed after surrendering.
Seven soldiers were initially charged in both military and civilian courts. A civilian judge soon threw out charges against four of the soldiers, and earlier this month a new ruling cleared the other three.
Jose Miguel Vivanco, director of the Americas division at Human Rights Watch, likened the Tlatlaya case to that of 43 students from a teachers' college known as Ayotzinapa who disappeared at the hands of police a few months later in 2014.
"Given the well-documented evidence that soldiers executed civilians in Tlatlaya, the fact that no one is being held accountable for these crimes points to the same kind of gross incompetence or even cover-up by authorities that has been revealed in the Ayotzinapa case," he said.
The widespread human rights abuses have also raised concerns among lawmakers in the United States, especially as the two countries' militaries work closer together.
The U.S. has staged joint military exercises with Mexico and also sold them military hardware that is meant to improve the professionalism and the human rights record of Mexico's military.
The United States agreed in 2014 to sell Black Hawk helicopters to Mexico as part of a deal that Army officials said could rise to more than $1 billion over 25 years and bring the Mexican Army closer to American military standards.
Some lawmakers, however, are skeptical.
"All the training in the world won't work if you don't have people at the top who believe in the importance of transparency and accountability," Sen. Patrick J. Leahy, (D – VT), told the New York Times.
The Associated Press contributed to this report.