Mexican Government Softens Drug War Language As Cartels Spread To Europe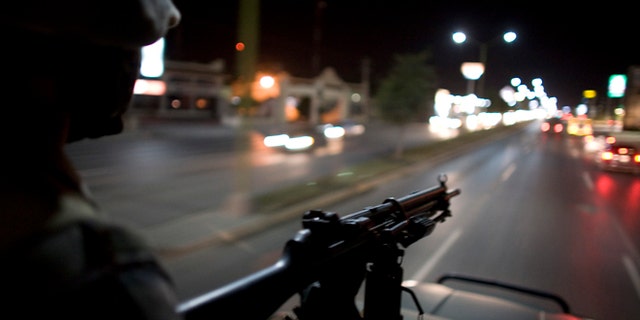 Mexico City – In an attempt to convince the public that it's not a drug war, the Mexican government is trying to put a new linguistic spin on the country's ongoing conflict with the nation's drug cartels.
Government spokesmen have been told they should avoid using drug gang slang that has crept into public discourse.
"If we want to recover the streets, we first have to recover the words," said energy department spokesman Víctór Aviles Castro.
"The drug cartels have managed to impose their terminology in the media," he said, pointing to now commonplace terms like "picked up," which is used for cartel kidnappings, and "blanketed" and "trunked," which describe how a body is left — wrapped in a blanket or dumped in a car trunk.
The move drew mixed reactions Monday, a day after top Interior Department officials announced the changes at a conference of state and federal security public relations specialists over the weekend in the Pacific coast resort of Acapulco, which itself has been hit by a wave of drug-related killings.
"This administration is implementing a new communications plan regarding violence and crime, which has reduced the emphasis that had been put on 'the war on crime,'" the Interior Department said in a press statement. "However, the fallout from the 'war' metaphor continues and we will have to change that perception."
Mexican media reacted with sarcasm to some of the proposals. The newspaper Milenio ran a cartoon showing a government official suggesting that "instead of saying 'blanketed,' we'll say 'somebody who's wrapped in a comforter but is pretty cold.'"
President Enrique Peña Nieto's administration has pledged to reduce violence in Mexico. But critics say that so far that seems to involve simply talking about it less.
Last week, the government released a report suggesting drug-related deaths had fallen 14 percent from December into March, compared to the same period a year ago. Experts said the methodology was unclear and possibly flawed, and added that it appeared to have little to do with the new government since the rate of drug deaths has steadily declined since about 2011.
The previous administration of President Felipe Calderón, who left office Dec. 1, struggled continuously with how to describe the offensive against drug cartels, a conflict that saw more than 70,000 people killed. Calderón claimed he never liked, or used, the term "drug war," but in a speech in 2009 in Switzerland, Calderón said that "we knew when we started that this war on organized crime would take time." ''Organized crime" is the term Mexican officials use to describe drug cartels.
Peña Nieto has been eager to emphasize other issues, such as his economic and legal reforms, rather than drug violence.
Since he took office, there have been no major news conferences announcing more troops or federal police for drug-plagued hot spots. Gone are the regular parades for journalists of newly arrested drug suspects with their weapons, cash or contraband.
Officials attending the Acapulco conference confirmed they had been told to try to avoid such "perp walks," which have long been a concern for human rights groups.
Perp walks are "judging people before they're tried," said Alejandro Hope, a security analyst who was a high-ranking official in Mexico's national intelligence agency. Of the effort to stop such shows, Hope said: "I think it's good. It's the right thing to do. Let's see how successful they are in actually doing it."
Hope noted that some things haven't changed since the Calderón administration, like the apparent urge to try to persuade Mexicans that almost everybody killed in the drug war has been a criminal.
On Friday, the Interior Department released a count of drug-related killings in March saying that 1,036 of the 1,101 people killed that month, or 94 percent, were "people presumably responsible for illicit acts."
In fact, experts say, most such killings are poorly investigated, and the motives and identities of killers are seldom firmly established.
"I think this reflects the tensions within the government itself, on one hand trying to distance themselves from Calderón's politics, while on the other hand maintaining the idea that the violence always happens to someone else, that it doesn't happen to the average citizen," Hope said.
The new policies were put to the test just hours later, when seven bodies were found Sunday in the yard of a house in a low-income neighborhood of Cancun, the Caribbean coast resort that has largely been spared drug violence.
Prosecutors in Cancun pretty much did everything the old way: They staged a perp walk of the two suspects, and they said the victims appeared to have been street-level drug dealers slain by members of the Gulf drug cartel. Two of the victims had been fully or partially decapitated.
"None of this is aimed at the civilian population," said Quintana Roo state Attorney General Gaspar García Torres. "There is nothing that puts tourists at risk."
The announcement by the Mexican government comes as the European Police Office (Europol) announced that Mexico's cartels are looking to cement themselves as major players in the continents drug trade.
The Zetas cartel is allegedly involved in trafficking human beings for sexual exploitation from North East Europe to Mexico and Joaquín "El Chapo" Guzmán's Sinaloa cartel has made attempts to sell cocaine wholesale on the European market.
"We do not want the level of violence and brutality which we see in Mexico mirrored in Europe," said says Rob Wainwright, Director of Europol, in a press release. "Together with our law enforcement partners we will continue our efforts to tackle the criminals who are active within the illegal drug markets and ensure that Mexican organized crime groups cannot gain a foothold in Europe."
Based on reporting by The Associated Press.
Follow us on twitter.com/foxnewslatino
Like us at facebook.com/foxnewslatino