Mattis: US, Turkey finding 'common ground' on Syria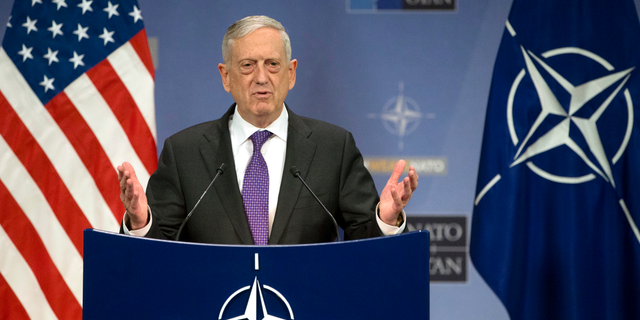 NEWYou can now listen to Fox News articles!
BRUSSELS – U.S. Defense Secretary Jim Mattis said Thursday the United States and Turkey are having an open dialogue about their growing differences over the fight in Syria, and are "finding common ground."
Speaking at the close of a NATO defense ministers meeting, Mattis presented a more calm and understated view of the escalating rhetoric over America's continued aid to the U.S.-backed Kurdish rebels in Syria. Ankara considers those fighters a terrorist group.
"I believe we are finding common ground and there are areas of uncommon ground where sometimes war just gives you bad alternatives to choose from," Mattis said.
Mattis, who spoke with Turkish Defense Minister Nurettin Canikli during the NATO meeting and earlier this week, characterized the conversations as "absolutely open and honest dialogue." And he insisted that the two countries are "coming together on what we can do together."
There have been persistent tensions between the two allies over U.S. support for the Kurdish rebels in Syria, and Turkey's increasing military assault against Kurds in northern Syria. Mattis has repeatedly called for a renewed focus on the campaign to defeat the Islamic State group, and prevent it from any resurgence.
Turkey has been attacking the Kurds in northern Syria for the past three weeks, despite American calls for restraint and complaints that the fighting distracts from the campaign to defeat IS. The standoff has fueled increasingly angry rhetoric, including a warning from President Recep Tayyip Erdogan that Turkey's foes may feel "the Ottoman slap," a reference to the Ottoman Empire's onetime might.
It sets the stage for contentious talks when U.S. Secretary of State Rex Tillerson arrives in Turkey Thursday for meetings, including with Erdogan.
Mattis and other U.S. officials have repeatedly criticized the Turkey's military offensive against Kurdish fighters in the Syrian town of Afrin, saying it shifts focus away from the IS fight.
Turkey has become increasingly angry over America's military support for the U.S.-backed Syrian Democratic Forces, known as the YPG. The U.S. considers them the most effective fighting force in the battle to defeat IS in Syria, and this week unveiled a budget plan that would send $550 million dollars in new assistance to Syrian opposition forces.
The money would include $300 million for training and equipment and $250 million for a border security force that would focus on enhancing security in former-IS strongholds and stemming the flow of militants, particularly across the border with Iraq.
Ankara, however, believes the Syrian forces are linked to an extremist group that operates within Turkey, known as the PKK. The U.S. also considers the PKK a terrorist organization, but has vowed to monitor the weapons given to the Kurdish fighters and ensure they don't end up in the hands of the PKK.
Mattis, meanwhile, also used the NATO meeting to press allies to increase their support for NATO military operations, including more funding and equipment. During his briefing he said things are moving in the right direction.
According to on NATO official, Mattis during a private meeting told the allies that, "You can't have either, or. It's got to be cash and capabilities and contributions." The official briefed reporters on the condition of anonymity because he is not permitted to speak publicly about the closed-door deliberations.
Only eight of the 29 NATO member countries are forecast to reach this year the alliance's spending guideline of 2 percent of GDP as the world's biggest military alliance works to turn around over a quarter century of military cuts.
NATO leaders set that percentage as a guideline to aim for by 2024. Some, including Germany and Spain, will not make that benchmark.