Massacre Near Arizona-Mexico Border Shines Light In Increase As Drug-Trafficking Corridor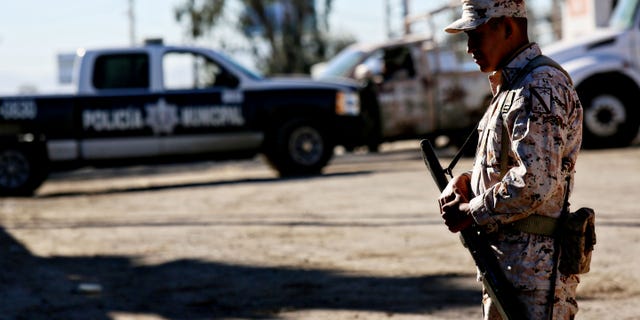 HERMOSILLO, Mexico (AP) – The massacre of seven men near the Mexico-Arizona border came in a previously quiet area increasingly used as a drug-trafficking corridor, and a U.S. expert said Friday the attack in the newly valuable territory could be the work of rivals of the once-dominant Sinaloa cartel trying to exploit the arrest of the gang's leader.
Analysts have expected rival cartels to try to move in on Sinaloa territory in response to the Feb. 22 capture of Joaquin "El Chapo" Guzman and the apparent death in December of one of his top lieutenants in a shootout with federal police.
The ambush-style attack this week happened in a rural area near Sonoyta, Mexico, close to the U.S. border crossing at Lukeville, Arizona. The crossing is frequently used by U.S. travelers to reach the Gulf of California beach town of Puerto Penasco.
The seven men apparently were attacked by rival drug traffickers as they delivered drugs. Their bodies were found inside or near a pickup truck Wednesday night. Authorities say an eighth man was found wounded on a nearby hill and he told state police the victims had just dropped off marijuana Tuesday when gunmen opened fire with automatic rifles on their pickup truck.
All of the men are believed to have been from the state of Sinaloa, the home of Guzman's cartel.
Anthony Coulson, retired head of the U.S. Drug Enforcement Administration's office in Tucson, Arizona, said the attack could be the start of a turf war between another gang and the Sinaloa cartel.
With Guzman in custody and top lieutenant Gonzalo Inzunza possibly dead, "you have a territory in dispute ... a key important territory," he said.
"Who controls that corner controls how trafficking goes into California, which was a Chapo Guzman stronghold that he took over from the Arellano Felix organization," Coulson said. "That's a key strategic point, because of such a huge uptick of trafficking into Southern California."
There is little doubt that despite the area's relatively calm reputation, it had become a major trafficking corridor for Sinaloa.
In December, Puerto Penasco was the scene of an hours-long gunbattle between cartel gunmen and federal police who were trying to catch Inzunza. Government Blackhawk helicopters fired on at least 10 vehicles trying to flee a luxury beach condo complex during the firefight. No tourists or residents were injured, but five gunmen were killed.
Inzunza's body was not found at the scene, but federal officials said they believed he had been shot and carried by fleeing gunmen, as cartel gunmen sometimes do with fallen gang members or leaders.
Local officials denied Inzunza operated out of the resort, but federal police said later that Inzunza had "set up his center of operations in Puerto Penasco" to run drug-trafficking networks.
The resort is in Sonora state, which has been relatively free of the drug violence that has plagued other northern border states. The Sinaloa cartel may have chosen the area as a base because other border areas are under the control of rival cartels or feeling the effects of government crackdowns.
Raul Benitez, a security expert at Mexico's National Autonomous University, said that "Puerto Penasco is an area with a lot of movement, a lot of traffic, and it's perfect for setting up a corridor to sell cocaine, heroin or marijuana and ship it into the United States." As the Mexican government tries to shut off the other big corridors in Texas and California, "the Sonora corridor was the one left for the Sinaloa cartel," he said.
It appears at least one other gang is now trying to move in on the corridor.
Mexican law enforcement officials declined to say who was behind this week's mass killing, but Coulson said it might be the Beltran Leyva gang, which controlled the area around Mexicali to the east before two of its top gang leaders were arrested or killed.
"My best guess is this is the Beltran Leyvas trying to re-establish control in Sonora," Coulson said.
Follow us on twitter.com/foxnewslatino
Like us at facebook.com/foxnewslatino