Marines Killed At California's Camp Pendleton Removing Unexploded Explosive Material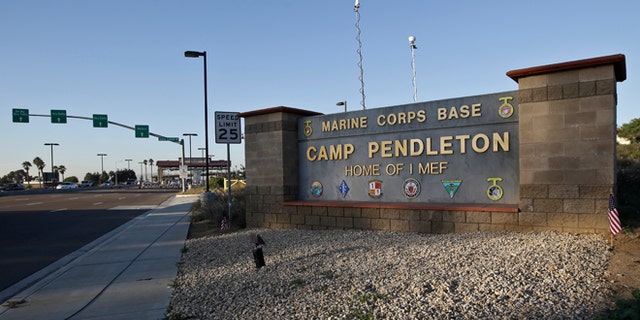 San Diego (AP) – The job is one of the most dangerous in the Marine Corps.
The four Marines killed Wednesday while clearing unexploded ordnance at California's Camp Pendleton were bomb removal technicians. It is one of the few positions in which the Marine Corps allows team members to quit at any time. That's because their mental focus could mean the difference between life or death, either for themselves or their fellow troops.
Few quit, despite the inherent risks that come with finding and getting rid of unexploded munitions — whether on the battlefield or on a U.S. base, according to former bomb technicians.
The four were killed around 11 a.m. during a routine sweep to make a range safer for future training exercises at Camp Pendleton in San Diego County, said a Marine official who spoke on condition of anonymity because he was not authorized to speak publicly. There was no live firing on the range at the time.
Base officials said they would not release details until an investigation into the cause of the accident is concluded. They released the names of the dead Thursday night.
They were Staff Sgt. Mathew R. Marsh, 28, of Long Beach, Calif., Sgt. Miguel Ortiz, 27, of Vista, Calif., Gunnery Sgt. J. Mullins, 31, of Bayou L'Ourse, La., and Staff Sgt. Eric W. Summers, 32, of Poplar Bluff, Mo.
One Navy Hospital Corpsman and two Marines near the accident had minor injuries, officials said.
The bomb disposal community is a small, tight-knit one like no other within the Marine Corps. They are bonded by their fearlessness, mental strength and deep ties from losing so many members over the years, say former bomb technicians.
The Corps currently has 715 explosive ordnance disposal technicians. During the Iraq war, Marines lost 20 bomb technicians, and another 24 have been killed in Afghanistan.
The last fatal accident for a Marine bomb technician in the United States was about two decades ago, when one was killed while doing a range sweep at Twenty-Nine Palms Marine Corps base in Southern California, according to the Marine Corps.
Retired Marine Gunnery Sgt. Brian Meyer said he was drawn to what is considered to be one of the Marine Corps' most dangerous jobs because of the challenge. Bomb technicians work in a team but are often entrusted to make decisions in the field on their own, such as whether it is safe enough to move unexploded ordnance or defuse a roadside bomb.
Meyer was injured while trying to dispose of an IED in Helmand Province in Afghanistan on March 14, 2011. The homemade bomb blew off his right hand, right leg and three fingers on his left hand. He's lost more than a dozen fellow bomb technicians and knows about 15 others who have suffered injuries, like himself.
"It's hard to pick out one specific reason why I wanted to do this job," he said, adding that he would do it all again. "It's not a job in which you call your supervisor to make a decision. You're often the expert. You make the calls and work independently. There's a lot of trust placed in you. You're part of an elite group."
Those who become bomb technicians generally have already served four years in the Marine Corps. They undergo vigorous mental and physical screenings. The military scrutinizes their personal lives, checking to make sure they do not have any legal issues or other problems that could affect their job performance, said Capt. Maureen Krebs, a Marine Corps spokeswoman.
"They really only take the most highly qualified Marine since they will be keeping their fellow Marines safe," she said. "If at any time there's an issue, like someone has (post-traumatic stress disorder), or is going through a divorce, they can ask to be removed because obviously safety is huge for this community."
The Marine Corps does not have a shortage of candidates to fill the slots, Krebs said.
Meyer said the job is "exhilarating." It requires math, problem-solving, and quick thinking. Some use bomb suits to protect themselves, but the suits can also pose more of a risk because they are cumbersome and easy to trip in, Meyer said. And, he added, they cannot protect against being hit by a direct explosion.
It is not known whether the four Marines were in bomb suits or what equipment they were using.
The team usually decides those details depending on the situation, said Meyer, who cleared a range at Pendleton in 2010.
Explosives on artillery ranges on bases can vary in size, and clearing ranges can be as dangerous as diffusing bombs on the battlefield, Meyer said. Usually, the team marks a point from A to B, deciding what's movable and what's not. The team will group together the movable explosives, and then detonate them.
"With unexploded ordnance, you can do everything right and stuff can still go sideways only because it's all so unpredictable," he said.
Follow us on twitter.com/foxnewslatino
Like us at facebook.com/foxnewslatino