Many parents of undocumented children in NY face tough homework of proving residence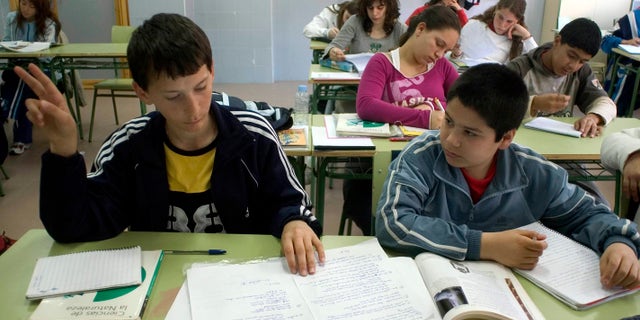 Many schools in New York State could be deterring undocumented children from enrolling, according to a survey performed by the New York Civil Liberties Union. Districts in the sampling of 139 were said to require birth certificates, social security numbers or ask about immigration status.
"While the state attorney general's office and the New York State Education Department are taking the right steps by promising to undertake a compliance review, the fact of the matter is that the New York State Education Department has known for years that nearly 20 percent of its districts are preventing immigrant students from enrolling in schools," said NYCLU Advocacy Director Johanna Miller.
"Requiring proof of a child's immigration status in order to register for school creates an impermissible barrier to an education. No child should be deprived of an education while we're waiting for the New York State Education Department to act."
It is not legal to ask for immigration status, federal law clearly states. And, while schools are permitted to ask for proof that the students live within their district and fit the age limits of their grade, the schools cannot exclusively rely on birth certificates, social security or other documentation that a recent immigrant may not possess.
Still, providing proof of residency and age can be a challenge if documents are in Spanish or contain legal and sensitive information.
To help immigrants in Ulster County, the Worker Justice Center of New York has been issuing unofficial community IDs. To receive one, recipients still have to provide proof of identity and residency, but the group will accept untranslated documents from other countries, including driver's licenses and voter ID cards, or a photo ID with a birth certificate, social security card or a letter from a sponsoring organization. The center then verifies those documents.
A woman who had recently arrived to the county with her two children came to the Worker Justice Center for an ID card because she was having trouble enrolling the children in school, recalled Emma Kreyche, a coordinator with the advocacy group that works with farm and low-wage earners. She did not have a lease and all the identifying documents she brought from her home country were in Spanish, so the school district had a hard time authenticating them.
The center, which the woman trusted, used documents related to immigration proceedings to help Kreyche establish her identity and place of residency. But those documents contained information she might not have wanted to share with the school district and is legally protected from sharing. A representative from the district reached out to the Worker Justice Center for further verification and seemed willing to work with the organization to ensure the children could be enrolled, recalled Kreyche.
"I get the sense that there's a discretionary gray area," Kreyche said.
That gray area may be applicable to some of the districts called out in the NYCLU report. Carlos Gildemeister is the superintendent of the Cuba-Rushford School District in Allegany County. He confirmed that their registration card does have a question that asks for a social security number. "It is not required, but it is on the form," he wrote in an email. The school does ask for copies of the birth certificate but, he added, it is not the only proof of age that the school will use.
"However, these are not conditions we use to not let them enroll and start," Gildemeister said. "Any youth who can show residency and states their birth date (and it falls within the age requirements) is allowed to enroll."
He said the guidance department recently reviewed their policy to ensure compliance. According to federal law, a school can ask for social security numbers but can't prohibit a child from enrolling if they don't provide the information. Similarly, a foreign birth certificate or a lack of one cannot be a deterrent for enrollment.
Other New York districts were asked about their enrollment practices. Vestal Central School District in Broome County, which according to the NYCLU survey asks a question about immigration status, responded to Fox News Latino via email, linking to a New York State Department set of guidelines about information that should be collected from students.
The information "must be reported with a Home Language Description, Student's Place of Birth, Date of Entry into United States, Years in United States Schools..." according to the manual. The district maintains they are following protocol.
Advocates who help immigrants navigate the school system could only recall a few instances where an immigrant family encountered significant challenges enrolling their children and each one they recalled was resolved after lengthy discussions with the school or intervention by the State Education Department.
"Sometimes there's no way we can go get papers," said Grace Hayman of Executive Director of the Westchester Hispanic Coalition. "A lot of people don't have those kinds of neat arrangements. A lot were never married to begin with or (the father who a child might now live with) was never on the birth certificate."
But the biggest obstacle for many immigrants lies in the proof of residency, said advocates.
"I have to be honest," said Robin Larkins, director of Cabrini Immigrant Services. "In most of our cases, the young people did have some record of their birth. The issue was more the proof of residency, [which] usually that requires a lease or mail or bills in the names of family that live there. Providing that has been more of a challenge for the families we work with. "
Affidavits can be used to establish the legitimacy of a residency, but some activists say that some living information could put immigrants at risk.
Hayman pointed to the website of Rye Neck Union Free, where it says if an affidavit from a landlord is provided instead of a lease, the "information may be made available to the code enforcement officials of the village of Mamaroneck."
"That became more of the deterrent [for enrollment] because people are living in overcrowded conditions," Hayman explained, adding that they were worried about the implications of filling out the affidavit.
"I think the process should first look at the lives of immigrants and what type of documentation they are able to get and then create guidelines based on the realities of these people's lives," she added.