Man who robbed bank 60 years ago returns to scene of crime for a meal, glass of Champagne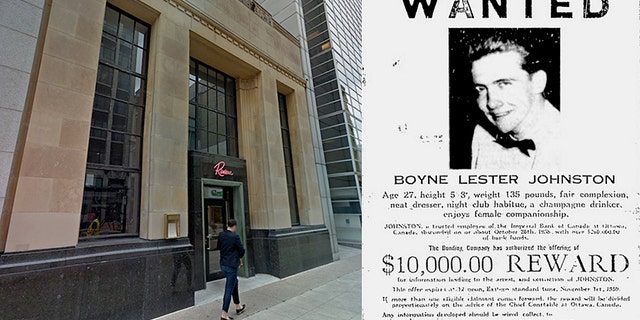 Boyne Johnston walked out of the Imperial Bank of Canada in Ottawa where he worked as a chief teller with about $260,000 in October 1958.
Johnston, then in his 20s, reportedly took the money from a safe on a Friday, knowing other workers typically missed counting cash on that day of the week. He put a timer on the safe so it couldn't be opened until Monday. Later that day, he took his wife and mother out for dinner – then he skipped town.
Johnston fled to the United States, gallivanting from Detroit to Los Angeles to Salt Lake City to Denver. He was eventually caught in a Denver nightclub – where he said he bought five bottles of Champagne for different women – after a waitress recognized him from wanted posters, which painted him as a "Champagne drinker [who] enjoys female companionship" and a "night club habitué."
He was sentenced to four years in prison, but got out early on parole in 1960.
Sixty years later, on August 10, 2018, Johnston went back to the scene of the crime.
The bank has since been replaced by the Riviera restaurant. Johnston's friend recently made a reservation at the establishment, telling the host, "I'm bringing my friend back to the bank that he robbed," CBC reported.
THIEVES ESCAPE WITH NEARLY $100,000 WORTH OF RAMEN NOODLES, POLICE SAY
They had lunch at the restaurant and got a tour, the restaurant's wine director Alex McMahon, told CBC. And in the wine cellar – what used to be the bank vault – Johnston regaled his friends, McMahon and Riviera's head chef over a glass of Champagne with tales of his time on the run and the purchases (including a Corvette).
"He [took] us through where everything was when it was the bank, and how he did it, how he pulled off the robbery," McMahon said, adding that the experience was "really cinematic."
"I'm bringing my friend back to the bank that he robbed."
McMahon said Johnston told them robbing the bank all those decades ago was worth it because it taught him to value life.
"He said the experience that he's the most grateful for is the experience of going to prison [and how] you'll never understand how amazing it is to get to live a free life until you've experienced that," McMahon told the CBC.
"He said that every day after he got out of prison has been the best day of his life," he continued.
SWEDISH CROWN JEWELS STOLEN FROM 900-YEAR-OLD CHURCH BY SPEEDBOAT-DRIVING THIEVES
After serving his time, Johnston worked for a defense contractor before doing stints with a high-tech company and the government, the Ottawa Citizen reported in 2013. His wife stuck by him.
Johnston was known for his politeness, according to the newspaper. Even when he was brought back to Canada, authorities said they didn't need to place him in handcuffs or leg shackles. They also took him out for a beer in Chicago, Johnston said.
The money that he took would be worth about $2.2 million today, according to the restaurant.
Johnston also left a lasting mark on Riviera; before he left, he reportedly signed his name and prisoner number on the wall of the cellar.