Macron promises 'all means' to restore calm after Paris riots, pledges to speed up tax relief
NEWYou can now listen to Fox News articles!
French President Emanuel Macron, his political career in peril and his country engulfed in increasingly violent protests, pleaded with the country's employers Monday to give their workers a bonus and also promised a reduction in taxes in a bid to restore order after demonstrations have deeply shaken the nation during the past month.
In a pre-taped address broadcast on television, Marcon criticized the "inadmissible violence" of the protests and promised to use "all means" to restore calm.
"When violence is unleashed, freedom stops," he said.
The French president promised to speed up tax relief and urged companies to give bonuses to struggling workers by the end of the year.
"I would ask all employers who can, pay an end-of-year bonus to their employees," he said.
Among his pledges Monday, Macron reiterated his promises to raise the minimum wage and abolish taxes on overtime pay starting Jan. 1 -- several months ahead of schedule. He also said a tax hike pensioners faced would be scrapped.
All of the measures offered had been demanded by the yellow-vested protesters who have led four weeks of increasingly violent demonstrations against Macron's presidency, which is seen by demonstrators as favoring the rich.
Macron acknowledged "anger and indignation" among members of the public over the cost of living, but added "no indulgence" would be given to the people behind the protest violence.
The president said "no anger justifies" attacking police or looting stores, saying both actions threaten France's cherished liberty. Macron also spent Monday meeting with local and national political leaders, unions and business leaders to hear their concerns after the protests that started in struggling provinces and spread to rioting in the capital.
His speech to the nation came after Paris' chief prosecutor revealed Sunday that nearly 1,000 people were being held in custody after weekend protests in the capital city again turned violent.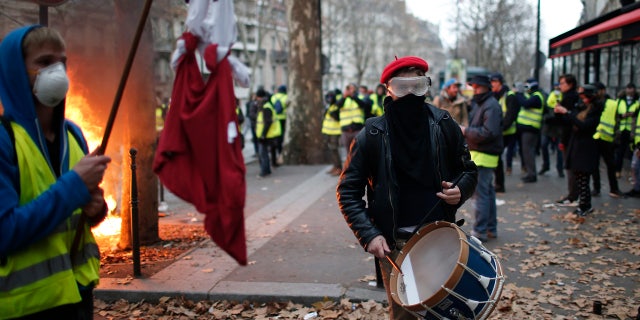 The radicalizing protest movement was initially triggered by a proposed fuel tax hike and other economic policies amid high living costs in France, and the feeling that Macron is favoring the rich. But as the demonstrations continued, its participants have become more of an amorphous group with disparate demands. They are all united, however, by their disdain for Macron's government.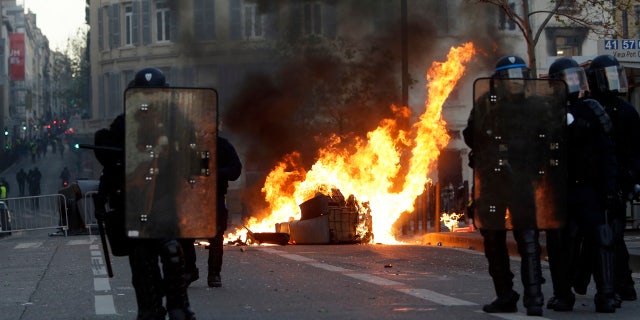 The protests, particularly in Paris, have turned destructive and violent, causing more than 8,000 police to be deployed as some 10,000 demonstrators took to the streets.
TRUMP TAUNTS MACRON AFTER THOUSANDS OF PROTESTERS VIOLENTLY CLASH WITH POLICE IN PARIS; ALMOST 1,000 ARRESTED
Popular tourist sites such as the Champs Elysee and the Arc de Triomphe have been major locations of unrest, with protesters setting vehicles ablaze and police deploying tear gas and stun grenades. There has also been damage in other cities, notably Marseille, Toulouse and Bordeaux.
Finance minister Bruno Le Maire said the weeks of unrest have been an "economic catastrophe" for France, according to Sky News.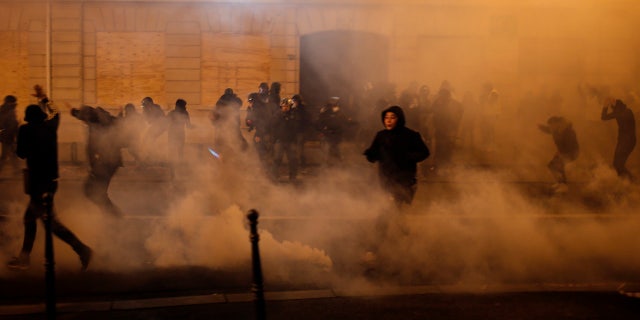 Last week, Macron withdrew a fuel tax hike — the issue that kicked off protests in mid-November — in an effort to appease the protesters, but the move was seen as too little, too late.
REPORTER'S NOTEBOOK: RIOTS IN PARIS STREETS AHEAD OF MACRON ADDRESS
For many protesters, Macron himself, widely seen as disconnected from rank-and-file French, has become the problem. Calls for him to resign were rampant Saturday, the fourth weekend of large-scale protests.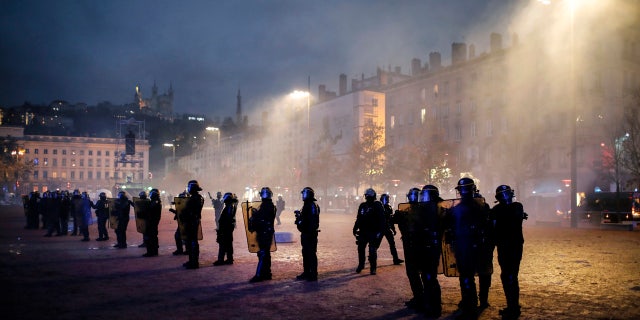 "Macron is there for the rich, not for all the French," 68-year-old retiree Jean-Pierre Meunuer told the Associated Press on Saturday. Critics say Macron's push to swiftly modernize the French economy have punished retirees, among other groups.
PARIS CLEANS UP AFTER RIOTS AS PRESSURE BUILDS ON MACRON
Thierry Paul Valette, who helps coordinate yellow vest protesters who come to Paris told The Associated Press that people want change and "concrete, immediate, right now" measures.
Before Macron's speech, Valette said that if the French leader withdrew his signature slashing of the wealth tax, "half of the yellow vests will go home, the other half will want him to resign and will stay in the streets," he predicted. "Because the movement isn't controllable."
The Associated Press contributed to this report.