Paris cleans up after riots as pressure builds on Macron
Paris tried to clean up and get back to normal Sunday after more battles between riot police and Yellow Vest protesters left 71 people injured and caused widespread property damage.
Tourist sites were reopened and workers took to the streets to clean up broken glass.
French officials called for unity after days of unrest that saw demonstrators protesting French President Emmanuel Macron's proposed fuel tax hike and other economic policies amid high living costs.
"No tax should jeopardize our national unity. We must now rebuild that national unity through dialogue, through work, and by coming together," said French Prime Minister Edouard Philippe.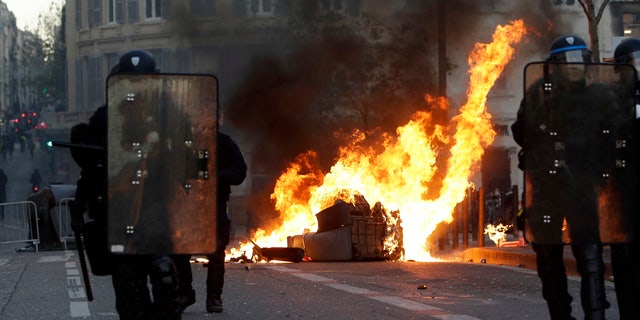 Macron, who sent a tweet of appreciation to police for their "courage and professionalism," faces pressure to propose solutions to calm the anger. The leaderless Yellow Vests have called for him to resign.
The French leader swept into power in 2017, having emerged out of obscurity less than a year earlier. Espousing his own brand of centrism, he has presented himself on the world stage as a spokesman for multilateralism and internationalism against a nationalist wave moving through Europe.
While he has regularly been seen on world stages, including the United Nations and the U.S. Congress, he has stayed mostly quiet this week, choosing to keep away from the limelight as his government attempts to deal with the issues being protested by the "yellow jacket" protesters who have protested and even rioted in cities over France in recent weeks.
EMMANUEL MACRON GOES AWOL AS VIOLENCE, PROTESTS ENGULF PARIS
In a failed bid to deter demonstrators France deployed 89,000 police – and 12 armored vehicles - on Saturday. About 125,000 Yellow Vests protested across the country and around 1,220 people were taken into custody, the Interior Ministry said.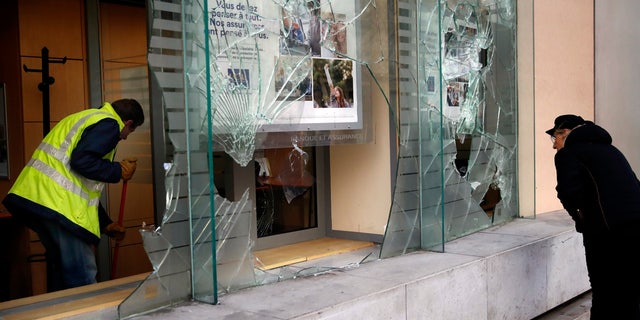 Several tourist areas, including the Eiffel Tower and the Louvre Museum, were closed out of fear of the rioting. Video footage showed protesters being hit by rubber bullets and police using water cannons at the Arc de Triomphe.
In response to the demonstrations, the government said it would abandon the unpopular fuel tax hike and froze electricity and gas prices for 2019. Macron's about-face has damaged his credibility with climate defenders and foreign investors.
It's done nothing to calm the "gilets jaunes," the nickname for crowds wearing the fluorescent yellow vests that all French motorists must keep in their cars.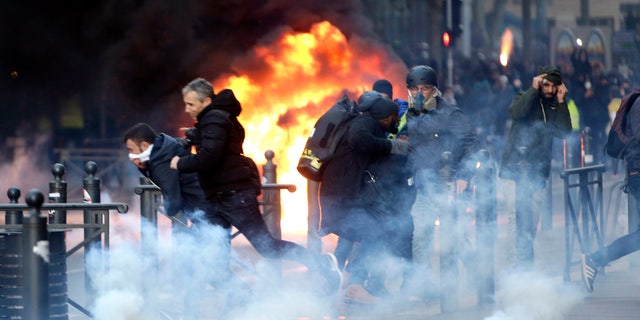 Now the movement is making other demands, such as taxing the rich and raising the minimum wage.
Citing France's commitment to fighting climate change, President Donald Trump suggested in a tweet that "maybe it's time to end the ridiculous and extremely expensive Paris Agreement and return money back to the people in the form of lower taxes?"
Fox News reporter Adam Shaw and The Associated Press contributed to this report.