Looting in Mexico spiraling out of control over 20% gas hike; 430 arrested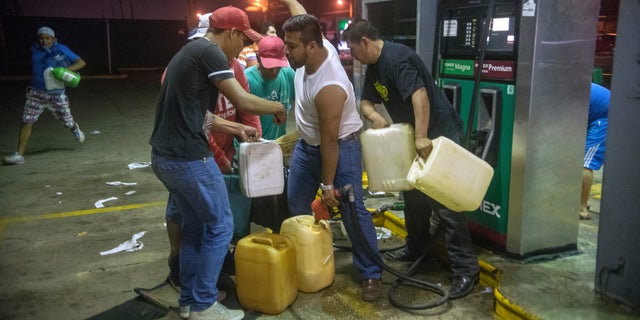 Angry over a sharp gasoline price hike that took effect on New Year's Day, hundreds of Mexicans continue to block highways, burn tires and seize gas stations across the country.
As of Thursday morning, 250 stores had been looted and 170 were closed or blockaded in all of Mexico, according to the National Association of Self-Service and Department Stores.
At least 430 protesters were detained on charges of vandalism, including four police officers according to El Universal.
In the Gulf coast city of Veracruz, store guards were overrun Wednesday by crowds who carried off clothing, food, washing machines, televisions, DVD players and refrigerators.
The increases of up to 20 percent is part of the government's efforts to deregulate prices for gasoline and diesel, which it says represented subsidies that unduly benefited wealthier Mexicans.
In a TV address, President Enrique Pena Nieto defended the unpopular measure that resulted and said he would try to help groups hit hard by the increases -- an apparent reference to bus, truck and taxi drivers.
"I understand the anger and irritation felt by the general public," Pena Nieto said, saying that "this is an action that nobody would want to take."
"If this decision had not been taken, the effects and consequences would have been far more painful," he added.
The change boosted the average price for a liter of premium gasoline to 17.79 pesos (about 90 cents). That makes 4 liters, or about a gallon, equal to nearly as much as Mexico's just raised minimum wage for a day's work — 80 pesos (about $4).
AP and EFE contributed to this report.