Long-missing U.S. student reportedly kidnapped in China in '04, forced to tutor North Korean dictator
An American college student who disappeared in China 12 years ago and was believed to have died was in fact kidnapped and forced to work as Kim Jong Un's personal tutor in Pyongyang, where he remains to this day, according to a South Korean activist organization.
David Sneddon, then a 24-year-old Brigham Young University student, disappeared in August 2004 while hiking in China's Yunnan Province. When Chinese police and the U.S. Embassy could not find him, China said Sneddon likely fell to his death in Tiger Leaping Gorge -- a theory his parents did not believe plausible.
Sneddon's family claims on a website devoted to the search for him that they believe Sneddon was kidnapped by North Korea and is being held hostage there. The claim appears to have stemmed from information gathered over the years and recent comments from Choi Sung-yong, head of South Korea's Abductees' Family Union.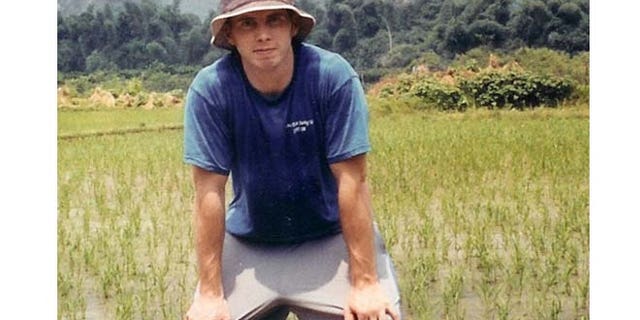 On Wednesday, a Japanese news source reported that Sneddon was abducted by agents of the North Korean government and whisked away some 2,500 miles from the Chinese province where he vanished.
Yahoo News Japan also reported that Sneddon became an English tutor to Kim Jong-un, the dictatorial leader of North Korea, and is now believed to have a wife and two children. The news outlet, which cited South Korea's Abductees' Family Union for the information, said Sneddon lives in Pyongyang, where he teaches English.
Sneddon's parents said they believe their son was taken by the North Korean regime for training purposes because of his fluency in Korean, according to the Deseret News.
Sneddon, who grew up in Nebraska, served a mission for The Church of Jesus Christ of Latter-day Saints in South Korea, the newspaper reported.
His mother, Kathleen Sneddon, told the paper that the report about her son being in North Korea "doesn't surprise me at all."
"We just knew in our heart that he was alive, so we had to keep fighting," she said, according to the paper.
The newspaper also reported that the State Department announced Wednesday it has launched an investigation into Sneddon's disappearance.
The reported investigation comes after members of Utah's congressional delegation asked lawmakers in Washington to probe whether Sneddon had been abducted by North Korea.
The province where Sneddon disappeared is in the far southwest corner of China, bordering Vietnam, Laos and Burma. When Sneddon's father and two brothers traveled to China to retrace his footsteps, they encountered a dozen eyewitnesses who saw and interacted with Sneddon before he disappeared more than 70 miles beyond the gorge.
Sneddon's family said they have renewed hope in their son's case, while also noting the number of people believed to have been abducted by the regime.
"One young man from Utah is a sad and woeful story. But when you look at the total number..." Roy Sneddon, David's father, told the Deseret News. "Pray for the people of North Korea that their lives will change."