Long lines, crowded conditions: Millions of Londoners brace for chaos as Tube workers strike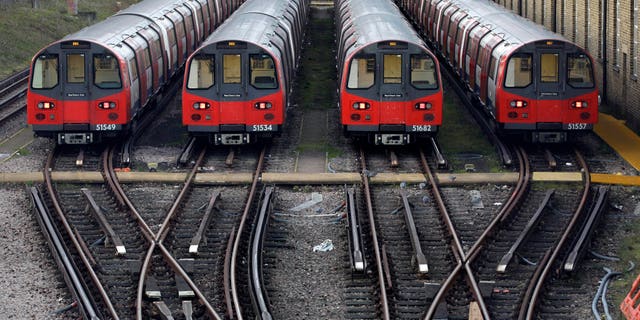 LONDON – Snaking lines at taxi ranks, crowded and sweaty buses, long delays into work: Londoners are bracing for all that and worse as workers at the city's sprawling 150-year-old underground train network — known as the Tube — go on a series of strikes beginning Tuesday night.
Some 3.5 million people journey each day on the network's 11 lines and 270 stations, leading to predictions of widespread travel chaos as much of the capital grinds to a halt for four days. Here are the details of the possible Tube turmoil:
___
HOW BAD WILL IT BE?
Union members are planning two 48-hour walkouts, the first kicking off Tuesday evening and running until the early hours of Friday. The second is due to take place next week.
One of the world's largest and busiest train networks with 1.229 million passengers a year, the system is already pushed to its limit at rush hours. Commuters already used to getting the squeeze can expect much worse.
A limited number of trains will run, though they will be less frequent — around every 10 minutes. And although officials have provided a list of services they expect to run, they warn that "the situation may change throughout the day."
Dozens of stations will be closed and there will be no service at all on much of the two of the busiest lines — the Central line slicing through the middle of the city and the Piccadilly line, which heads to Heathrow Airport.
___
HOW WILL LONDON COPE?
Many commuters will likely turn to London's bus service, which will add over 100 extra buses on key routes to cope with the extra passenger load. River boat services will also be enhanced. The Overground and the DLR network, which service less central parts of London, will operate normal services.
London's public transport authority has urged people to consider walking and cycling — though the weather doesn't look like it will cooperate, with rain and wind forecast for Wednesday. Officials have even asked businesses to let staff wear casual clothes on strike days so they can bike in.
Ahead of the expected chaos, Britain's media has offered survival guides. The Guardian advises readers to stay connected for live updates, and arm themselves with a cereal bar and a flask of coffee "if the worst comes to worst." The Metro newspaper, meanwhile, tells its readers to "just stay at home."
___
WHAT'S THE DISPUTE ABOUT?
Union members are striking to protest plans by Transport for London to close all ticket offices by 2015.
The proposed moves are part of a plan to modernize the Tube, which dates back to 1863. Transport for London says less than 3 percent of people use ticket offices, and wants to move more staff to platforms. The proposals are also said to be able to save some 50 million pounds ($82 million) for the authority, which faces a budget reduction.
RMT, Britain's largest transport union, argues that the changes would mean more than 750 job cuts and a less safe network.
___
WHAT'S IT GONNA COST?
The strikes have attracted much vitriol from trade bodies, who complain they will have a huge impact on business and tourism.
The walkouts are estimated to cost the London economy more than 50 million pounds each day, based on the impact from a previous strike, according to the London Chamber of Commerce and Industry.
___
More details online at Transport for London: www.tfl.gov.uk