London stabbings declared 'terrorist-related' after 3 injured, suspect shot dead by police, officials say
Three people were injured after a stabbing attack in London on Sunday by a man who was shot and killed by police in what has been declared a "terrorist-related" incident.
London's Metropolitan Police Service said three people were stabbed in Streatham, located in south London. A man reported by witnesses as wearing what appeared to be a suicide vest was then subsequently shot by armed officers.
"The circumstances are being assessed; the incident has been declared as terrorist-related," police tweeted.
NEW ISIS LEADER? WHAT TO KNOW ABOUT THE TERROR NETWORK'S HARDLINE FOUNDING MEMBER
The BBC said that witnesses reported hearing two gunshots just after 2 p.m. local time on Sunday. The Met Police confirmed the man shot by police at Streatham High Road was killed.
Officials initially said two people were injured, but then increased the number of those hurt in the attack to three individuals.
"One person is at hospital in a life-threatening condition," police said. "We are in the process of informing their family."
The police force said the incident happened in the Streatham neighborhood of south London, a bustling residential area that doesn't boast any major British landmarks like areas hit by earlier attacks. Gulled Bulhan, a 19-year-old student from Streatham, told Britain's Press Association that he witnessed the attack.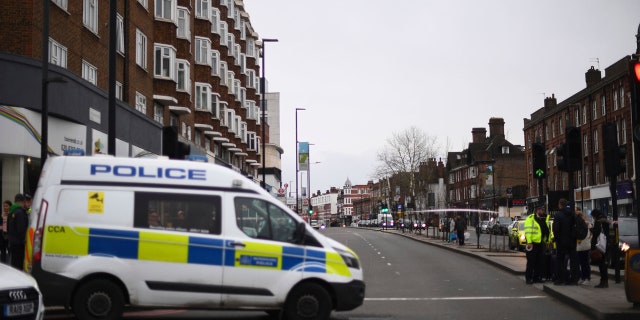 "I was crossing the road when I saw a man with a machete and silver canisters on his chest being chased by what I assume was an undercover police officer -- as they were in civilian clothing," he said. "The man was then shot. I think I heard three gunshots, but I can't quite remember."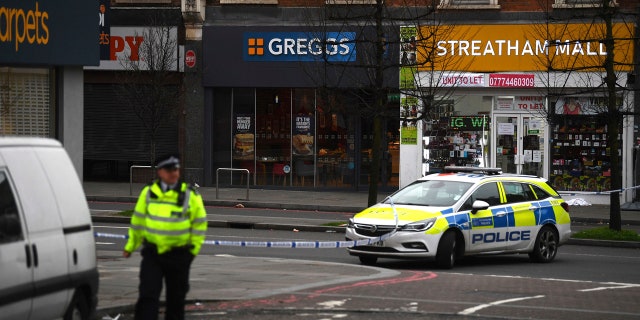 Images on social media showed a person face down on the ground outside a store called Boots, with a police officer holding a gun next to a black BMW with emergency lights.
WARNING: GRAPHIC IMAGE
The person can be seen wearing gray pants, black shoes, and a green jacket.
Mariam Qureshra told Sky News she was in the library when she heard screaming outside and people came running "panicked"
"Police came in and told us to stay away from windows and doors and eventually escorted us out of the back. Outside there were lots of people running," the 16-year-old told Sky News. "You never think it's going to happen on your doorstep."
BREXIT IS OFFICIAL: UK LEAVES EUROPEAN UNION
The incident caused a massive emergency response. London's Ambulance Service said that a "number of resources" were attending to the attack at Streatham High Road.
Met Police said the scene has been "fully contained." Of those injured, one is in critical condition at an area hospital, while the second victim was treated for minor injuries at the scene. A third person was also taken to the hospital, but their condition is not listed as life-threatening, police added.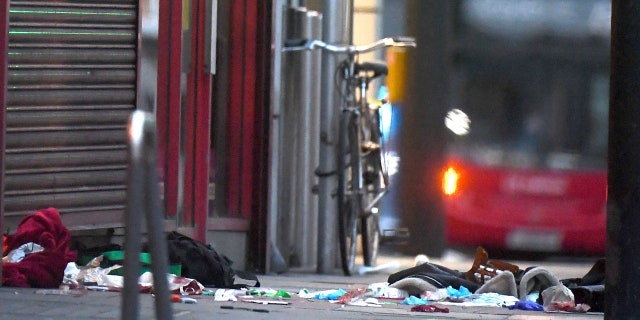 Ambulances could be seen converging in the area as police cordoned off nearby streets. Helicopters also responded to the incident as police warned people to stay away from the area. The U.S. Embassy in London said it was "aware of an incident in Streatham" and asked people to avoid the area.
Stephen Roberts, a former deputy commissioner for the Metropolitan Police, said police would quickly try to search the suspect's residence and seize any computer devices to scour his internet records. Investigators are researching the man's background to learn more about the attack and any possible co-conspirators, Roberts said.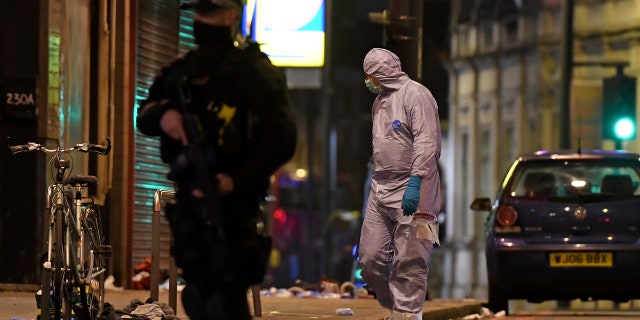 Roberts said if the facts show the stabbings were carried out by a "self-starter," it meant that any city in the country was vulnerable at any time to a similar sort of low-tech attack.
CLICK HERE FOR THE FOX NEWS APP
British Prime Minister Boris Johnson thanked emergency services responding to the stabbing attacks.
"My thoughts are with the injured and all those affected," he tweeted.
London Mayor Sadiq Khan says he is in "close contact" with the police following the incident in Streatham and also praised the work of first responders, saying "they truly are the best of us."
"Terrorists seek to divide us and to destroy our way of life - here in London we will never let them succeed," Khan said in a statement.
The attack on Sunday came just a little over two months after two people were stabbed on London Bridge by a man who had recently been released from prison where he was serving a 16-year sentence for plotting a terror attack.
Authorities on Nov. 4 reduced the national threat level to "substantial,'' meaning an attack is considered likely. That is the third-highest level in a five-step alert system used by British authorities and marks the first time the threat level has been so low since Aug. 2014.
The Associated Press contributed to this report.