London marathoner thanks runner who helped him finish race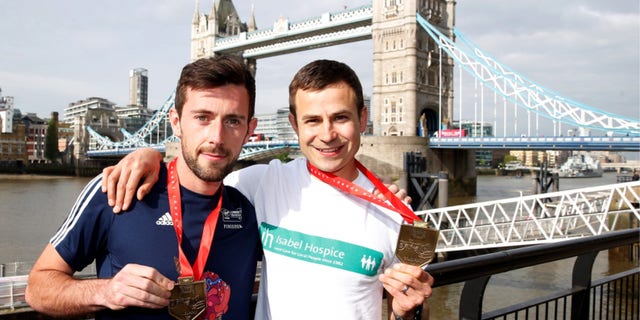 A man who almost collapsed toward the end of the London Marathon on Sunday has been reunited with the runner who helped him cross the finish line.
GRANTED UK ASYLUM AFTER 2012 OLYMPICS, SOMALIAN TO RUN AGAIN
David Wyeth met with Matthew Rees on Monday after they both completed the 26-mile race in less than three hours.
"The time means absolutely nothing to me – I feel a slight fraud for having a medal around my neck," Wyeth said, according to The Guardian. "I should cut a little piece out because it belongs to Matthew."
INDIANA MAN DRINKS 13 BEERS DURING HALF MARATHON
"I really wouldn't have got across the line – on my hands and knees maybe – but the time meant nothing in the end because I know I wouldn't have got there without Matthew putting his arm around me and carrying me over the line," he added.
"I went over and he said, 'I've got to finish,' and I said, 'You will,' and I helped him up," Rees recalled of the race's dramatic moments. "It was clear he wouldn't be able to do this alone, so I thought 'stick with him' to make sure he did reach that finish line."
Rees said he thought he had "no other option" but to step in, The Sun reported.
Wyeth said he had accurately trained for the event but thought that dehydration played a role in his ending condition.
Despite the boost, Wyeth actually recorded a time one minute shorter than that of Rees, who crossed the starting line later.
Fundraising for the Isabel Hospice in Hertfordshire, which Wyeth was supporting, reportedly has increased dramatically.