Locked safe found during demolition of Pablo Escobar's Miami mansion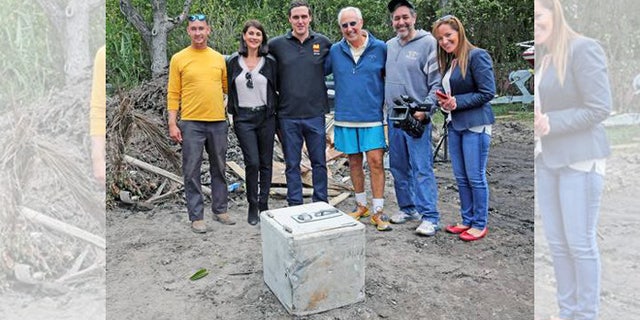 When the owners of a Miami Beach mansion formerly owned by notorious Colombian drug lord, Pablo Escobar, started the demolition of their new home, they likely weren't thinking about what secrets might be revealed.
But on Monday, workman Miguel Mato made a surprising discovery. While knocking down a wall in the 7,000-square-foot manse, he found a locked safe.
New owners Christian de Berdouare, founder of the Miami chain Chicken Kitchen, and his wife, TV journalist Jennifer Valoppi, have made other finds on the property. A tube of white powder about 12 inches long and three inches wide – first thought to be cocaine, but tests were negative because of the length of time it had been sitting there – was found hidden behind a stove.
And another safe was found buried under a slab of marble, but it disappeared as quickly as it was unearthed.
After the latest find, Berdouare told the Miami Herald, "This is real. It's still locked. It's very, very heavy. We can't believe it — now Pablito is my best friend."
The safe is about two feet by two feet and weighs between 600 and 700 pounds, according to Mato.
De Berdouare said the safe is still locked, and its contents — if there are any — are unknown.
"I think that it has gold or diamonds," he said. "Who knows?"
The couple bought the house in 2014 for $9.65 million.
Escobar bought the mansion in March 1980 for $762,500, according to Miami-Dade County Public records. Seven years later, the property was confiscated by U.S. authorities.
The safe will be kept in a bank vault where it will live until the current owners complete the renovation and Valoppi finishes a documentary she's been working on about the mansion and its connection to Escobar.
The former head of the Medellín cartel, who was gunned down by police in Colombia in December 1993, was known to have secreted much of his riches behind walls and under the floors of his properties.
The Miami Beach property is currently under 24-hour security until all the debris has been removed.
The couple has also hired a treasure hunter from Kellyco Metal Detectors to search the site.