Linking Immigration to Occupy Wall Street: A Reporter's Notebook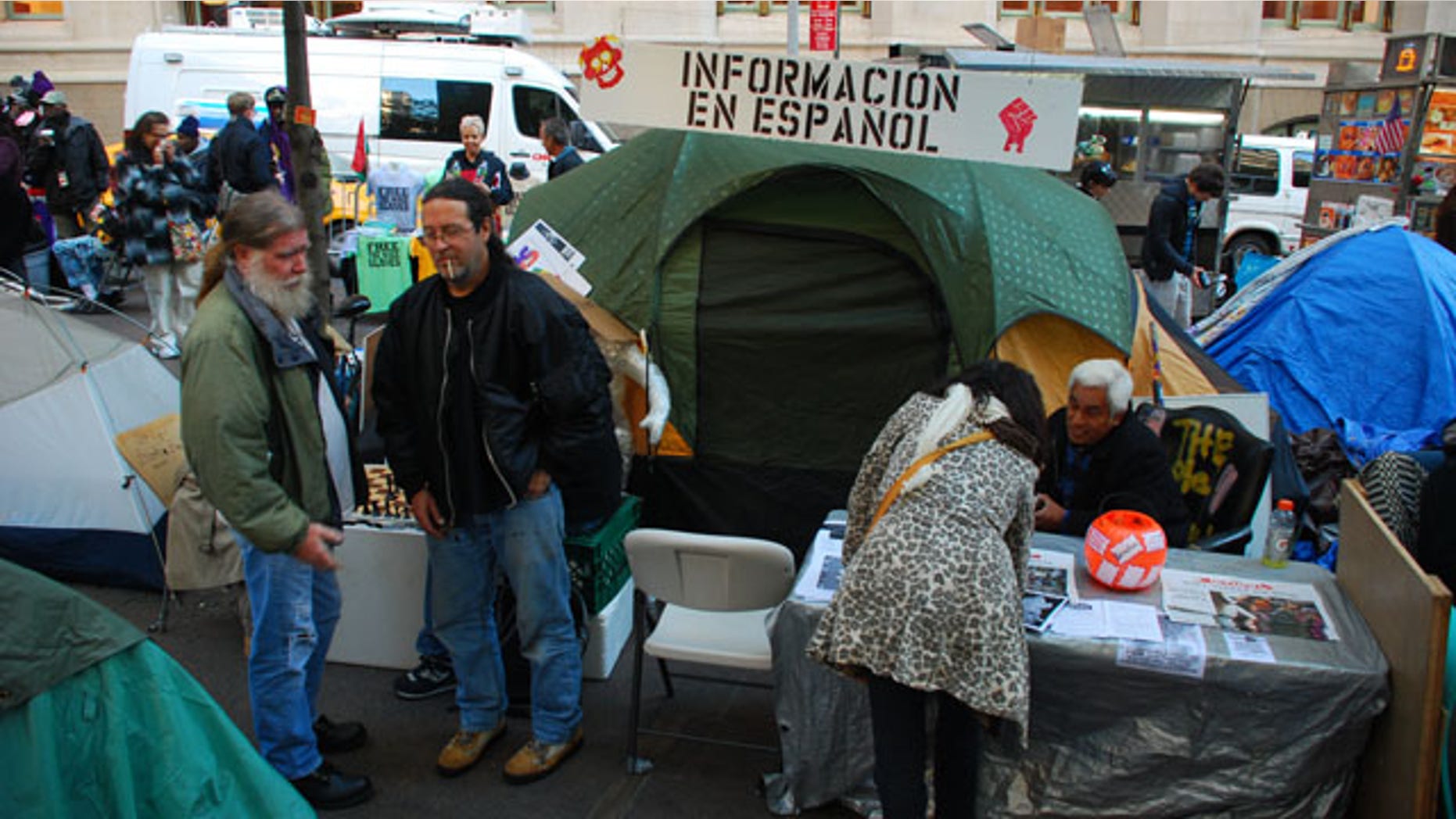 It was my first time in Zuccotti Park. It took me a while to find it, because most of the heart of Wall Street is cordoned off.
The impressive New York Stock Exchange building was being watched over by police on horseback. The park itself is not very big. It is now crowded with makeshift tents, a People's Library, free veterinary services, a communal kitchen, true believers and some nasty hangers-on.
Occupy Wall Street is sui generis. It's neither Woodstock, nor Tea Party, nor civil rights movement. It is a spectacle, a popular tourist attraction. It feels like a modern day Renaissance Fair, complete with a variety of wares for sale and surrounded by falafel trucks.
I was there to witness a march by members of the Latino community in a show of support for the OWS movement. Latino elected officials, union leaders and women's advocates who walked 11 miles from Washington Heights to Wall Street to join forces with the other "99 percenters."
From what I could see at the park, at the core of the movement, there were not many Hispanics. Hidden among the hodgepodge of plastic tarps, I spotted one lone tent with a sign that read "Información en Español," and headed towards it. I wondered why they were there.
I approached two men playing chess next to a table stacked with copies of Occupy Wall Street Journal in Spanish. One of the players was Roberto Meneses, a native of Mexico.Why did you join the movement? I asked.
"I am here because this affects us also. As immigrants," he said.
Meneses came to the park when it was taken over on September 17. He explained that in the beginning, many Hispanics didn't feel that the movement had anything to do with them.
our struggle to gain citizenship and an immigration reform doesn't live in isolation. It is part of the struggle for economic equality.
"At first, everyone was saying that this was just a movement of 'gueritos,' that it really didn't concern us," he said. "They have their struggle. But we as Hispanics, as immigrants, have been fighting for a long time since we arrived from our countries," he said. "We have to let people know what we suffer. But our struggle to gain citizenship and an immigration reform doesn't live in isolation. It is part of the struggle for economic equality," he said. "Everything is connected."
To this, his chess partner, vigorously nodded his head. At that point, the Latino marchers began to arrive.
I left the inside of the park to try and talk to them. I approached two women marching together. I asked one of them, Michaela Lugo, from the Dominican Republic, what she thought was the central issue for Hispanics in this movement.
"The question of an immigration reform is the most important issue for Latinos in this. We deserve our papers. We all have the right to belong."
Susanne Ramirez de Arellano is a freelance writer based in New York City. She is a former News Director for Univision Puerto Rico and has worked for ABC News, the Associated Press Television News in London and CNN International. She writes a Blog for www.magacin.com called Susanne y la Ciudad.
Follow us on twitter.com/foxnewslatino
Like us at facebook.com/foxnewslatino