Libyan Rebels Pledge Assault on Qaddafi Stronghold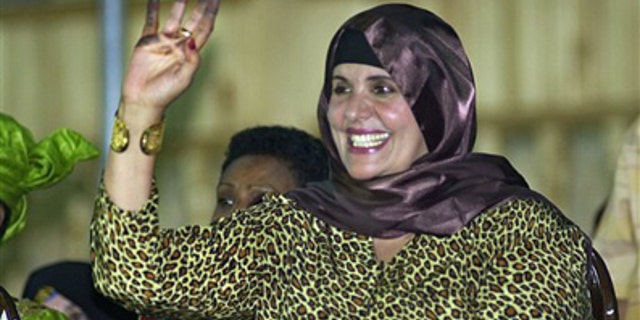 Muammar Qaddafi was reportedly last seen heading south of Tripoli after holding meetings in the capitol Friday, a bodyguard of one of his sons told Sky News.
Abdu Salam Ataher-Ali, a 17-year-old member of Khamis Qaddafi's protection team, told Sky News that Qaddafi arrived in a car and met Khamis and his daughter before heading in convoy towards Sabha.
Ataher-Ali then confirmed reports by rebel commanders that Khamis has been killed in an airstrike near Tripoli, saying Khamis was killed when his car armored car was hit by a missile allegedly launched by a NATO helicopter.
NATO has not confirmed these reports, Sky News said.
This report comes after Libyan rebels say they're closing in on the Libyan leader and had issued an ultimatum Tuesday to regime loyalists in the fugitive dictator's home of Sirte, his main remaining bastion: surrender this weekend or face an attack.
"We have a good idea where he is," a top rebel leader said.
The rebels, tightening their grip on Libya after a military blitz, also demanded that Algeria return Qaddafi's wife and three of his children who fled there Monday. Granting asylum to his family, including daughter Aisha who gave birth in Algeria on Tuesday, was an "enemy act," said Ahmed al-Darrad, the rebels' interior minister.
Rebel leaders insisted they are slowly restoring order in the war-scarred capital of Tripoli after a week of fighting, including deploying police and collecting garbage. Reporters touring Tripoli still saw chaotic scenes, including desperate motorists stealing fuel from a gas station.
In the capital's Souk al Jumma neighborhood, about 200 people pounded on the doors of a bank, demanding that it open. Civil servants said they were told they would receive a $200 advance on their salaries for the three-day Muslim holiday of Eid al-Fitr, which starts Wednesday in Libya.
Rebel fighters were converging on the heavily militarized town of Sirte, some 250 miles east of Tripoli.
The rebels gave pro-Qaddafi forces there a deadline of Saturday -- the day after the end of the Muslim holiday -- to complete negotiations and surrender. After that, the rebels will "act decisively and militarily," said Mustafa Abdul-Jalil, the head of the rebels' National Transitional Council.
His deputy, Ali Tarhouni, said in Tripoli that "sometimes to avoid bloodshed you must shed blood, and the faster we do this, the less blood we will shed."
There has been speculation that Qaddafi is seeking refuge in Sirte or one of the other remaining regime strongholds, among them the towns of Bani Walid or Sabha.
"Qaddafi is now fleeing -- and we have a good idea where he is," Tarhouni said, without elaborating. "We don't have any doubt that we will catch him."
Some 90 miles west of Sirte, about a dozen armored, gun-mounted trucks were parked at a staging ground in the desert. A highway overpass provided some shade for rebels, most dressed in T-shirts and camouflage pants.
Commander Ismail Shallouf said patrols have gone 30 miles closer to Sirte, and occasionally have exchanged fire with Qaddafi fighters. Ahmed Abu Sweira, standing on the overpass, said rebels are waiting for reinforcements for the final push.
On Monday, NATO hit about three dozen Qaddafi military targets in the Sirte area. NATO insists it remains within the bounds of its original mission of protecting Libyan civilians, but appears to be paving the way for advancing rebel forces with its targeted airstrikes.
Diplomatic tensions rose between the rebels and Algeria after the Algerian government agreed to grant refuge to Qaddafi's wife, Safia, daughter Aisha and sons Hannibal and Mohammed.
In a dramatic episode, Aisha, a lawyer in her mid-30s, gave birth to her fourth child Tuesday, less than 24 hours after the family's escape to Algeria.
An Algerian newspaper reported that the exiles, who also included an unknown number of Qaddafi's grandchildren, had waited 12 hours to receive authorization from President Abdelaziz Bouteflika while Aisha was in labor. Algerian news reports said Aisha's pregnancy was one reason for Algeria's controversial decision to take the fleeing family in.
The whole party is now wanted by Libya's new rulers. The interim government criticized Algeria's decision and demanded that Qaddafi's relatives be handed over for trial in Libya.
The fate of Qaddafi's son Khamis continues to be in doubt. On Monday, rebel fighters said they believed Khamis, commander of an elite military unit, was killed in a rebel ambush south of Tripoli last week. However, Tarhouni said Tuesday that he cannot confirm Khamis' death.
In all, Qaddafi has eight biological children, a daughter and seven sons.
Since the rebel takeover of Tripoli more than a week ago, evidence has been mounting that Qaddafi may have lied about the death of his adopted baby daughter Hana in a 1986 U.S. airstrike.
The strike hit Qaddafi's home in his Tripoli compound, Bab al-Aziziya, in retaliation for the Libyan-sponsored bombing of a Berlin nightclub earlier that year that killed two U.S. servicemen. At the time, Qaddafi showed American journalists a picture of a dead baby and said it was his adopted daughter Hana -- the first public mention that she even existed.
Diplomats almost immediately questioned the claim. But Qaddafi kept the story alive through the years.
Adel Shaltut, a Libyan diplomat at the U.N. in Geneva, said it was common knowledge that Hana Qaddafi wasn't killed. "All Libyans knew from the very beginning that it's a lie," he told AP, saying Hana was married and had children.
As the last vestiges of Qaddafi's regime disappear, the rebels are trying to set up a new government in Tripoli. A new Cabinet has begun meeting, although not all members are present. Leaders of the interim government, Abdul-Jalil and Mahmoud Jibril, are holding meetings abroad and have not yet arrived in the capital.
The new government also is struggling with a water shortage in the city of nearly 2 million people. They have been without running water for a week since Qaddafi loyalists attacked crews trying to restart pumping stations for aquifers deep in the desert, rebel official Aref Ali Nayeb told AP. Bottles of drinking water are reaching most of the residents in aid shipments via Tripoli's port, distributed through neighborhood councils and mosques.
Click here to read more on this story from Sky News.
The Associated Press contributed to this report.