Libyan Official Says Government Forces Will Step Back From Misrata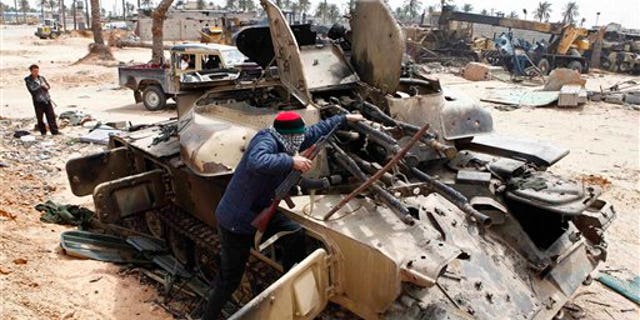 BENGHAZI, Libya — A Libyan Senior official said government troops would step back and allow local armed tribesmen to deal with rebels in the besieged city of Misrata.
The action came a day after the U.S. began flying armed drones to bolster NATO airstrikes, and having the tribesmen take up the fight could make it harder for the Predators to distinguish them from Misrata's civilians or the rebels.
Two missiles apparently fired by NATO warplanes struck near Qaddafi's sprawling compound in central Tripoli early Saturday, setting off loud booms but causing no injuries.
Reporters were taken to an unpaved plot next to Muammar al-Qaddafi's sprawling Bab Aziziyeh residential compound in Tripoli. They were shown two craters, apparently from missiles that had pierced through thick layers of reinforced concrete, laying bare what looked like a bunker system. Eight narrow military-issue metal crates were stacked next to one of the craters.
Libyan officials said the lot served as a parking lot but a series of olive-colored metal boxes near the crater suggested the area was being used for military activities.
About two dozen Qaddafi supporters arrived at the scene, waving green flags in support of the Libyan leader.
Rebels in the western city of Misrata raised their tricolor flag atop an eight-story building in celebration after driving pro-government snipers out of the structure Thursday. The battle-scarred building commands a strategic view of the central part of Libya's third-largest city and the key main thoroughfare of Tripoli Street. The snipers had terrorized residents and pinned down rebel fighters.
As a result, the number of civilian casualties dropped dramatically Friday for the first time in several weeks, said one rebel who spoke on condition of anonymity because he feared retaliation.
"Spirits are high but the military situation is still unknown," he said. "The rebels easily entered yesterday, so it was clear that the Qaddafi forces quickly withdrew."
Although there was less fear about snipers, fighting was still taking place near Misrata's central hospital and the vegetable market, a rebel said.
In Tripoli, Deputy Foreign Minister Khaled Kaim said tribal leaders had given the army an ultimatum, saying it must step aside if it cannot retake control of Misrata, which has been besieged by Qaddafi's forces for two months.
The tribal leaders would fight the rebels if they don't surrender, Kaim said late Friday night.
Asked if that meant troops would get out of the way, he said: "This is how I imagine it would happen." However, he said negotiations between the military and tribal leaders are continuing.
Kaim did not say when the military would pull back from Misrata or when the armed tribesmen would move in. "We will leave it for the tribes around Misrata and the Misrata people to deal with the situation in Misrata," Kaim told reporters.
Hundreds of people have been killed in clashes between rebels and government forces in the city of 300,000. The international community has accused Libyan forces of firing indiscriminately at civilian areas with tanks, rockets and mortars.
NATO's air campaign has been largely unable to strike at the government forces because of their proximity to civilians, and the rebels have complained that NATO's strikes have not done enough.
Kaim denounced the U.S. move as a "dirty game."
"This will be another crime against humanity committed by the American administration, and I feel really very sad for President Obama to be involved in such things," he said.
At a news conference in the rebels' stronghold of Benghazi ini eastern Libya, U.S. Sen. John McCain said he did not believe that the United States should send in ground troops, but it should be much more involved in the air campaign and "facilitate" the arming and training of the rebels — much as it armed the mujahedeen who fought the Soviets in Afghanistan in the 1980s.
"We need to urgently step up the NATO air campaign to protect Libyan civilians, especially in Misrata," he said. "We desperately need more close air support and strike assets."
Also Friday, a fourth ship chartered by the International Organization for Migration is leaving Benghazi to evacuate stranded migrant workers and wounded civilians from Misrata.
The latest voyage, which will also bring 160 tons of food, medical supplies, tents and mattresses to residents trapped in the city by the fighting, follows three earlier evacuations of more than 3,100 people from Misrata on another IOM-chartered vessel, the Ionian Spirit.
In western Libya, rebels consolidated control over the Dhuheiba border crossing they seized a day earlier, following several days of intense fighting with government troops. Libyan government officials had claimed Thursday that government troops had retaken the crossing.
However, several tricolor rebel flags fluttered from the crossing Friday, and rebel weapons, including machine guns, were seen in the area. Thousands of Libyans had fled to Tunisia during the fighting, but many were making their way back home Friday.
The takeover of the crossing opened an important supply line for the rebels to their stronghold in Libya's western Nafusa mountain area, near the border with Tunisia.