Latin American leaders remain silent on Venezuela's human rights abuses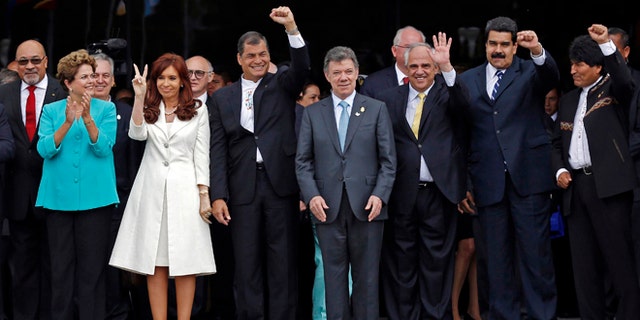 PANAMA CITY (AP) – From Mexico to Brazil, leaders in Latin America have largely kept silent amid charges of human rights abuses in Venezuela and are unlikely to speak out against their neighbor at this week's Summit of the Americas.
Many Latin American heads of state gathering in Panama City are bound to oil-rich Venezuela by business dealings if not ideology, and are put off by recent U.S. sanctions against some of the country's officials. Others do not want to be seen as doing Washington's bidding, particularly as they face protests and plunging approval ratings at home.
"Venezuela has successfully played the history of U.S. imperialism and U.S. heavy-handedness cards, in a way that has made people want to back away from public criticism," said Geoff Thale, an analyst at the Washington Office on Latin America.
The Obama administration last month froze the U.S. assets and revoked visas for seven senior officials accused of human rights violations related to protests last year against President Nicolás Maduro's socialist government. The unrest is blamed for more than 40 deaths and triggered a crackdown on criticism that led to the jailing of several opposition leaders, including February's surprise arrest of Caracas Mayor Antonio Ledezma.
Human Rights Watch and other advocacy groups issued a statement on Tuesday asking the countries attending the summit to call Maduro's administration to task for its alleged harassment of rights defenders.
But rather than highlight alleged abuses, the U.S. sanctions have drawn widespread condemnation in Latin America, denying Obama a hoped-for diplomatic victory lap at the summit for his decision to restore ties with Cold War nemesis Cuba. A reference to Venezuela as a threat to U.S. national security included in the sanctions declaration is standard bureaucratic language for the United States, but disturbing to a region with a long history of U.S. interference, from support for past military regimes to efforts to topple leftist governments.
Host Panamanian President Juan Carlos Varela said that while regional leaders are concerned about the situation in Venezuela, both the government and the opposition, which has been calling for Maduro's resignation, bear responsibility. Safeguarding the results of congressional elections later this year is the best way to resolve the impasse, he said.
"As a democratic country, for sure, we defend human rights, we defend the right of the Venezuelan opposition to participate in democratic elections," he said in an interview Tuesday with The Associated Press. "But we also have to defend the right for President Maduro to finish his term."
Ricardo Zuniga, the U.S. National Security Council's senior director for Latin America, said Tuesday during a press briefing on Obama's upcoming visit that the situation in Venezuela is a concern of all governments around the region. But he played down the language labeling Venezuela a national security threat.
"We don't have any hostile designs on Venezuela," he said. "We are Venezuela's largest trading partner. We have an extensive and deep history between our countries, including a lot of family connections."
The U.S. action has been breathing new life into Maduro's government just as a plunge in oil prices looked set to deepen economic turmoil marked by widespread shortages and soaring 68 percent inflation. He has promised to deliver Obama a petition signed by 10 million Venezuelans calling on the U.S. to repeal the sanctions.
The pushback from the region seems to have caught the U.S. off guard.
"I was a bit, I will confess, disappointed that there weren't more who defended the fact that clearly this was not intended to hurt the Venezuelan people or the Venezuelan government even as a whole," Roberta Jacobson, the top State Department official for Latin America, said last week about the sanctions.
It was no surprise that leftist allies such as the governments of Ecuador, Bolivia and Nicaragua would leap to defend Caracas. All have a history of vocal opposition to Washington. But even more moderate governments and traditional U.S. allies in the region have been reluctant to criticize Maduro.
Some governments are protective of deep economic ties to Venezuela, including Argentina and more than a dozen nations that have received subsidized oil under the Venezuelan-led Petrocaribe alliance.
Others worry about instability spilling over. In Colombia, President Juan Manuel Santos is trying to protect important trade with Venezuela, repair relations that nearly collapsed under his combative conservative predecessor, Alvaro Uribe, and retain Venezuelan support for complicated peace talks with leftist rebels.
Meanwhile the presidents of regional heavyweights, Mexico, Brazil and Chile are dealing with their own domestic crises brought on by slumping economies and government corruption charges, so are reluctant to antagonize left-wing constituents who still revere the late Venezuelan President Hugo Chávez.
Mexico's Enrique Peña Nieto has been forced to slash spending and partially rein in much-touted energy reforms due to plummeting oil prices. He is also fighting scandals over alleged cronyism and the disappearance of 43 students who authorities say were detained by police, handed over to a drug gang and murdered last September.
Brazilian President Dilma Rousseff's slumping approval ratings rival those of Maduro, with just 12 percent of citizens saying in a recent poll that they viewed her government's performance as "good" or "excellent." Driving voters away are a sputtering economy and a spreading corruption scandal at state oil company Petrobras. While her predecessor Luiz Inácio Lula da Silva was a regional powerbroker, Rousseff has not developed a clear foreign policy or a leadership role beyond Brazil.
Both leaders have been the target of protests calling for their resignation.
Rousseff and Chilean President Michelle Bachelet are former political prisoners who would seem natural candidates to speak out about human rights concerns. But Bachelet's popularity also has dropped over allegations her son used his influence to secure a bank loans — a corruption scandal that threatens her agenda to combat inequality in Chile.
With the exception of comments this week by Uruguay's foreign minister expressing concern over the jailing of opposition leaders and use of force against protesters, Latin America's most public criticism of Venezuela has come from those outside the halls of power.
In a letter released Monday, 19 former leaders from Latin America and Spain called on Maduro's government to release jailed activists and urged respect for "constitutional principles and international standards."
Latin diplomats like to say they can be more effective raising concerns privately with Venezuelan officials rather than airing dirty laundry in public. They point to mediation efforts by the South American regional bloc Unasur, which last year briefly brought the government and opposition to the negotiating table, and say they may exercise this leverage again should things spin out of control around legislative elections later this year.
Maduro has promised to deliver to Obama a petition signed by 10 million Venezuelans calling for the U.S. sanctions to be revoked, but Panama's president said regional leaders won't allow the tensions to dominate the conference.
"The summit isn't about the bilateral relationship between the United States and Venezuela," Varela said. "But if they (Obama and Maduro) have to meet, Panama is a good place to meet, Panama is a good place to talk, Panama is a good place to solve differences. That's the tradition of our country."