Last two Japan nuclear reactors can stay online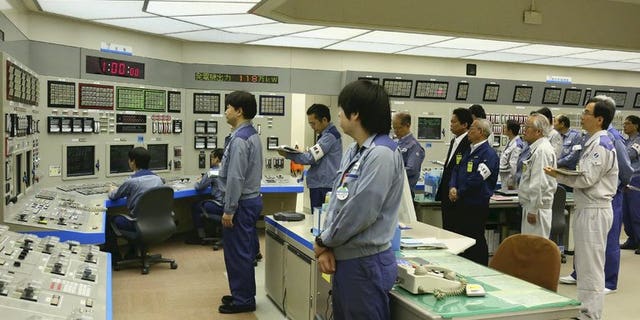 TOKYO (AFP) – Japan's nuclear watchdog said the only two reactors currently working in the country can stay online for now, even without meeting strict new safety standards intended to prevent a repeat of the Fukushima disaster.
The decision came days before the new rules come into force, an event expected to prompt multiple requests from power companies for the green light to get their atomic plants operating.
It pushes back the likelihood of Japan being without any working reactors in the immediate future.
The Nuclear Regulatory Authority concluded that Units 3 and 4 at the Oi nuclear plant in western Japan are "not in the condition that would pose immediate safety concerns" even without being inspected under the new safety rules.
That ruling means operator Kansai Electric Power can keep the two units online until September, when they will undergo scheduled safety checks and be re-examined under the new rules, the authority said.
"I expect the operator will continue improving the safety of the plant towards meeting the new standards," said the nuclear authority's head Shunichi Tanaka.
The body will also continue examining if there are any active tectonic faults underneath the plant.
The stricter new standards are part of a government effort to convince a sceptical populace that they are taking safety issues seriously in post-Fukushima Japan.
Leading figures in a vocal anti-atomic movement say the nuclear industry had too cozy a relationship with its regulators in the decades leading up to the tsunami-sparked disaster in March 2011.
The new watchdog has set stricter new standards that operators must show they can meet before they will be granted permission to re-start idle reactors. All but two of Japan's 50 -- those at Oi -- are offline.
Fukushima operator TEPCO said Tuesday it would ask the NRA for permission to restart reactors at the world's largest atomic power station at Kashiwazaki-Kariwa in Niigata prefecture, north of Tokyo.
Japan's power companies have been badly hit by the surging cost of producing electricity from fossil fuel alternatives since their reactors were shut down.
Resource-poor Japan has to import the coal, gas and oil it is using to replace nuclear generating capacity and the falling value of the yen has pushed up the relative cost of those dollar-priced commodities.
Business-friendly Prime Minister Shinzo Abe has said his government will allow power companies to re-start reactors if they pass the safety tests. Industry has been agitating for restarts, fearing power shortages if they stay offline.