Lampard will win 100th cap, says Hodgson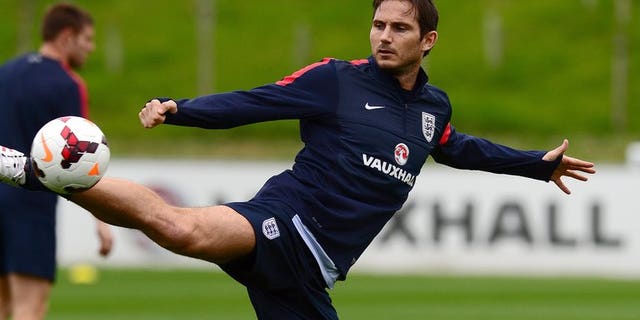 KIEV (AFP) – England manager Roy Hodgson confirmed on Monday that Frank Lampard will win his 100th cap as a starting member of the team that plays Ukraine in Tuesday's World Cup qualifier.
Lampard, 35, made his 99th international appearance in Friday's 4-0 win over Moldova at Wembley, which took England to the top of European qualifying Group H.
Hodgson, who has also awarded 100th caps to Steven Gerrard and Ashley Cole during his tenure, said that the Chelsea midfielder would keep his place in the side for the game at Kiev's Olympic Stadium.
"He'll play tomorrow night," Hodgson told journalists at Monday's pre-game press conference.
"It's quite a first, to have three players who have played their 100th games for England while I've been manager. I'm very proud of that.
"All things being equal, Frank will start the game tomorrow."
Hodgson also revealed that his line-up would remain unchanged, except for the absence of the suspended Danny Welbeck.
"The line-up will be unchanged and there will be one player who replaces Danny Welbeck, who is suspended," he said.
Manchester City midfielder James Milner is expected to deputise for Welbeck, but Hodgson said there were several alternatives available to him.
"There's always options regarding systems," he said.
"In terms of wide areas, where Danny started as a left-sided forward in our last match, we have plenty of players that can play there, so my options are not limited."
Victory for England would represent a huge step on the road to next year's World Cup in Brazil as it would leave Hodgson's side three points clear at the top of the group with only two games to play.
However, Ukraine have won their last four qualifying games -- including away wins over Poland and Montenegro -- and will leapfrog England to the top of the group if they prevail.
Hodgson likened the game to a "cup final" but he disagreed with Ukraine coach Mykhaylo Fomenko's assertion that Tuesday's game will be the biggest game of his life.
"If I had a little bit of money for every time I'd heard an opposition player saying it was the game of his life, I'd be a rich man," Hodgson said. "It doesn't impress me, not at all."