LA NOTA LOCA: Offensive Graffiti Messages At Vassar Maybe Written By Transgender Student Who Was Investigating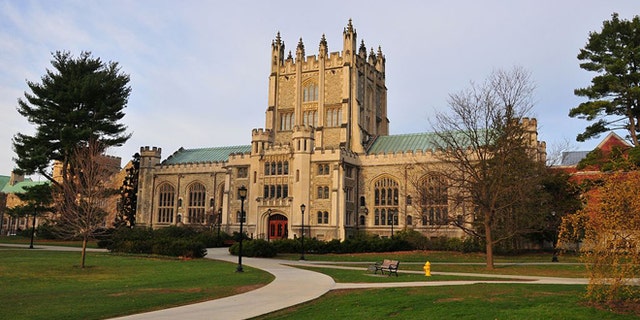 A liberal arts college in upstate New York recently was plagued by a slew of offensive graffiti posted on campus housing and targeting African-American and transgender students. School officials now claim that the messages were a hoax perpetrated by two students, one of whom is allegedly a transgender person who was also a member of the school's Bias Incident Reporting Team (BIRT).
Officials at Vassar College in Poughkeepsie, New York said that they have pinpointed two of six incidents to the pair of students. The Daily Caller reported that one of the students is Genesis Hernandez, a transgender student who was in charge of investigating the graffiti and was also the vice president of the Vassar Student Association.
The other student has so far remained unnamed.
"This is unacceptable and members of our community should be able to learn and work in environments that are free of hurtful expressions and behaviors," wrote Edward Pittman, BIRT coordinator and dean of the College for Campus Life and Diversity, in an email to students, according to the Daily Caller.
While it is unknown if all the graffiti can be attributed to the pair of students, some of the messages include offensive sentiments such as "Hey Tranny. Know Your Place" and "Avoid Being B****es." Besides targeting the college's LGBT community, another message written on a student's door read "F*** N*****," showing the perpetrators targeted race as well as sexual identity.
"It is our unfortunate duty to report that two Vassar students have admitted responsibility for creating a number of recent bias and hate-speech messages in public spaces on campus," Vassar president Catharine Hill wrote in the email. "They also falsely reported these as anonymous messages. Sadly, our community has been deeply hurt by these actions."
Both students have left the school and school officials have stated that criminal charges against the pair are not planned as of now.
Hernandez was a junior at the college and, besides her position at the Vassar Student Association, she was involved in a number of gay and lesbian support groups on campus. The president of the Vassar's student government sent out an email announcing the vacated position of vice president.
The school has not officially named Hernandez as one of the suspects in the graffiti incidents, but the school's newspaper published a lengthy article about the special election after Hernandez's resignation from her post as vice president. Before leaving the school Hernandez was working on a number of projects including creating more accessible gender-neutral bathrooms and working on the Sexual Assault and Violence Prevent (SAVP) process.
Follow us on twitter.com/foxnewslatino
Like us at facebook.com/foxnewslatino