Police In A New York County To Undergo Training On How To Serve Latinos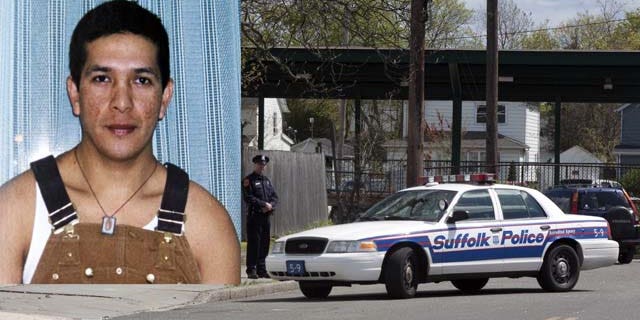 Five years after an immigrant's murder led to criticism that authorities in the Long Island, N.Y. area failed to take seriously assaults against Latinos, the Suffolk County Police Department is expected to undergo training on how to better serve Latino communities.
Marcelo Lucero, an Ecuadoran immigrant, was fatally stabbed in 2008 in Patchogue by a teenager who was in a group that had gone out looking for Hispanics to harass.
The training mandate is one of several changes to result from a settlement reached Tuesday between the Suffolk County Police Department and the U.S. Department of Justice.
The other parts of the settlement call for instruction on how to improve investigations of alleged hate crimes and bias incidents, providing better services for people who are not fluent in English, and stepping up communication and relations in general with Latino residents.
The agreement, announced Tuesday, still requires approval of the Suffolk County Legislature before it can be formally executed.
The agreement caps an investigation of the Suffolk County Police Department that began in 2009, after Lucero's murder.
Many Latino community members and civil rights groups said that a tragedy of the kind that claimed Lucero's life had been almost an inevitability because of a culture of hostility toward Latinos that was nurtured by police indifference.
One of the leading groups in bringing those concerns to light, LatinoJustice PRLDEF, said the agreement was long overdue.
"Lucero's murder by teenagers who admitted to regularly engaging in the ethnic hunting parties they termed 'beaner-jumping' shone a light on the local Latino immigrant community who felt they were under siege," said Juan Cartagena, the President and General Counsel of LatinoJustice PRLDEF.
Latinos were "subjected to anti-immigrant violence, as well as being unable to contact local law enforcement who largely ignored or shunted aside their concerns by claiming they could not do anything because the perpetrators were teens," Cartegena said in a statement.
"It also illustrated the devastating impact that local elected county officials who had regularly demonized Latino immigrants had on the community creating a climate of fear."
LatinoJustice said that after Lucero's murder, it provided Justice Department officials with a list of more than 20 crimes against Latinos that the Suffolk County Police Department had neglected.
"All residents of Suffolk County deserve full and unbiased police protection, regardless of national origin, race, or citizenship status," said U.S. Attorney Loretta E. Lynch for the Eastern District of New York. "When people feel they cannot turn to the police for protection, they have lost one of our most basic rights – the right to feel safe in one's community."
Follow us on twitter.com/foxnewslatino
Like us at facebook.com/foxnewslatino