Kim Jong Un under fire for flagrantly violating sanctions with his mysterious, growing fleet of luxurious vehicles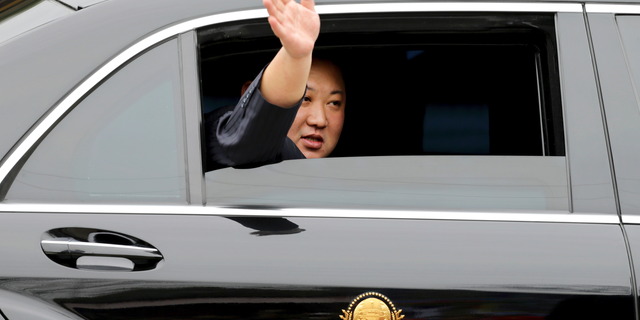 Despite the robust United Nations sanctions that have long been slapped upon North Korea – banning sales of luxury goods and vehicles to the nuclear weapons-procuring and human rights-abusing government – leader Kim Jong appears to have no problem curating an extravagant car collection, and flagrantly flashing the violations for the world to see.
"Chairman Kim's expanding inventory of European and U.S.-manufactured or customized luxury and up-armored limousines represents the most obvious series of flagrant sanctions violations to date," Hugh Griffiths, who for the past five years has a coordinated a U.N. panel of experts to monitor North Korea's sanction-circumventing maneuvers, told Fox News. "This is because these vehicles are quite literally paraded at foreign summits, diplomatic meetings and other high-profile events in Singapore, Pyongyang and elsewhere."
A report released last week by a U.N. panel noted that investigations are underway concerning North Korea's acquisition of luxury goods, such as Rolls-Royce, Mercedes-Benz and Lexus vehicles. The panel found that the world's largest container shipping line continued to "unwittingly transport prohibited items."
KIM JONG UNWILLING TO SIT DOWN WITH TRUMP AGAIN, NORTH KOREA STATE MEDIA SAYS
Griffiths said the violations are hardly being kept secret.
"This is no clandestine activity taking place on the high seas, or at night, as is often the case with the illegal ship-to-ship transfers of coal or petroleum," he said. "These vehicles are being paraded in front of the world's media."
As was highlighted in the U.N. panel's reports, the North Korean regime is illicitly exporting prized possessions in clandestine fashion, using anonymous shipping containers diverted from their stated destinations.
"There is a very real risk that if North Korea is able to divert such large items – even though the Security Council sanctions resolutions say that all cargo entering North Korea should be inspected – then North Korea will have few problems importing smaller but critical dual-use items for its nuclear and ballistic missile programs," Griffiths noted.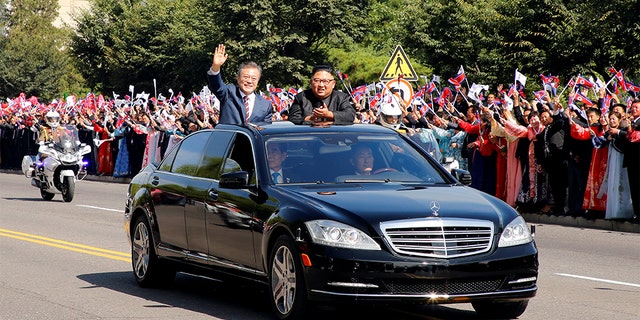 Last October, Kim raised eyebrows when he rolled up in a new black Rolls-Royce to meet with Secretary of State Mike Pompeo in the North Korean capital of Pyongyang. It was unclear how he'd managed to assemble such a swanky set of British-originated wheels.
The Rolls Phantom, worth almost $500,000, appears to have been produced between 2012 and 2017, according to the new U.N. report, at a British plant in Goodwood. How it got to North Korea remains an open question.
Previously, Kim had been seen cruising to high-profile meetings in a Mercedes Maybach S600 Pullman Guard limousine, estimated to be worth more than $1.5 million with its armaments and assortment of modifications. Moreover, a number of Lexus LX570 all-wheel-drive vehicles were being sported by the North Korean delegation at an inter-Korean summit a month earlier in Pyongyang.
But there might be much, much more to Dear Leader's illicit fleet.
"It is not publicly known exactly how many vehicles Kim Jong Un possesses, but it is estimated that there are 100 to 300 vehicles inside special garages in North Korea," said Dong Yon Kim, an expert investigator in international and security affairs and retired South Korean Air Force Officer and weapons director at the Korean Air and Space Operations Center. "Some were collected by his father and grandfather, all three have a different taste in cars."
For one, grandfather Kim ll Sung was known to love U.S.-made Lincoln and Cadillac, with at least one such antique Cadillac Fleetwood Brougham spotted in use by a North Korean diplomat recently. In 2010, the year before the death of Kim's father Kim Jong il, Yon Kim said that a "special container" was documented to have crossed from China into North Korea carrying more than $3 million worth of Audis and a Mercedes.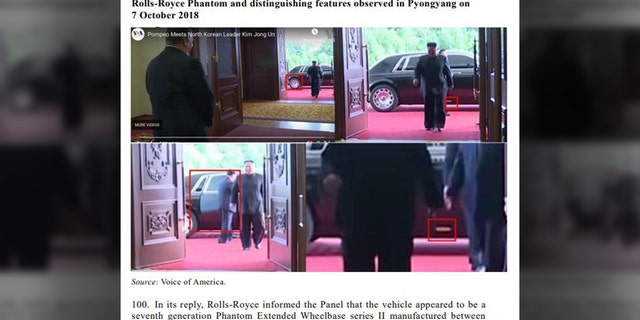 "When Kim Jong ll was alive, he was known to be a Mercedes maniac," Yon Kim continued, while the young reigning dictator has inherited that appreciation with his own "Western-obsessed" flavor. "Kim lived his childhood obsessed with many Western cultures. He loved basketball, is known for drinking only Perrier sparkling water and eating only Emmental Swiss cheese."
NORTH KOREAN DEFECTOR ON KIM JONG UN'S 'LIES,' SURVIVING TORTURE, AND SUPPORTING TRUMP POLICY
Derived from what Kim has brandished through various summits and meetings in recent times, and based on Dong Yon Kim's extensive analysis, Kim at minimum owns a 2010~2011 Mercedes-Benz S600 Pullman Guard, Maybach 62 S, a Rolls-Royce Ghost, a Rolls-Royce Phantom, a Lexus LX570, a Mercedes G wagon and a Mercedes Maybach S600 Guard.
Yet his car collection is believed to be far from the factory floor. Known to be "security phobic," the strongman is said to always have 12 highly elite bodyguards around him and all transportation vehicles are "bullet-proof, fire-proof, gas-proof and explosive proof."
"These vehicles are capable of blocking most handguns and rifles with its full metal jacket," Yon Kim asserted. "And in terms of performance, two significant modifications are applied. One is an Electronic Computer Unit (ECU) chip to squeeze in more horsepower, the second is extra brake tuning."
And then there another important annexation to the car collection.
Kim is also said to have a bevy of tailored toilet vehicles that trail him wherever he goes – never using a public restroom – which serves a double purpose of not enabling any sneaky outsiders to obtain health information from any waste matter left behind. This also helps cultivate his public perception as something of a mythical almighty.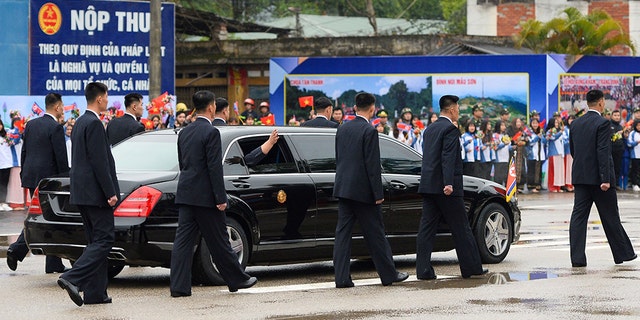 But whether Kim himself can actually drive remains a subject of vigorous debate. As pointed out, textbooks issued to young schoolchildren in North Korea are focused on the "heroic ability" of their national chief, and even claim that Kim was able to drive a car at the age of 3; by 9, the story goes, he was racing boats against foreigners.
But the rumor among the defector community in Seoul is that Kim on occasion drives one of his VIP Benz cars late in the night in Pyongyang, and at one time complained that fellow drivers "were dumb," a declaration that led to more tickets being handed out by police.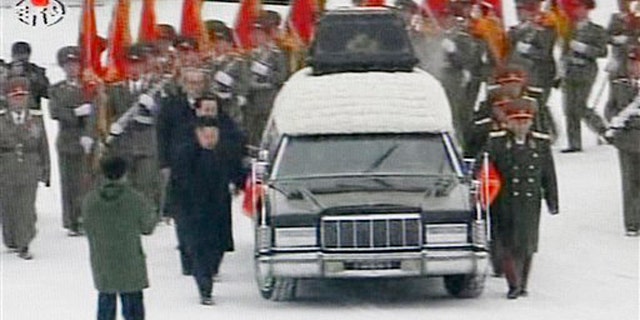 Yon Kim also pointed to the murky nature of purchases made by North Korea's foreign diplomats. "There are many more unknown and unreported cases," he said. "If you look at North Korea embassies overseas, those embassies all own at least one Mercedes-Benz."
KIM JONG UN'S TRAIN TRAVEL TO VIETNAM HIDDEN BY CHINESE CENSORS
For one, the North Korean Embassy in Malaysia is alleged to have procured at least five high-end vehicles: Mercedes-Benz E-Class, Jaguar XJ, Audi A6, Lexus LS, and BMW X5; the North Korean ambassador to Malaysia reputedly owns two luxury vehicles: Jaguar XJ and Lexus LS with the number plate 28-01-DC, Yon Kim reported.
"The number 28 means North Korea – country designation – while 01 means the rank of embassy meaning ambassador, and the last two alphabets DC stand for 'Diplomatic Corps' in Malaysia," he surmised. "It is rare to see one ambassador owns two luxury vehicles country like North Korea.
He added, for emphasis, "North Korea's GDP per capita is about $1,800 (USD) which is lower than Syria."
Given the hefty economic sanctions imposed on the Hermit Kingdom, Pyongyang's auto industry is confined to just one mysterious manufacturer, Pyeonghwa Motors, which is only able to produce from a small pool of Asian makers. It is unknown how many cars are made there annually. The tally is widely assumed to be only a few thousand, if that, with Pyeonghwa Motors plagued by rumors it went out business some years ago. Now, the company may serve more as a nationalistic symbol.
Few in the impoverished nation are able to afford even a domestic car. While the price tag for a North Korean car hovers around $10,000, the yearly income for most is less than $1,300.
"North Korea always advertises its vehicles as the world's best, but Kim Jong Un and his cabinet would never ride in them," Yon Kim observed. "Because most people can't afford to buy a car there, most people travel by bicycle or just walk."
The onus is now on U.N. Security Council member states to determine what should happen to these high-end vehicles, and it is up to governments to put pressure on global banks, traders and insurers to go after the culprits, but Griffiths underscored that the panel's work is far from over.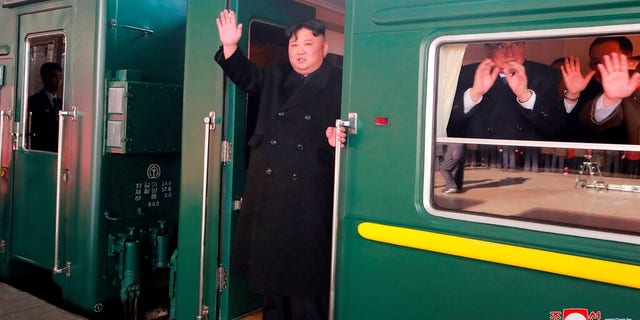 "We will continue to investigate how the latest Maybach Mercedes and the Rolls-Royce got to North Korea, as well as the companies and individuals responsible for these transfers," he said. "Past panel reports show that the same networks exporting prohibited military equipment from North Korea to Africa were also involved in the import of some of the Mercedes-Benz to North Korea."
According to Yon Kim, what has been exposed so far about the regime chief's car collection is merely the "tip of the iceberg," and he anticipates that there is at least one major global company – yet to be named – responsible for injecting illegal opulence into the closed country.
"Providing luxurious cars to Kim Jong Un is a crime, and those who support such delivery are also committing a crime," he added.