Killer whales trapped under sea ice appear to reach safety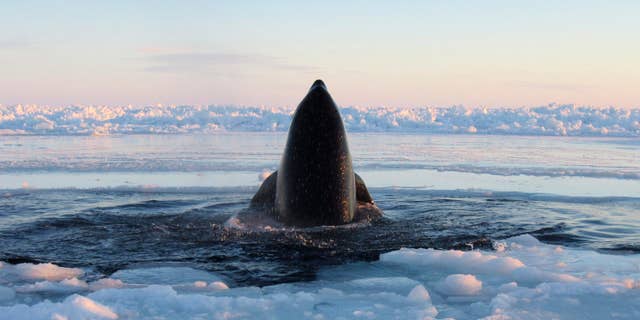 MONTREAL – About a dozen killer whales that were trapped under sea ice appeared to be free after the ice shifted, a leader of a northern Canada village said Thursday.
The animals' predicament in the frigid waters of Hudson Bay made international headlines, and locals had been planning a rescue operation with chainsaws and drills.
Tommy Palliser said two hunters from Inukjuak village reported that the waters had opened up around the area where the cornered whales had been bobbing frantically for air.
"They confirmed that the whales were no longer there and there was a lot of open water," said Palliser, a business adviser with the regional government.
"It's certainly good news -- that's good news for the whales," he said.
Locals said the whales had been trapped around a single, truck-sized breathing hole for at least two days. A recent sudden drop in temperature may have caught the whales off guard, leaving them trapped under the ice.
Palliser said the winds seemed to shift overnight, pushing the floating ice further away from the shore.
The cornered animals were first seen Tuesday and appeared to have less energy by late Wednesday, Palliser said.
Inukjuak Mayor Peter Inukpuk has said Canada's Department of Fisheries and Oceans informed him that government icebreakers were too far from the area to smash the ice to free the whales.
Palliser said locals had agreed to try to enlarge the existing breathing hole and cut a second opening using chainsaws and drills.
"We certainly had our prayers with them last night during our meeting," he said.
Ice-trapped marine mammals are not unusual in the region.