Kerry meets leaders in Israel, says spring remains target for Mideast peace deal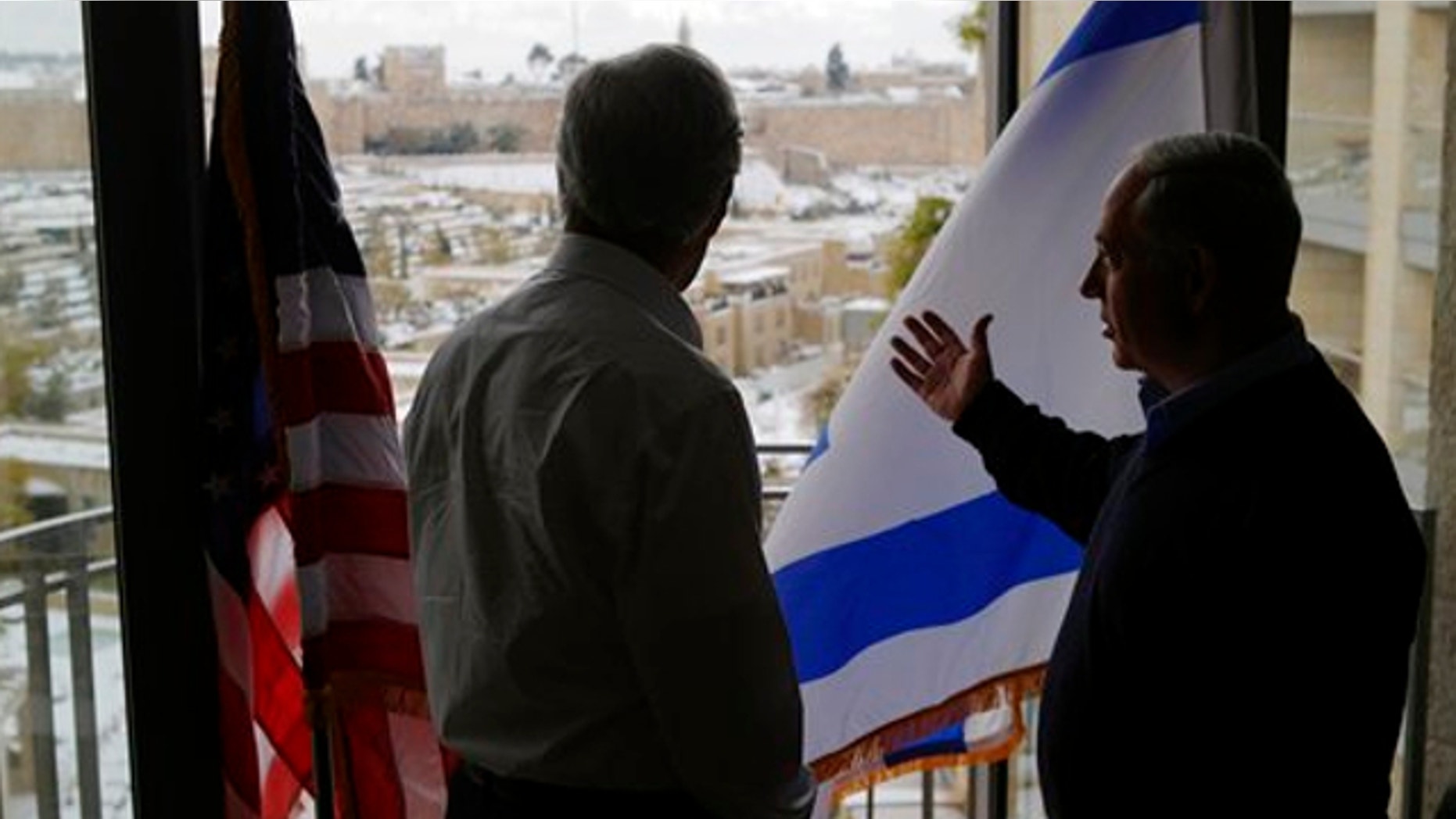 TEL AVIV – U.S. Secretary of State John Kerry said Thursday that a spring target date for a peace deal between Israel and the Palestinians is still possible after two days of meetings with Israeli and Palestinian leaders that were hampered by rare heavy snows across the region.
"We're not talking at this point about any shifts," Kerry told a news conference at the U.S. Embassy in Tel Aviv, where he traveled from Jerusalem after several hours of talks with Israeli Prime Minister Benjamin Netanyahu. Kerry met with Palestinian President Mahmoud Abbas Thursday in the West Bank town of Ramallah in a session that had to be cut short because of the snowfall.
The two sides agreed when long-stalled negotiations resumed in August to meet without interruption for nine months, or until the beginning of May in hopes of reaching a final status agreement by then. However, more than halfway through that period there have been few, if any, tangible signs of progress and there is deep skepticism on both sides that the timeline can be met.
"Our goal remains, as it always has been, for the Israelis and Palestinians to reach a final status agreement, not an interim agreement," Kerry said.
In recent days, U.S. officials, including President Barack Obama and Kerry, have spoken of trying to forge a framework accord that would generally cover the main points of contention but not the details necessary for a final deal. Such an agreement could allow the two sides to extend the nine-month negotiating period for a comprehensive peace pact. Officials traveling with Kerry have said a framework accord would be a "logical step" on the path to a final status agreement.
Kerry said a framework agreement would include all issues on the table: borders, security, the fate of Palestinian refugees, the status of Jerusalem, mutual recognition and an end to all outstanding claims against each other.
Kerry's visit was his ninth to Israel and the Palestinian territories since becoming secretary of state in February.
In Ramallah and Jerusalem, Kerry said he also followed up on elements of a West Bank security plan, ideas for which he unveiled on his most recent visit to the region just last week with Gen. John Allen, the former Marine who has been tasked with coming up with ways to satisfy each sides' security demand.
Security arrangements between Israel and a future Palestine would be central to such a framework. Kerry has argued that progress in negotiations is only possible if Israeli security concerns are addressed first.
The security proposals presented last week to Abbas and Netanyahu include arrangements for the border between Jordan and a state of Palestine.
U.S. officials have refused to discuss details, but Palestinian officials, speaking on condition of anonymity because they were not authorized to discuss the details of the negotiations by name, say they would give Israel final say at that border for at least 10 years and would also have a military presence in the strip of land next to it, the West Bank's Jordan Valley.
Israeli officials have said they fear militants and weapons could be smuggled into a future Palestine if Israel gives up control over the West Bank-Jordan border. Abbas has said he is willing to accept an international presence there, but not Israeli forces.
The Palestinians are concerned that a framework deal will accommodate very specific Israeli security demands while offering only vague promises to the Palestinians and earlier this week top Abbas aide Yasser Abed Rabbo said if Kerry finalized a framework accord, he would be breaking a promise to try to negotiate a final agreement in the current round of talks.
On Thursday Kerry stressed that any arrangement finally adopted would "guarantee Israel's security and fully respect Palestinian sovereignty."
The Palestinians want a state in the West Bank, Gaza and east Jerusalem, lands Israel captured in 1967, but are willing to accept minor land swaps in drawing the final border to accommodate some of the settlements Israel has built on war-won land.
Netanyahu has refused to commit to what the Palestinians and most of the international community consider a basic ground rule -- that border negotiations use the 1967 lines as a starting point.
In all, Israel has agreed to release 104 veteran Palestinian prisoners in four stages during the current negotiations, which began in late July and are to conclude in April. Israel has so far released two groups of prisoners.
Kerry wants the last two releases to be combined and be carried out in late January, instead of being done in two installments, the Palestinian officials said.
However, Kerry said Thursday that the next group of prisoners would be released as planned on December 29.