Kenya leader 'distressed' by deputy's ICC trial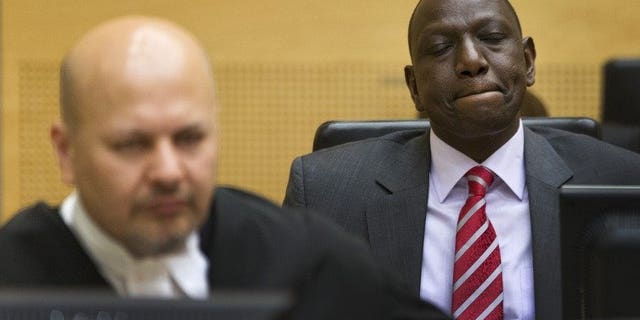 NAIROBI (AFP) – Kenyan President Uhuru Kenyatta has been "distressed" by the start of an international trial of his deputy for crimes against humanity, his spokesman said Thursday.
Vice President William Ruto pleaded not guilty on Tuesday at the start of his trial at the International Criminal Court in The Hague, where he was accused of organising a campaign of ethnic killings "to satisfy his thirst for power" after disputed 2007 elections.
Kenyatta, Ruto's former political foe turned ally, begins his own trial at the court on November 12. He also proclaims his innocence.
"He (Kenyatta) was distressed to see him (Ruto) appearing in the dock... and especially in a foreign country on matters on which he doesn't believe there is a proper standing," State House spokesman Manoah Esipisu told reporters.
The president was "deeply saddened" by the trial opening, he added.
Ruto, 46, and his co-accused, Kenyan radio boss Joshua arap Sang, 38, stand accused of stoking the worst violence in the east African country since independence in 1963.
Lawmakers in Kenya last week became the first in the world to approve moves to withdraw recognition of the 10-year-old court, which so far has only one conviction under its belt.
Ruto and Sang, who also pleaded not guilty, each face three counts of murder, deportation and persecution after a wave of violence swept Kenya in 2007-2008, leaving at least 1,100 dead and more than 600,000 homeless.
The cases have been mired in accusations of witness intimidation, allegations dismissed by the defence even though several witnesses pulled out.
There is concern in Kenya that the trials could reopen old wounds and undo reconciliation efforts.
The first prosecution witness is expected to start testimony on Tuesday.