Karzai: U.S. Must 'Reduce Military Operations'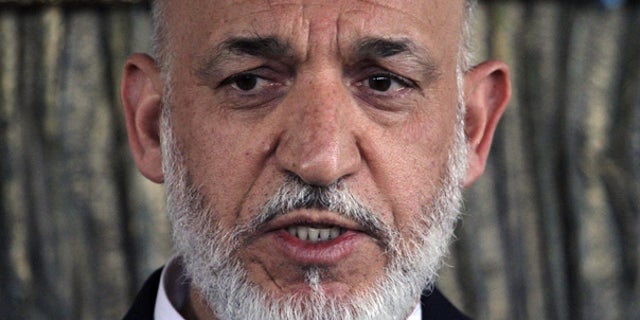 KABUL, Afghanistan -- Afghan President Hamid Karzai said the United States must reduce the visibility and intensity of its military operations, especially night raids that fuel anti-American sentiment and could embolden Taliban insurgents.
Karzai's remarks in an interview Saturday with The Washington Post come as the international military coalition has stepped up pressure on insurgents at the same time that the president has set up a peace council in hopes of reconciling with the top echelon of the Taliban.
"The time has come to reduce military operations," Karzai said in the interview. "The time has come to reduce the presence of, you know, boots in Afghanistan ... to reduce the intrusiveness into the daily Afghan life."
Karzai also said he met with one or two "very high" level Taliban leaders about three months ago, but described a peace process in its initial stages -- one that amounts to little more than "the exchange of desires for peace." He said, however, that he believes Taliban leader Mullah Omar has been informed of his discussions.
He said the Taliban share his feeling that the nine-year-old war has taken too high a toll on the people of Afghanistan.
"They feel the same as we do here -- that too many people are suffering for no reason," Karzai said. "Their own families are suffering."
Gen. David Petraeus, the commander of U.S. and NATO forces in Afghanistan, claims the 30,000 U.S. reinforcements and thousands of troops dispatched to the war this past year have made substantial progress in beating back the insurgency, although the coalition is not claiming victory.
In the past three months, more than 300 insurgent leaders have been captured or killed, more than 850 lower-level militants have been killed and at least 2,170 foot soldiers have been apprehended. NATO officials say the captures are key to crippling insurgent networks.
Karzai said the U.S. should end the rising number of Special Operations forces night raids that aggravate Afghans and could strengthen the Taliban insurgency.
He said he wants American troops off the roads and out of Afghan homes and that the long-term presence of so many foreign soldiers will only make the war worse.
"I don't like it in any manner and the Afghan people don't like these raids in any manner," Karzai said. "We don't like raids in our homes. This is a problem between us and I hope this ends as soon as possible. ... Terrorism is not invading Afghan homes and fighting terrorism is not being intrusive in the daily Afghan life."
Karzai said in the interview that he was speaking out not to criticize the United States but in the belief that candor could improve what he called a "grudging" relationship between the countries, although he said tension had eased and he feels he can talk openly about his feelings. "We don't shout at each other as often as we did before," Karzai said.
White House officials had no immediate comment early Sunday.
Karzai has repeatedly criticized civilian casualties caused by U.S. and NATO operations.
The number of Afghan civilians killed or injured in the war soared 31 percent in the first six months of the year, but Taliban bombings and assassinations were largely responsible for the sharp rise, according to the United Nations. The U.N. said the number of deaths and injuries caused by NATO and Afghan government forces dropped 30 percent compared with the first six months of last year, largely a result of curbs on the use of air power and heavy weapons.
President Barack Obama has set July 2011 as a target to begin drawing down U.S. troops, if conditions allow, but American officials expect troops to be in Afghanistan for some time after that. Karzai has said he wants Afghan security forces to be able to take the lead in protecting and defending the nation by 2014. The mechanics of that transition will be a key topic of a three-day NATO meeting that starts Friday in Lisbon, Portugal.