Karzai slams US government, military in interview ahead of elections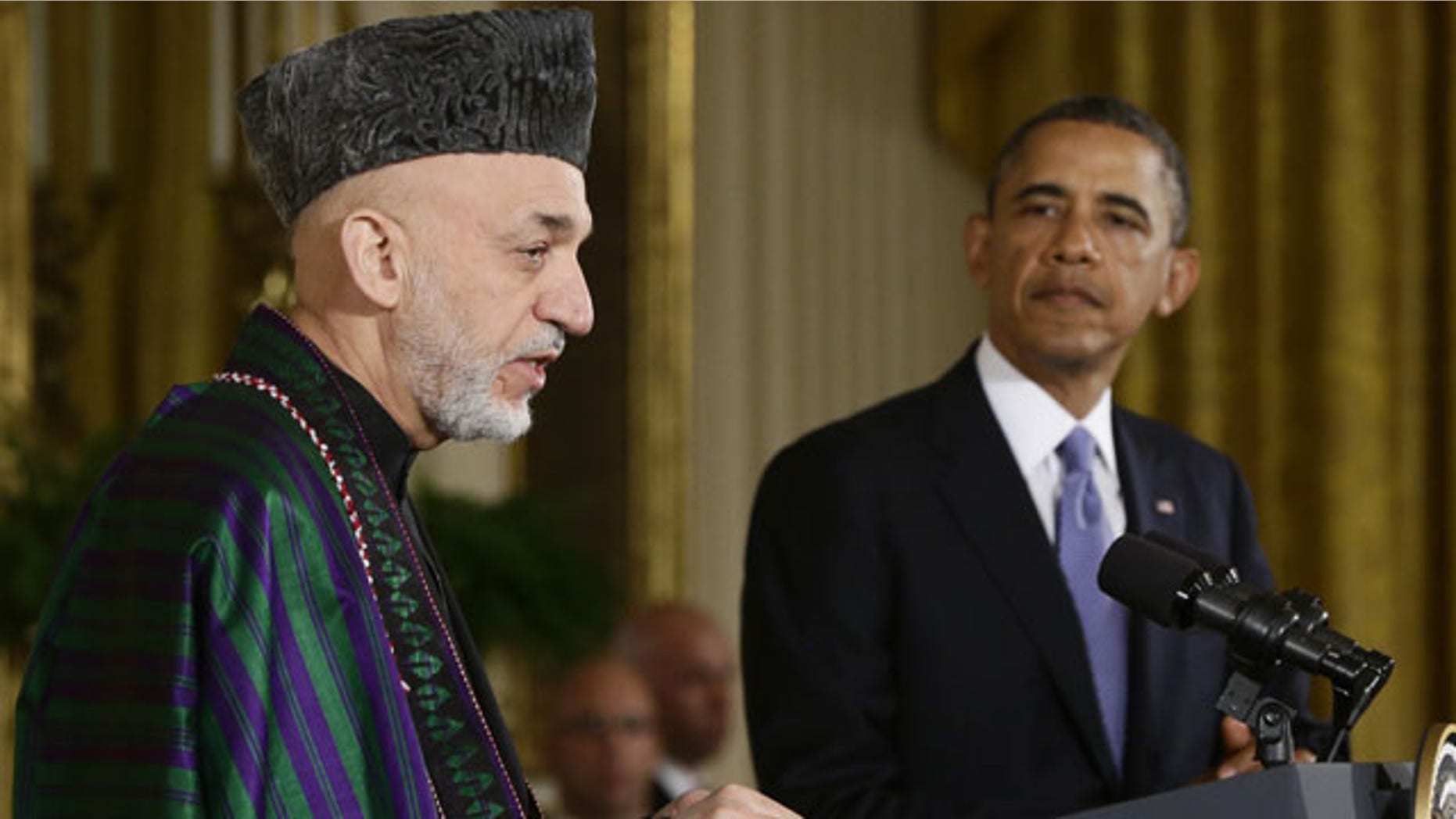 Outgoing Afghanistan President Hamid Karzai angrily criticized the U.S. government for its conduct of the war in that country, which he described as being "for the U.S. security and for the Western interests."
In an interview with The Washington Post published late Sunday, Karzai said that President Barack Obama told him last week that the U.S. would accept having the winner of Afghanistan's April 5 presidential election sign a long-term security pact that would keep some American troops in Afghanistan past the end of this year. Karzai negotiated the agreement with U.S. Secretary of State John Kerry this past fall and the deal was ratified by an assembly of Afghan elders known as the loya jirga. Nevertheless, Karzai has refused to sign the deal and made new demands in exchange for putting pen to paper.
Karzai told The Post that he feels "betrayed" by what he says are insufficient efforts by the U.S. to target Taliban strongholds in Pakistan. He also criticized the U.S. for inflicting civilian casualties in various military operation, saying "Afghans died in a war that's not ours."
Karzai, who came to power in 2001 following the American-led invasion of Afghanistan that led to the fall of the Taliban government, has been increasingly critical of the U.S. in recent years. As he put it, "I had no other weapon to resort to, no other means to resort to, but to speak publicly and get attention that way. In other words, I was forced to yell." Most recently, his yelling brought about the U.S. handover of the Bagram prison to Afghan forces, which resulted in the release of 65 prisoners despite American objections.
Karzai's comments have also caused bitterness in Washington, where U.S. officials point to the number of lives lost -- approximately 2,300 -- and the amount of money spent -- over $600 billion -- on operations in Afghanistan. Despite this, Karzai refused to give a definitive answer when asked by the Post if the Afghan war was worthwhile.
"I am of two hearts here. When I see good, I am in approval. When I see the losses of Afghan people, our children, maimed and killed, I'm in disapproval," he said. "Maybe I can give you an answer of yes or no two, three or five years from now, when my emotions have subsided. Right now, I'm full of emotions."
According to the Post, at the conclusion of the interview, Karzai said "To the American people, give them my best wishes and my gratitude. To the U.S. government, give them my anger, my extreme anger."