Justice Department Challenge Of Airline Merger Sends Airline Stocks Tumbling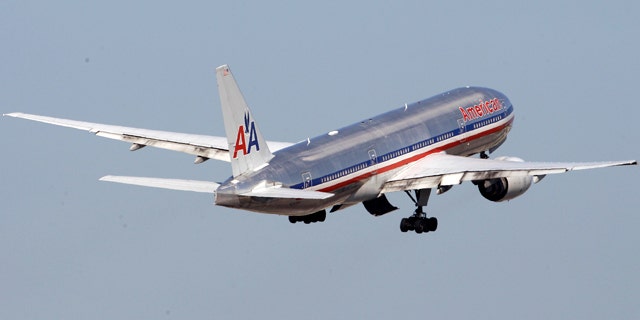 Saying it wants to prevent skyrocketing airline fares that would hurt consumers, the federal government is challenging the proposed merger of US Airways and American Airlines – a surprise announcement that jolted the airline industry and sent airline stocks tumbling.
The proposed merger would create the world's largest airline by passenger miles, with 6,700 daily flights and annual revenue of roughly $40 billion.
The U.S. Justice Department, joined by the attorneys general of six states, filed a lawsuit Tuesday in federal court in Washington, D.C., challenging the merger, saying it would result in "substantial harm to consumers."
A spokesman for US Airways Group Inc. had no immediate comment. American Airlines parent company, AMR Corp., did not immediately return messages seeking comment. Shares of both companies plunged.
The federal government's challenge to the merger was surprisingly broad. In the last five years, antitrust regulators had allowed three other major airline mergers to go ahead.
The Justice Department had been expected to pressure American and US Airways into giving up some takeoff and landing slots at Reagan National Airport outside Washington, where they stood to be the dominant carrier. Instead, the government argued that the merger would hurt consumers around the country by eliminating a competitor on many routes.
If the merger leads to even small increases in ticket prices or airline fees, it would cost American consumers hundreds of millions of dollars each year, the department said.
As examples, the government cited round-trip fares for travel this month between Miami and Cincinnati and between Houston and New York in which US Airways' fares are far lower than American and other competitors.
Shares of both airlines plunged on news of the lawsuit. US Airways shares fell $1.99, or 10.6 percent, to $16.83 in morning trading. AMR shares were taken off the New York Stock Exchange shortly after the company filed for bankruptcy protection in late 2011 but still trade over the counter; they were down $2.31, or 40 percent, to $3.50.
In February, the airlines announced their plan to merge into a carrier with 6,700 daily flights and annual revenue of roughly $40 billion. By passenger traffic, it would slightly eclipse United Airlines and Delta Air Lines. Along with Southwest Airlines, the deal would leave four airlines dominating the U.S. market.
United, Delta and Southwest have all grown larger through their own mergers in the past five years — all of those deals won regulatory approval.
Those deals have helped the industry limit seats, push fares higher and return to profitability. AMR and US Airways officials had said their merger would help consumers by creating a tougher competitor for United and Delta.
Last year, business and leisure airline travelers spent more than $70 billion on airfare for travel throughout the United States.
AMR has cut labor costs and debt since it filed for bankruptcy protection. Pilots from both airlines have agreed on steps that should make it easier to combine their groups under a single labor contract, a big hurdle in many airline mergers.
A federal bankruptcy judge in New York was scheduled to hold a hearing Thursday to consider approving AMR's reorganization plan — one of the last steps before the merger would be completed. It was unclear Tuesday whether the hearing would go ahead. The merger has been approved overwhelmingly by AMR creditors and shareholders and by US Airways shareholders.
In its lawsuit, the Justice Department was joined by the attorneys general from American's home state of Texas, US Airways' home state of Arizona, plus Florida, Virginia, Pennsylvania, Tennessee and the District of Columbia.
Based on reporting by The Associated Press.
Follow us on twitter.com/foxnewslatino
Like us at facebook.com/foxnewslatino