Judge to decide if corruption trial against ex-California lawmaker Ron Calderon proceeds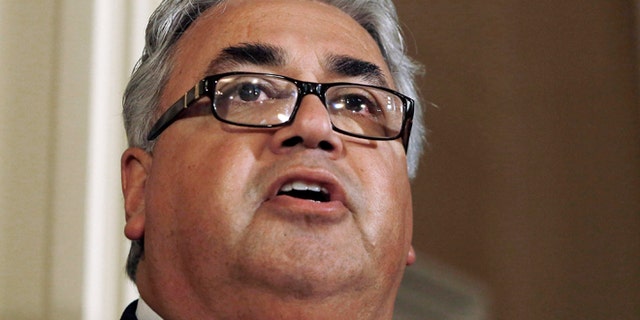 LOS ANGELES (AP) – California Sen. Ron Calderon strolled into the Bellagio hotel in Las Vegas two years ago primed for another weekend of fun. In a 10th floor room, overlooking the hotel's iconic dancing fountains, his plans folded.
FBI agents confronted Calderon, revealing that he was the target of a corruption investigation and that they had evidence he had accepted $100,000 in bribes to influence legislation.
"Your life has changed from now on," an agent told Calderon, according to court records.
In the two years since, the Democrat from a political power family took leave from the Senate, and eventually termed out. Calderon has been charged with 24 federal counts of bribery, fraud, and money laundering, and he faces a maximum sentence of 396 years in federal prison. He has pleaded not guilty.
This week is a critical one for Calderon, 57. A judge is set to decide Thursday whether the government's case should proceed and, if it does, what evidence prosecutors can use against Calderon at trial.
"Thursday's going to be a big day," said Calderon's attorney, Mark Geragos, who has represented many high profile clients.
Geragos reiterated Calderon's innocence and slammed the government's yearslong investigation into his client, which included three undercover agents, a fake Hollywood film studio, wiretaps, and $60,000 in what the FBI said were bribe payments to Calderon.
"If the public knew what I knew about what really transpired, I think they'd be outraged at the amount of money that has been expended for years trying to ensnare him," Geragos said. "It's really reminiscent of the Soviet-style, KGB-method of investigation. You find a target and look for a crime."
Geragos argues in court records that federal Judge Christina Snyder should dismiss the case because a sealed FBI affidavit detailing the charges against Calderon was leaked to Al-Jazeera America before he was charged, poisoning the grand jury.
Geragos says that no one but federal authorities had access to the leaked document.
Prosecutors deny leaking the affidavit and say Calderon provided no evidence of who was responsible.
Calderon's "motivation for proffering such unfounded and reckless allegations is transparent — to save himself from the review of a jury of his peers," prosecutors wrote.
If Snyder declines to dismiss the case and it proceeds to trial, Calderon's attorneys are arguing that prosecutors should not be allowed to use incriminating statements the former lawmaker made to the FBI when agency investigators confronted him in Vegas in May 2013.
Defense attorneys argue that the Vegas interview was a "rigged trap," to force Calderon to help the FBI conduct a sting operation against two other senators, including the legislative body's leader at the time. His attorneys say the FBI didn't properly read Calderon his rights before the three-hour interview, which they describe as an intense interrogation.
Prosecutors say investigators made it clear during the interview that Calderon wasn't under arrest and that he could leave at any time.
Defense attorneys also argue that prosecutors shouldn't be allowed to use evidence seized at Calderon's office at the state Capitol in Sacramento, a search that was covered by the news media as it happened.
Calderon was charged in June 2014 with trading his influence in the Legislature for bribes that included cash, trips to Las Vegas, and paid no-work jobs for his son and daughter. One trip to Vegas included a VIP table at a nightclub where Calderon met and was pictured with rappers Nelly and T.I., which prosecutors plan to use at trial.
Prosecutors say Calderon accepted bribes from an undercover FBI agent who pretended to own a Los Angeles movie studio and wanted to expand tax credits for the film industry. He also is charged with accepting bribes from the former owner of a Long Beach hospital to back legislation involving state workers' compensation laws.
His brother, former Assemblyman Tom Calderon, has pleaded not guilty to money laundering and conspiracy resulting from the same investigation involving Ron Calderon. The two are set to go on trial together March 1.