Juan Carlos Varela declared victor in Panama's presidential election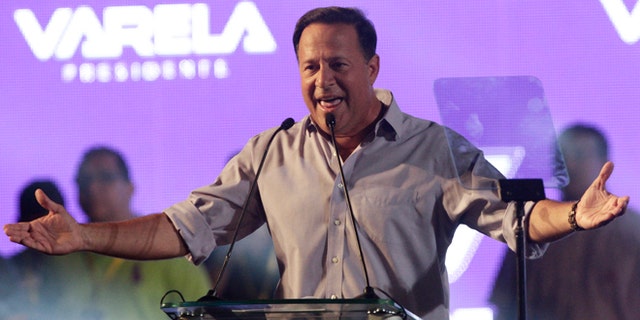 PANAMA CITY – Vice President Juan Carlos Varela was declared the victor of Panama's presidential election Sunday, thwarting an attempt by former ally President Ricardo Martinelli to extend his grip on power by electing a hand-picked successor.
With 60 percent of ballots counted, officials said Varela led with 39 percent of the votes, compared to 32 percent for former Housing Minister Jose Domingo Arias, the preferred choice of Martinelli. Juan Carlos Navarro, a former mayor of the capital, was in third in the seven-candidate field with 27 percent.
Varela, who takes office July 1, dedicated his victory to Panama's democracy when the Electoral Tribunal's chief magistrate notified him by telephone of his victory.
The incumbent party has still never won re-election to Panama's presidency since the United States' 1989 overthrow of military strongman Manuel Noriega.
Election day began with opinion polls pointing to a tight race among the top three candidates, but none of the major surveys had Varela with a lead. Most gave a razor-thin edge to Arias.
Although Martinelli wasn't on the ballot, the billionaire supermarket magnate's presence loomed large during the campaign, with many worried that he would be the power behind the throne if voters chose Arias, a soft-spoken newcomer.
As the race narrowed in recent weeks, Martinelli crisscrossed the isthmus inaugurating hospitals, stadiums and Central America's first subway while warning the 3.2 million Panamanians that record-low unemployment and economic growth averaging more than 8 percent since he took office in 2009 could be jeopardized if his opponents won.
His use of the bully pulpit drew widespread criticism, as did his decision to place his wife, Marta Linares, as Arias' running mate on the Democratic Center ticket.
Varela, a 50-year-old engineer, is the scion of one of Panama's richest families and owner of a namesake rum distillery. He left the 2009 presidential race to throw his conservative Panamenista party's support behind Martinelli in exchange for the vice presidency.
But the political marriage didn't last, and Martinelli dismissed him from an additional role as foreign minister in 2011 for refusing to back a plan for a referendum to allow president's to serve consecutive terms.
Since then, Varela has been the president's fiercest critic, accusing him of taking kickbacks for a government radar system contract. Martinelli denied the charges.
In turn, Martinelli all but marginalized Varela from decision-making and called the vice president for collecting his government paycheck without doing any work.
A free-market conservative, Varela also has strong social credentials, having been the architect of a popular program at the start of Martinelli's presidency to provide a $100 monthly stipend to Panamanians over age 70 without a pension or retirement benefits.
As campaigning turned ugly in the final stretch, Varela was hit by accusations that he had received payments from the daughter of a political ally convicted in the U.S. of laundering money for an illegal online gambling ring.
Varela vigorously defended himself after the accusations first appeared last month on a Florida-run website, Diario Las America, and he accused Martinelli of leaking the story trying to derail his campaign. He said the checks he received from accounts managed by Michele Lasso were connected to legitimate business dealings with her father, a former Panamanian ambassador to South Korea, and donations to his 2009 presidential campaign, which he reported to the nation's electoral tribunal.