Jihadists 'expelled from flashpoint Kurdish Syrian town'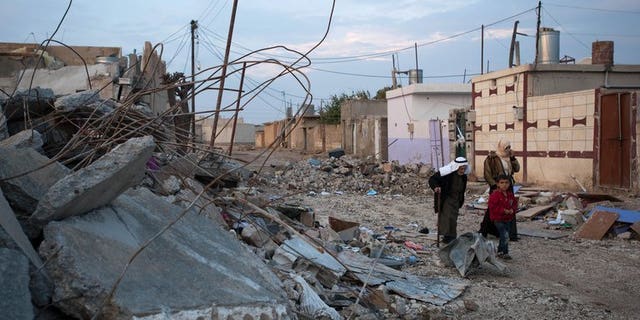 BEIRUT (AFP) – Kurdish fighters have expelled jihadists from the Syrian flashpoint frontier town of Ras al-Ain and well as the nearby border crossing with Turkey, a watchdog said on Wednesday.
Meanwhile, a car bomb attack killed at least seven people, among them a child, southwest of Damascus, the Syrian Observatory for Human Rights said.
Kurdish fighters took total control of Ras al-Ain "after 24 hours of fighting. The (jihadist) groups were expelled from the whole of Ras al-Ain, including the border post" with Turkey, said Observatory director Rami Abdel Rahman.
Earlier, the Britain-based group had reported clashes pitting Kurds against Al-Nusra Front, the Islamic State of Iraq and the Levant (ISIS) and other groups.
Ras al-Ain is home to a majority Kurdish population and is of strategic importance given its location close to Turkey.
Kurdish fighters are trying to ensure neither the regime of President Bashar al-Assad nor the opposition takes control of its areas.
The clashes between Kurdish fighters and jihadists broke out after Al-Nusra Front attacked a convoy of Kurdish women fighters, Abdel Rahman said.
Nine jihadists and two Kurdish fighters have been killed since the fighting broke out, the Observatory said.
Activists in Ras al-Ain said members of the jihadist groups had taken advantage of the Muslim fasting month of Ramadan, which began last week, to try to impose their extreme version of Islam.
In the early days of the Syrian conflict, when opponents of the Assad regime were desperate for assistance from any quarter, jihadist fighters were welcomed but a spate of abuses has fuelled a major backlash.
Elsewhere, a child and six men were killed when a car bomb attack hit Kanaker, in Damascus province, said the Observatory.
In the north of the capital, troops renewed their shelling campaign on rebel parts of Barzeh, while clashes raged in the neighbourhood, the group added.
And in the central city of Homs, an army onslaught aimed at taking back rebel districts went into its 18th day, activists said.
Troops launched a new attempt to break into the rebel area of Bab Hud, which like other areas of Homs has been under tight army siege for more than a year, Homs-based activist Yazan told AFP via the Internet.
Meanwhile, "the humanitarian situation continues to deteriorate day after day because of the suffocating siege", said Yazan.
The lack of medical equipment in Homs' flashpoint areas means "there is a growing need to evacuate dozens of wounded, who urgently need operations that cannot be performed here", he added.
More than 100,000 people have died in Syria's 28-month war, says the Observatory.
Wednesday's violence comes a day after at least 112 people were killed across Syria, the group added.