Jesse Jackson aims to save lives in Gambia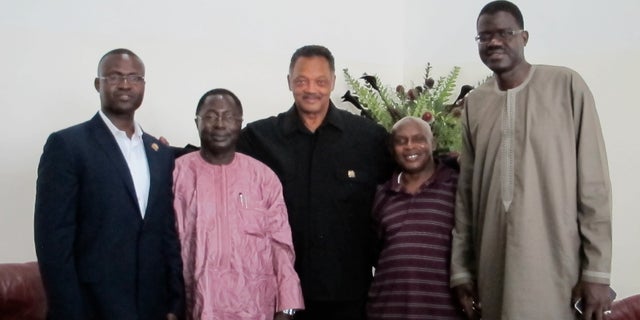 The Rev. Jesse Jackson, Sr. arrived in The Gambia on Sunday to meet with Gambian President Yahya Jammeh and discuss the fate of the country's prisoners that are facing execution.
"The goal is to save some lives by getting him to commute some sentences," Jackson told Fox News, referring to the 38 mostly political opposition prisoners, sitting on Gambia's death row.
In August, President Jammeh announced his plan to execute every inmate on Gambia's death row. So far, nine have been shot to death by a firing squad. The rest, he had planned to execute by Sept. 15. However, on Friday, after receiving calls from Reverend Jackson and several international humanitarian groups, Jammeh told his gunmen to hold their fire, for now.
"I consider this a victory," Jackson said when asked about Jammeh's 11th hour moratorium on the executions. But Jackson's work is just getting started.
Rev. Jackson has been in contact with President Jammeh on a daily basis for the past two weeks. On Thursday, Jammeh called Jackson and invited him to Banjul to meet face to face.
Jackson says he hopes to make three main points with Jammeh during their meeting, which is scheduled for Monday, September 17th.
"One," Jackson said, "It isn't going to make Jammeh himself or his country any safer. Two, killing political prisoners is essentially punishing the whole country with their blood. And three, executing prisoners by firing squad makes his country look less humane." The last factor could hit the tiny West African country hardest, negatively affecting its trade dealings and current reputation as a popular tourist destination.
"I hope and pray he will choose the high road," said Jackson referring to his hope Jammeh commutes some of the sentences. "But," he added, "if no more wrongly convicted people are killed, that's a victory, too."
Jackson says the majority of the prisoners are Gambian, but a handful are from neighboring countries Nigeria and Senegal. At least one also has American citizenship.
The nine recent executions were the country's first in 27 years. For ten of those years, Gambia had no death penalty at all. President Jammeh reinstated it when he assumed power after a military coup in 1994.