Japan to keep close tabs on China after Chinese warplanes buzz East China Sea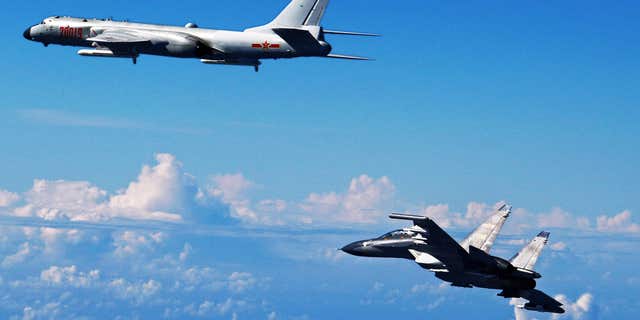 NEWYou can now listen to Fox News articles!
TOKYO – Japan's top government spokesman warned China on Monday against expanding its military activity to the skies over disputed East China Sea islands after eight Chinese warplanes flew near the area over the weekend.
Chief Cabinet Secretary Yoshihide Suga said that Japan scrambled at least one fighter jet after the planes passed over the Miyako Strait on Sunday, east of the Japanese-controlled Senkaku islands, which China also claims and calls the Diaoyu.
The aircraft, believed to be two fighter jets, four bombers and two reconnaissance aircraft, did not violate Japanese airspace during a long-distance roundtrip flight, Suga said, but it was the first time Chinese warplanes had flown that route.
Chinese media reports said the flights were part of a routine exercise involving about 40 aircraft.
Suga acknowledged that the flights might be part of an exercise, but said that Japan would respond firmly to any violation of Japanese airspace.
"The government of Japan continues to watch the Chinese military's activity, which has become expansive and more active, while carrying out our surveillance activity," Suga said. "We are determined to defend our land, territorial waters and the skies."
Three to four Chinese coast guard ships regularly sail around the disputed islands, entering what Japan considers its territorial waters a few times a month. They exchange warnings with Japanese coast guard ships, with both sides staking claim to the waters.