It's all on the line now in murder trial for Oscar Pistorius, who broke barriers as an athlete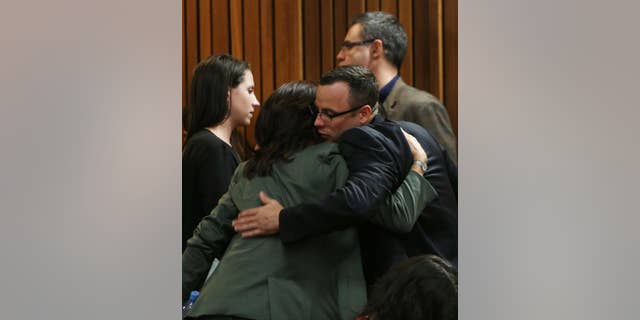 JOHANNESBURG – Before he killed his girlfriend, Oscar Pistorius broke barriers and the world embraced him for it. The double-amputee runner challenged the athletic establishment and secured the right to race on his carbon fiber blades in the 2012 Olympics.
A Paralympic champion, he won races by infinitesimal margins, describing the pressure of competition as "nail-biting" and "nerve-wracking."
It's all on the line now for Pistorius, who dug deep as an athlete and reveled in global accolades that flowed in spite of, and because of, the obstacles posed by his disability. The man, who racing commentators said was slow from the starting block, is expected to testify soon at his murder trial. The defense begins its case on Friday after four weeks of prosecution-led testimony.
Pistorius said this week that it was a tough time and there is "a lot ahead of us," mindful perhaps that the impression he makes on Judge Thokozile Masipa, who will deliver a verdict, could mean as much for his fate as disputed testimony from experts, neighbors and acquaintances. He faces 25 years to life in prison if convicted of premeditated murder for killing lover Reeva Steenkamp. Besides acquittal, some legal analysts point to another option — conviction on a lesser murder or homicide charge that could still jail him for years.
Pistorius shot Steenkamp, a 29-year-old model, through the closed door of a toilet cubicle in his home in the night, later saying he mistook her for an intruder; prosecutors allege he killed her after an argument. Their portrait of Pistorius as a gun enthusiast with a hair-trigger temper clashes with his glowing image before the Feb. 14, 2013 shooting.
So far, he has been a spectator in his trial, alone in the dock. The athlete dressed neatly and spoke softly, if at all, during adjournments. His mood and body language, however, shifted from the cool focus of note-taking and brief powwows with his lawyers to apparent anguish, evident in tears and retching during graphic testimony about Steenkamp's death.
Andrew Flier, a criminal defense attorney in Los Angeles who has followed the Pistorius trial, said his clients often ask him: "'How should I testify? How should I act in court?'"
Flier said he always wants his defendants to "look nice and not say a word" when not on the witness stand, and to be composed when on it. Becoming emotional can backfire if it is "too dramatic," he said, though he acknowledged that it could be perceived as natural for Pistorius to show grief because he was close to the woman he killed.
Masipa, a former crime reporter who will judge the credibility of Pistorius as a witness, is a remote figure on the dais, allowing lawyers to question witnesses and intervening only occasionally. In court breaks, all stand in silence as the red-robed judge walks slowly down a few steps, her hand resting on a banister, and leaves the chamber.
Prosecutors have alleged that Pistorius was reckless, manipulative and downright scary to Steenkamp in the months before he killed her.
It's hard to reconcile that dark sketch with the charismatic runner who once talked engagingly about racing goals and preparation, track gait and body torque, and the prosthetic technology that propelled his dazzling career. He soared on a groundswell of admiration. In 2008, while trying in vain to qualify for the Beijing Olympics, he appeared at an Italian event with a T-shirt with "Olympic Dream" on the front and "A winner is only a dreamer who hasn't given up" on the back.
Pistorius, who has Italian ancestry, had a European base in Italy. The singer Mariella Nava paid homage to him in her song "La mia specialita," and he appeared on the Italian version of "Dancing with the Stars," winning the maximum points. A version of the Abba song "The Winner Takes It All" played while he performed.
Pistorius often said he defined himself by his abilities, rather than his disability. Italian journalist Candido Cannavo described Pistorius as a symbol who "gives courage to the world."
There was swagger, too. In a promotional video, Pistorius described how he was sometimes asked whether he wanted his legs back.
"If you'd give me a Ferrari 999 GTO, I'd rather take that than my legs," Pistorius says.
On the track he kept his head. At a 2012 sports forum in Barcelona, he described how he barely won a race at the Beijing Paralympics in 2008 after trailing early.
"I remember just kind of being able to pause that moment and thinking, 'Oscar, you are in so much trouble,'" he said.
___
Associated Press writer Colleen Barry contributed from Milan, Italy.