Israel's Livni to visit Moscow 'over Syria S-300 plans'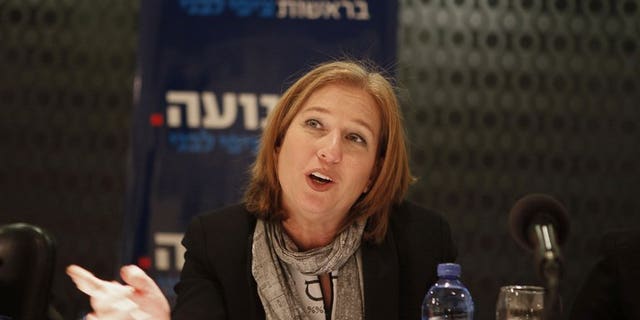 JERUSALEM (AFP) – Israeli Justice Minister Tzipi Livni was due in Moscow on Tuesday for talks over Russia's plans to supply S-300 anti-aircraft missiles to the regime of Syrian President Bashar al-Assad, army radio said.
During the visit, Livni, who also serves as Israel's chief negotiator with the Palestinians, was to meet Russian Foreign Minister Sergei Lavrov in a bid to convince Moscow not to go through with the promised delivery.
Livni's spokeswoman confirmed she was to meet with Lavrov in Moscow but denied it was in connection with the S-300 system.
The S-300 batteries are advanced ground-to-air weapons that can take out aircraft or guided missiles. The weapon could theoretically shoot down Israeli jets in the region or complicate any Western efforts to impose a no-fly zone over war-torn Syria, or to stage any intervention to take out chemical weapons.
Israel has also expressed fears that such weapons could fall into the hands of Lebanon's Hezbollah movement or of Iran, both of whom are closely allied with Assad's regime.
The report came as Israeli commentators suggested an initial delivery of the surface-to-air system was likely to take place "in the next few weeks".
Israel is strongly opposed to Moscow supplying Damascus with such a system and warned it could take military action if it went ahead.
"The deliveries have not taken place, and I hope they do not. But if, by misfortune, they arrive in Syria, we will know what to do," Defence Minister Moshe Yaalon warned in May in a thinly-veiled allusion to a strike.
Writing in the top-selling Yediot Aharonot, commentator Alex Fishman said Israel was "tensely awaiting" the delivery of a first batch of the S-300 missiles which were likely to arrive in Syria "in the next few weeks" accompanied by a delegation of Russian experts who would train the Syrians in how to use the system.
"Israel is now bracing for a last diplomatic effort, together with the Americans, in an attempt either to postpone or cancel the deal," he said, noting that the Russian deal was financial rather than political in nature.
In early June, Yaalon said Russia would not be able to deliver the anti-aircraft system to Damascus before 2014.