Israeli Prime Minister Offers Conditional Settlements Freeze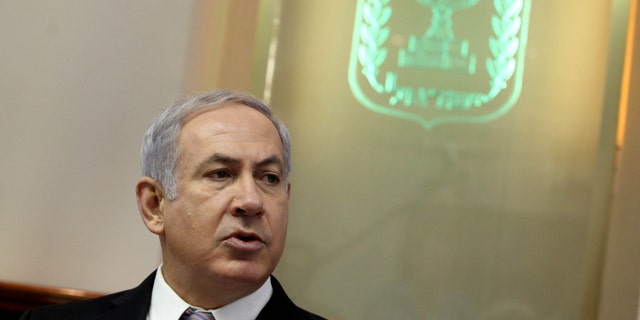 NEWYou can now listen to Fox News articles!
JERUSALEM -- Israel's prime minister on Monday offered to extend a moratorium on Jewish settlement construction in the West Bank, but only if the Palestinians meet his demand to recognize Israel as a Jewish state.
With the proposal, Benjamin Netanyahu attempted to deliver a creative way to end an impasse over settlement construction that has stalled Mideast peace talks just a month after they were launched at the White House. But with its tough conditions, it was swiftly rejected by the Palestinians.
Netanyahu has been under heavy international pressure to renew a just-expired 10-month slowdown on West Bank settlement construction. The Palestinians say they will walk away from the talks if the curbs do not remain in place.
Netanyahu, who leads a pro-settler coalition of religious and nationalist parties, has so far resisted the calls, but has signaled he is open to a compromise. U.S. mediators have been offering a series of vague assurances on the security and diplomatic fronts to mollify Israel, but so far a deal has been elusive.
In a policy speech to parliament, Netanyahu said he would renew the settlement curbs if the Palestinians recognize the Jewish connection to Israel.
"If the Palestinian leadership would say unequivocally to its people that it recognizes Israel as the national homeland of the Jewish people, I will be willing to convene my government and ask for an additional suspension," he said in a speech that was repeatedly heckled by Arab lawmakers.
Netanyahu has repeatedly made similar demands in the past, though he has never explicitly linked it to the settlement issue. On Sunday, Netanyahu's Cabinet passed a bill that would require non-Jewish immigrants to pledge allegiance to the "Jewish and democratic" state of Israel in order to receive citizenship.
The Palestinians refuse to accept Israel as a Jewish state, saying it discriminates against Israel's Arab minority and violates the rights of millions of Palestinian refugees scattered around the world. Instead, they say it is sufficient that they recognize Israel's right to exist.
Palestinian negotiator Saeb Erekat accused Netanyahu of "playing games" and said he saw no connection between Jewish settlements and Israel's national character.
"I don't see a relevance between his obligations under international law and him trying to define the nature of Israel," he said. "I hope he will stop playing these games and will start the peace process by stopping settlements."
Some 300,000 Jewish settlers live in the West Bank, in addition to nearly 200,000 Israelis living in Jewish neighborhoods in east Jerusalem.
The Palestinians claim both areas, captured by Israel in the 1967 Mideast war, as parts of a future independent state and say that continued Israeli settlement construction sends a message that Israel is not serious about reaching peace.