Israeli police, Palestinian worshipers clash at Jerusalem shrine reopening
Israeli police and stone-throwing Palestinians on Thursday clashed at a contested shrine in Jerusalem as it reopened 11 days after security installations sparked a Muslim prayer boycott and deepened already fraught tensions between the two sides.

The Old City complex, known as Haram al-Sharif to Muslims and Temple Mount to Jews, reopened in East Jerusalem after Israeli officials removed all security devices from the entrance of the site. Israel had installed the new security measures after a Palestinian terrorist shot and killed two Israeli police officers from within the shrine on July 14.
On Thursday, Muslim leaders urged worshipers to return to the site, but the reopening took a violent turn when Palestinians threw stones at Israeli officers stationed at the entrance gates. Israeli police retaliated by firing tear gas and rubber bullets. The violence escalated when troops closed the gates to the compound.
HAMAS CLAIMS VICTORY OVER ISRAEL IN MOSQUE DISPUTE, CALLS FOR 'DAY OF RAGE'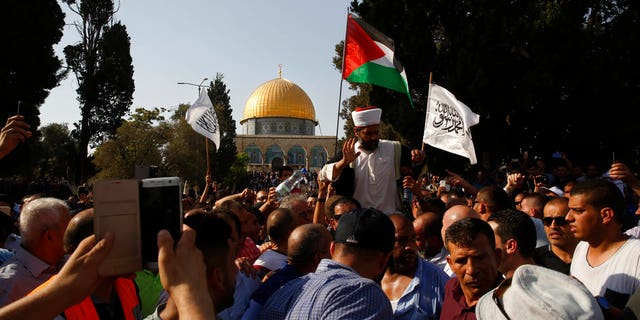 At least 37 Palestinians were injured by rubber bullets and beatings, The Palestinian Red Crescent told The Associated Press. Several people also reportedly suffered broken bones.
Israel's decision to add security measures, such as metal detectors and cameras, at the site outraged the Muslim community and caused protests in the area. Israeli officials claimed the measures were standard procedures after deadly attacks. Palestinian leaders rejected the claim and called the move a way for the Israeli government to gain more power over the site. 
ISRAEL REMOVES OVERHEAD BRIDGE, RAILINGS NEAR HOLY SITE
Palestinians prayed in Jerusalem's streets outside the shrine in the Old City to protest the security measures, and Israel eventually agreed to remove the installations after intense pressure.
Elsewhere in Israel Thursday, Prime Minister Benjamin Netanyahu called for the death penalty for a Palestinian man who sneaked into a West Bank settlement home last week and killed three Israelis.
Netanyahu on Thursday visited the family of the three Israelis stabbed to death and said that "the time has come for the death penalty for terrorists in extreme cases."
Though Israeli law permits the death penalty, the Israeli government has only put one person to death: Nazi war criminal Adolf Eichmann, in 1962.
Netanyahu said his position in the case of the 19-year-old Palestinian attacker, who was wounded by an off-duty soldier during Friday night's attack, "is that he needs to be put to death."
Several members of Netanyahu's cabinet issued similar calls in the week since the attack.
The Associated Press contributed to this report.