Israeli military arrests 80 Palestinians in search for missing teens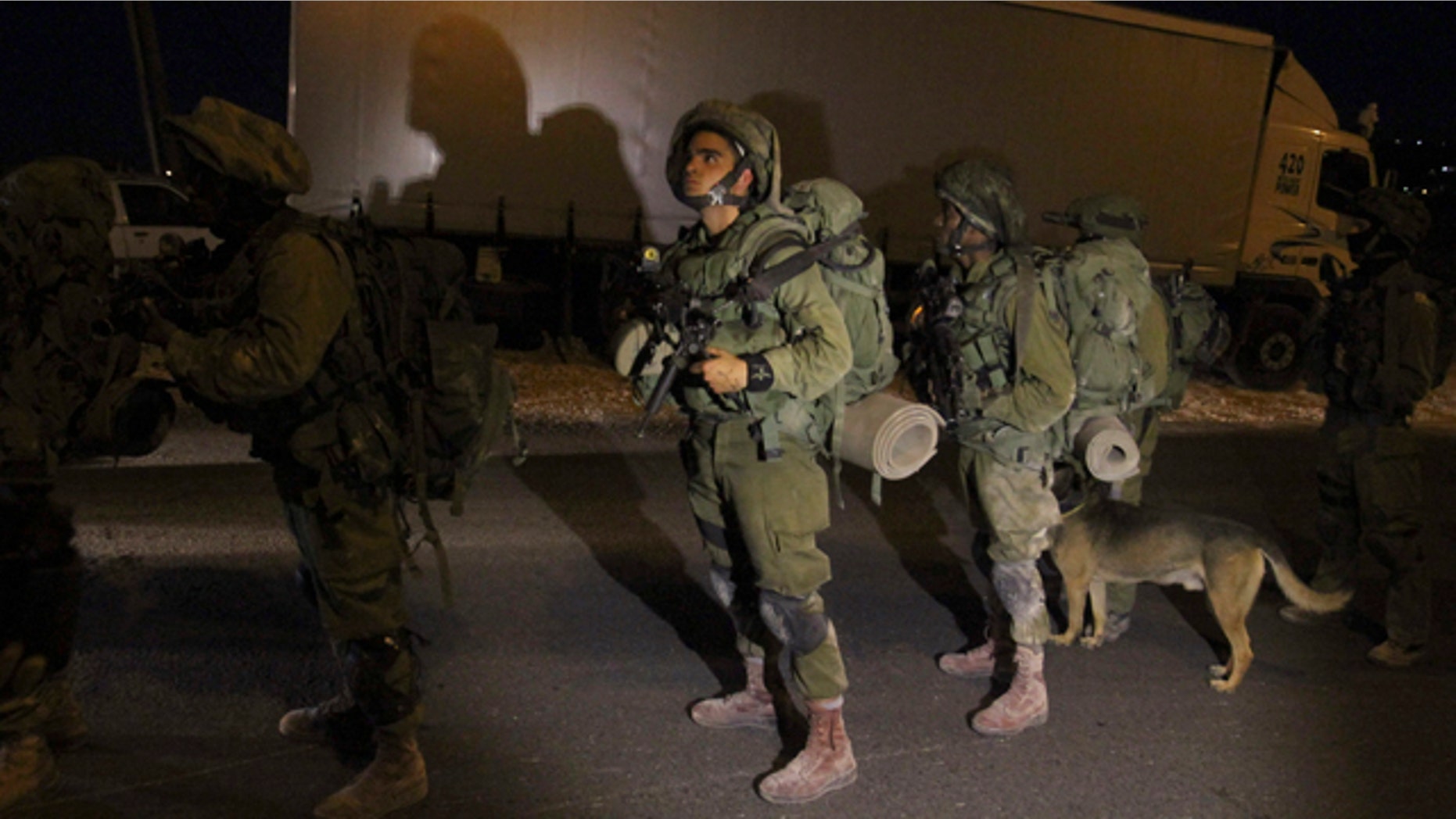 Israeli Prime Minister Benjamin Netanyahu accused Hamas Sunday of kidnapping three teenagers who have been missing since Thursday, while Israel's military arrested 80 Palestinians as part of a major operation in the West Bank.
Netanyahu told his Cabinet on Sunday that "the ones that conducted the kidnapping of our teenagers are Hamas members." Hamas has not claimed responsibility, as it has for similar incidents in the past, and Netanyahu did not say how Israel determined who was behind the incident.
Netanyahu has said he holds Western-backed Palestinian President Mahmoud Abbas, who recently formed a government backed by Hamas, responsible for the teenagers' safety. He said Hamas' involvement would have "serious implications."
A Hamas website said more than 60 of those arrested Sundaywere members of the group, including senior figures. Among those detained were two former Cabinet ministers and seven Hamas legislators. The most prominent name among those detained was Hassan Yousef, a legislator who has spent years in Israeli lockups and is seen as the head of Hamas in the West Bank. The Israeli military also detained supporters of the Islamic Jihad, a smaller Palestinian militant group.
A Palestinian group representing prisoners said about 100 were arrested in the raid including some who have been jailed in the past.
"Palestinian terrorists will not feel safe, will not be able to hide and will feel the heavy arm of the Israeli military capabilities," said Lt. Col. Peter Lerner a spokesman for the Israel Defense Forces. Sky News reported that helicopters and drones as well as troops have been deployed across the West Bank in the effort to find the missing trio.
The Palestinians' self-rule government, which administers 38 percent of the West Bank, has rejected blame, saying the teens vanished in territory under full Israeli control.
The teens have been identified as Eyal Yifrah, 19, Gil-Ad Sha'ar, 16, and Naftali Frenkel, also 16. Israel's Channel 10 and McClatchy both reported that Frenkel is an American citizen. The three are students at a religious school in a Jewish settlement in the West Bank. The three were last seen hitchhiking home from evening lessons outside the settlement of Gush Etzion, which is near Bethlehem and north of Hebron.
Israeli-Palestinian tensions were already strained, in part because of the recent formation of a Palestinian unity government that has the backing of Hamas. However, Sky News reports that despite the sniping between Netanyahu and the Palestinian Authority, British diplomats have been informed that the two sides are working together to establish the teens' whereabouts.
In recent months, there have been growing signs of the emergence in the West Bank of small groups of militants who identify with Al Qaeda. One of several claims of responsibility for the kidnapping came from a group that said it was linked to an Al Qaeda splinter group, the Islamic State of Iraq and the Levant, which controls parts of Syria and overran parts of northern Iraq this month.
The Israeli military also said its aircraft struck several targets in Gaza overnight in retaliation for Palestinian rocket attacks on Israel. Gaza Health Ministry spokesman Ashraf al-Kidra said a girl was slightly wounded.
The Associated Press contributed to this report.