Israeli foreign minister ends alliance with Netanyahu, adding instability to coalition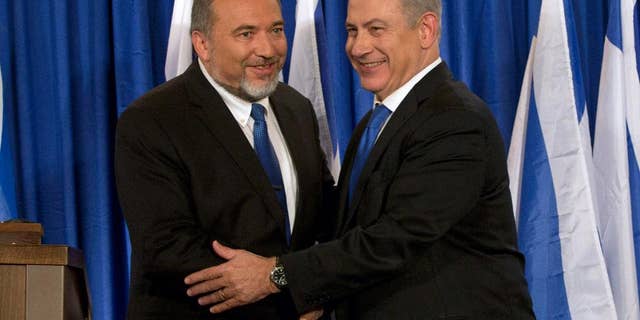 JERUSALEM – Israel's foreign minister on Monday said he was ending a political alliance with Prime Minister Benjamin Netanyahu, adding a new element of instability to an already fractious governing coalition.
Avigdor Lieberman, leader of the ultranationalist Yisrael Beitenu party, told a news conference that he and Netanyahu have significant differences on many key issues and it no longer made sense to maintain the alliance between their parties. However, he said his party would remain in the coalition, leaving him in place as foreign minister.
"It's no secret that differences of opinion lately between me and the prime minister have become substantial and don't permit continuing a joint partnership," he said. He said the differences were clear even before elections last year and have only worsened.
Lieberman's Yisrael Beitenu and Netanyahu's Likud parties ran together as a joint list in parliamentary elections last year appealing to hard-line nationalistic voters. But the alliance fared worse than expected at the polls.
More recently, the two men have feuded over how to respond to a wave of rocket fire out of the Gaza Strip. Netanyahu has called for a measured response to the rocket fire, while Lieberman has said he would favor a broad military operation to topple the dominant Hamas militant group. Such an operation would likely require a ground invasion of Gaza, and could result in heavy casualties on both sides.
Lieberman has long been one of Israel's most powerful and polarizing figures. With a tough-talking message that has questioned the loyalty of Israel's Arab minority, criticized the Palestinians and confronted Israel's foreign critics, he has at times alienated Israel's allies while becoming an influential voice at home.
Lieberman was forced to resign as foreign minister shortly before the January 2013 parliamentary elections after being indicted on charges of fraud and breach of trust. He returned to the post last November after he was cleared of all charges.
Lieberman's decision Monday does not present an immediate threat to the governing coalition.
But he is no longer required to coordinate his moves with Netanyahu, which could make it more difficult for the prime minister to pass policies through his divided Cabinet.
The joint list controlled 31 seats in the 120-member parliament. Lieberman's departure leaves the Likud with just 20 seats. With 11 seats of his own, Lieberman could potentially rob the coalition of its 68-seat majority if he decides to leave.