Israel weighing whether to deal with UN war crimes probe, accusing it of bias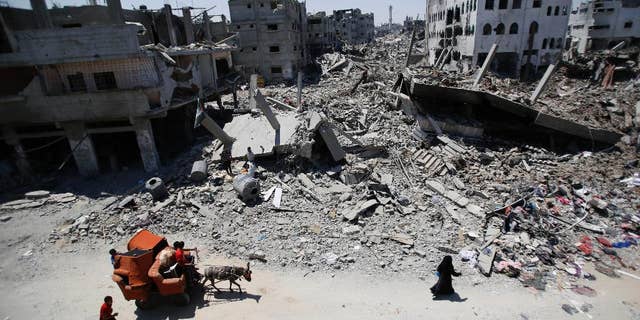 JERUSALEM – With the Gaza war seeming to have calmed, Israel is now preparing for its next big battle: a diplomatic and legal challenge over Palestinian civilian deaths in its campaign against Hamas militants.
Facing a United Nations war crimes commission it accuses of bias, Israel must decide whether to cooperate and present its case or boycott the inquiry entirely.
Neither option is especially appealing. Israel believes that a stinging indictment from the United Nations Human Rights Council is all but guaranteed and that dealing with the body would give it undue clout. On the other hand, it is also wary of slighting the U.N. and appearing guilty by abstention.
Israel has yet to officially say what it will do, but it gave an inkling of its thinking when the Foreign Ministry called the commission a "kangaroo court" whose verdict is "known ahead of time."
The UNHRC announced this week the formation of its commission of inquiry on the Gaza war, saying it would probe "purported violations" of international law. It pointed to the more than 1,900 Palestinian deaths in the month-old conflict, most of them civilians, according to the U.N., and the widespread destruction of homes.
The heavy death toll has drawn accusations that the military either targeted civilians or failed to take sufficient precautions to protect them. Israel has insisted it did its utmost to avoid civilian casualties and blamed Hamas for launching attacks from crowded neighborhoods. Sixty-seven people were killed on the Israeli side, mostly soldiers killed in the ground assault into Gaza, but also including three civilians.
International law experts have said any probe into war crimes would have to look into issues of proportionality in Israel's bombardment in the densely populated Mediterranean coastal strip. They have also said Hamas rocket fire toward Israeli cities likely constitutes war crimes.
Israel is convinced it won't get a fair hearing, particularly after the appointment of Canadian law professor William Schabas as the panel's head. Schabas is a longtime critic of Israel and has said Prime Minister Benjamin Netanyahu and former President Shimon Peres should be indicted for war crimes.
In general, Israel is suspicious of the UNHRC, a body that includes countries with poor human rights records such as China, Congo, Pakistan and Saudi Arabia. Israel's ally the United States voted against launching the inquiry, in part noting that the inquiry's mandate did not also specify that it would look at potential violations by Hamas.
"You can't go into any kind of legal proceeding when the judge and jury have decided you are guilty before you have even walked into the courtroom," said Dore Gold, a former Israeli ambassador to the U.N. who is now an adviser to Netanyahu. Gold said he opposes cooperating with the panel.
In a television interview, Schabas said he wouldn't let his past criticism of Israeli leaders affect his ability to carry out the investigation.
"What someone who sits in a commission or who is a judge has to be able to do is put these things behind them and start fresh and this is what I intend to do," he told Israel's Channel 2 TV. He urged Israel to cooperate, saying "it is in Israel's interest to be there in the discussion."
Israel has faced this dilemma before. After the three-week war with Hamas that ended in January 2009, a fact-finding mission appointed by the Human Rights Council found that both sides committed potential war crimes. Israel refrained from cooperating with the panel and suffered from the diplomatic fallout of its findings. The panel's chairman, South African jurist Richard Goldstone, later backtracked from its finding that Israel intentionally targeted civilians.
Netanyahu this week accused the U.N. this week of unfairly targeting Israel and ignoring abuses elsewhere.
"Instead of inquiring into the massacres that Assad is perpetrating against the Syrian people or that ISIS is perpetrating against the Kurds, the U.N. has decided to come and check Israel," he said, referring to Syrian President Bashar Assad and the Islamic State extremist group, which is fighting in both Syria and Iraq.
A special commission of the U.N. rights council has been investigating the Syria conflict since mid-2011.
In June, it issued a report saying both Assad's government and rebels likely committed "a massive number of war crimes and crimes against humanity." On Tuesday, UNHRC experts denounced the Islamic State group for "systematically hunting down members of minority groups," referring to its attacks on the Yazidi community.
Netanyahu stopped short of saying Israel will boycott the U.N. panel.
An Israeli official said the government is searching for an arrangement that would minimize cooperation without boycotting the panel outright, such as conducting its own inquiry and sending the results to the U.N. The official spoke on condition of anonymity because he was discussing internal government deliberations.
Israel has already launched examinations of its own into its wartime conduct.
Emmanuel Gross, a legal expert at the University of Haifa, said bodies such as the International Criminal Court in The Hague are meant to provide "residual" justice in countries that do not have independent judicial systems.
He suggested Israel establish an inquiry panel with an international presence, as it did after a deadly 2010 raid on a Turkish Gaza-bound international flotilla. That panel, which included two prominent international observers, cleared the military and government of wrongdoing. Thought it had little impact on Israel's critics, it helped deflect calls for further international investigations. "That may be the answer to these trends," he said.
However, Frances Raday, a professor emeritus in international human rights law at Jerusalem's Hebrew University, said Israel had more to lose than gain from boycotting the panel. Writing in the Ynet news site, she said the Goldstone experience backfired and Israel would be better served by pressing its case.
"Israel has too much to lose by not maximizing its opportunities to present the evidence it has and prove its efforts of avoiding disproportionate harm to Gaza civilians," she wrote.
____
Follow Heller on Twitter @aronhellerap