Israel says Syrian rebels have control of villages near Golan Heights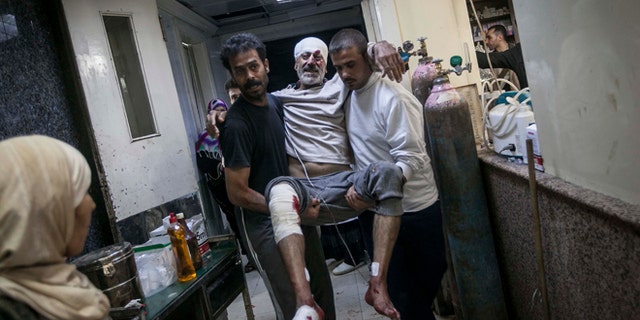 NEWYou can now listen to Fox News articles!
JERUSALEM – Syrian rebels have taken control of nearly all villages near the frontier with the Israel-held Golan Heights, according to Israel's defense minister who said Wednesday that Bashar Assad's forces were "displaying ever-diminishing efficiency."
Fighting in the area this past week has already drawn Israeli retaliatory fire into Syria twice after apparently stray mortar shells flew into Israel-held territory. That raised fears that Syria's civil war could take a new and even more dangerous twist, widening further into an armed conflict with the region's strongest military power.
"Almost all of the villages, from the foot of this ridge to the very top, are already in the hands of the Syrian rebels," Defense Minister Ehud Barak said Wednesday during a tour of the Golan Heights, the strategic plateau that Israel captured from Syria in 1967 and later annexed. "The Syrian army is displaying ever-diminishing efficiency."
Barak said Israel will remain "vigilant and alert."
Israel's frontier with Syria is the Golan Heights. The border area on the Syrian side is a buffer zone, with some villages where fighting has flared over the past week. The 46-mile-long buffer zone is governed and policed by the Syrian authorities, and no military forces other than U.N. forces are permitted within it.
The Syrian civil war threatens to enflame an already combustible region. The fighting already has already spilled into Lebanon, Jordan and Turkey.
While many doubt President Assad wants to pick a fight with Israel, they fear the embattled Syrian leader may try to draw Israel into the fighting in a bout of desperation. Israeli officials believe it is only a matter of time before Syrian rebels topple the longtime leader.
On Wednesday, Syrian troops used aircraft and artillery in an attempt to dislodge rebels from a town next to the border with Turkey, as Ankara warned it would retaliate against any airspace violations.
An Associated Press journalist in the Turkish town of Ceylanpinar witnessed Syrian airstrikes in the adjacent Syrian town of Ras al-Ayn, where rebels say they have ousted troops loyal to Assad.
Deadly air strikes began several days ago, and many casualties were rushed into Turkey for treatment. Local officials said as many as 30 people have died since Monday. The journalist also saw Syrian forces shelling a wooded area near Ras al-Ayn from where rebels had been firing.
The violence in Syria has killed more than 36,000 people since an uprising against Assad's regime began in March 2011. Hundreds of thousands have fled the fighting into neighboring Turkey, Jordan, Lebanon and Iraq.
Another 11,000 escaped into Turkey last week following the surge of fighting at Ras al-Ayn, which is located in the northeastern Syrian province of al-Hasaka, an oil-producing region where the population is mostly Kurdish.
The proximity of the fighting to Turkey has raised fears of an escalation.
Turkish media, including the Anadolu news agency, said several villages west of Ceylanpinar have been evacuated to protect residents from any spillover of the fighting in Syria. About 1,000 people left Mursitpinar, 110 miles from Ceylanpinar, after an appeal from the loudspeakers of local mosques.
Turkey's defense minister, Ismet Yilmaz, indicated that Turkey would use military force in response to any incursions by Syrian aircraft. Last month, Turkish artillery fired on targets in Syria after Syrian shells landed inside Turkey and killed several Turkish civilians in one instance.
"The necessary response will be given to Syrian planes and helicopters that violate our border," Yilmaz said.
A Turkish official in Ceylanpinar said the sound of shelling was heard through the night. Two rocket-propelled grenades hit houses on the Turkish side, but there were no injuries, according to the official, who spoke on condition of anonymity because he is barred from speaking to the media on the record.
Later, the official said a dozen wounded Syrians had been brought across the border, and one died during treatment. Rumors swirled about the situation in the Syrian town; the Turkish official cited contacts in Ras al-Ayn as saying Syrian forces had entered the town.
A convoy of seven white jeeps and a truck was seen near the Syrian town, but it was unclear who was in the vehicles. On the Turkish side of the border, Turkish jets were heard flying overhead.
At one point, sounds of jubilation were heard coming from Ras al-Ayn. One rebel shouted in Arabic: "The Syrian army fled, did you see?"
The Syrian Observatory for Human Rights said Wednesday that warplanes carried out six airstrikes in al-Hasaka, including those at Ras al-Ayn.
Regime jet fighters also targeted the rebellious suburbs of Damascus on Wednesday, the Britain-based Observatory said. Heavy clashes between rebel units and Assad's troops were ongoing in the northern city of Aleppo, the Observatory said. The group relies on reports from activists on the ground.